New Dr. Seuss Books From Diverse Creative Teams Are Coming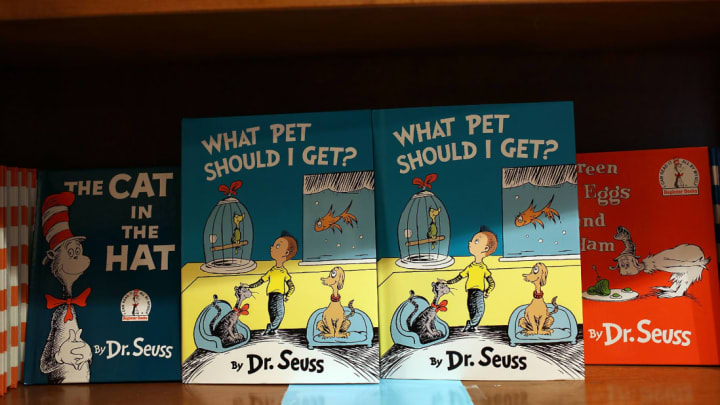 New books inspired by Dr. Seuss will soon be hitting shelves. / Joe Raedle/Getty Images
The bibliography of famed children's book author and illustrator Dr. Seuss was interrupted in 1991, when Seuss—a.k.a. Theodor Geisel—passed away, leaving existing titles like The Cat in the Hat and The Lorax to be reprinted in perpetuity. But 2023 and beyond will see a new series of Seuss books thanks to a unique arrangement dreamed up by the Seuss estate.
According to the Associated Press, some of Seuss's archival drawings will be used as the basis for a new series of books written and illustrated by creators with diverse backgrounds. The idea, according to the Seuss estate, is to better represent the diversity of readers.
"We look forward to putting the spotlight on a new generation of talent who we know will bring their unique voices and style to the page, while also drawing inspiration from the creativity and imagination of Dr. Seuss," Susan Brandt, president and CEO of Dr. Seuss Enterprises, said in a company statement.
The books will highlight the original Seuss illustration that inspired it, along with an author's note from the creators on why the drawing struck a chord with them. The titles are expected to be geared toward readers ages 4 to 8.
This isn't the first time a new Seuss book has appeared following the author's death. In 2015, What Pet Should I Get? was released as a posthumous Seuss work after the manuscript—believed to have been written in the 1950s or 1960s—was discovered by his widow, Audrey.
The Dr. Seuss canon was embroiled in controversy in 2021 when a number of titles were singled out for criticism for featuring racially insensitive passages. The titles, including If I Ran the Zoo and The Cat's Quizzer, were withdrawn from circulation by the Seuss estate.
No contributor names have been revealed. Two books are expected to be released annually under the Seuss Studios imprint of Random House.
[h/t Associated Press]