10 American Ghost Towns You Can Visit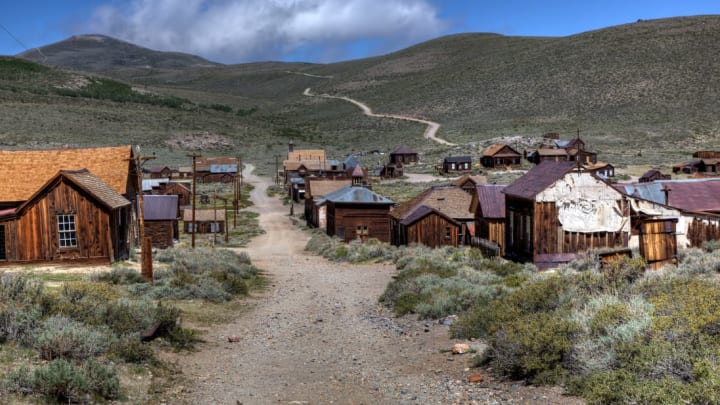 A street in Bodie, California / iStock.com/Richard Vinson
This article contains affiliate links to products selected by our editors. Mental Floss may receive a commission for purchases made through these links.
Towns populated with actual people are so overrated. Why elbow your way through crowded hotels and restaurants when you can stroll through eerie ruins and have the place all to yourself—except for maybe a few spirits? The 19th century saw hundreds of resource-based towns spring up across the American West, many of which died when the resources dried up. Others emptied out after natural disasters such as floods and earthquakes, never to be rebuilt. And while there are ghost towns all over the world (Japan's Battleship Island was once the site of a vast coal mining facility; the diamond mining town of Kolmanskop, Namibia, was full of grand buildings before the desert started swallowing it up), the ghost towns of America have a special flavor. Here are 10 you can (safely) visit, as long as you don't mind a few spooks.
1. Bodie, California
Founded during the Gold Rush by prospector W.S. Body, who discovered deposits of the precious metal in 1859 in nearby hills, Bodie is a ghost town preserved in a state of "arrested decay." At its peak, this Wild West boomtown had a population of 10,000 people. Mining activities started to decline during the early 20th century, before shutting down completely by the 1940s. Today, Bodie (the spelling change apparently came from a painter's mistake) is a State Historic Park, with more than 100 deserted buildings. Interiors are left just as they were when it became a historical landmark in 1962, and while you can't go inside the buildings, you can peer through the windows of the still-stocked stores to see products your grandparents might have used. But watch out: Legend has it that anyone who takes an artifact from the town will be visited by a curse—though that might just be a sly preservation strategy.
2. Dunton Hot Springs, Colorado
Want to rent an entire ghost town for a wedding or corporate retreat? You're in luck. This former mining camp, whose population peaked at a few hundred people around 1905, once comprised about a mile of log structures along the West Dolores River. The mines were exhausted around 1918, when most people left the town, but two residents purchased the whole thing a few years later and began operating it as a cattle ranch. In the mid-20th century the place became a dude ranch for tourists, before being purchased by German investors in the 1990s and undergoing a major renovation. The new owners describe it as a "perfectly restored ghost town" where you can enjoy some rustic, old-fashioned ambiance alongside your meals, massages, and high-speed internet (but no cell phones, please).
3. Thurmond, West Virginia
Back in the days when America ran on coal, Thurmond thrived as a classic Appalachian boomtown. Area coal fields brought in more revenue than anywhere else on the Chesapeake & Ohio Railway, and local bank accounts bulged. At its height, during the early decades of the 20th century, Thurmond boasted two hotels, two banks, restaurants, a movie theater, and plenty of stores. But when coal usage declined and diesel took over, the town slipped into a decline. At the last census, the population was listed at 5. Today the National Park Service owns much of Thurmond, and has been repairing and stabilizing the abandoned buildings; they restored the local train depot as a visitor center in the 1990s.
4. Kennecott, Alaska
The abandoned buildings of the Kennecott mining town are nestled in America's biggest national park, Wrangell–St. Elias (at 13.2 million acres, it's bigger than Switzerland). During its boom years at the beginning of the 20th century, the mine produced about $200 million worth of copper ore, and the town had its own hospital, school, and skating rink, among other structures. Declining profits forced the mine to close in the late 1930s, and it decayed for decades, until the National Park Service bought it in 1998. The park service is now stabilizing the buildings, and runs a visitors center in the old general store.
5. St. Elmo, Colorado
Once home to almost 2000 people lured by the area's gold and silver mines, St. Elmo was founded in 1880 but abandoned in the 1920s. Locals say the residents left on the last train out of town, and never came back. The place used to be home to dance halls, a school, hotels, and even a telegraph office, but is now mostly picturesque-looking dilapidated wooden structures. However, you can shop in the general store in the summer, rent ATVs, and stay in one local "semi-rustic" cabin.
6. Bannack State Park, Montana
Hotel Meade in Bannack, Montana / U.S. Department of the Interior - Scenic Montana, Wikimedia // CC BY-SA 2.0
Bannack was named the first Territorial Capital of Montana in 1864, two years after a prospector named John White struck gold on Grasshopper Creek. (Bannack didn't stay the capital for long, however—that title was transferred to Virginia City, Montana, shortly after gold was found there too.) Mining continued at Bannack in fits and starts until the 1930s, although the town wasn't entirely abandoned until the 1950s. It's now a well-maintained state park with more than 60 structures, many of which you can explore—a rare opportunity for a state-run ghost town.
7. Rhyolite, Nevada
This town on the way to Death Valley was named for a local pinkish volcanic rock, but it was gold that drove its brief boom—and subsequent bust. Thousands flocked to Rhyolite after prospecting discoveries in the early 1900s, and no less than Charles M. Schwab invested in infrastructure that brought the town water, electricity, and the railroad. By 1907, locals even had an opera house. But local mines were quickly exhausted, and after the San Francisco earthquake of 1906 and the financial panic of 1907, most of the miners and their families decamped for greener (or golder) pastures. Rhyolite managed to stage a second act as a movie set for "Old West" pictures in the 1920s, and today there's an outdoor sculpture park, the Goldwell Open Air Museum, near the entrance to the town.
8. Cahawba, Alabama
People once had big plans for Cahawba (also spelled Cahaba), Alabama's first permanent capital, but its location on the confluence of two major rivers made it a major flood hazard. The town lost its capital status in 1826, but briefly rallied as a distribution point for cotton and the site of a prison for Union soldiers. After the Civil War, it became a popular community for freed slaves. But floods continued to bedevil the area, and by the early 20th century most of the buildings were abandoned. Today it's Alabama's best-known ghost town and an archeological park where visitors can see the abandoned streets, cemeteries, and other historic ruins.
9. Garnet, Montana
About a thousand people called Garnet home around the turn of the last century, but by 1905 the gold was running out. A massive fire in 1912 didn't help matters. Some of the population hung on until after World War II, but today the town is owned by the Bureau of Land Management, which works to stabilize the remaining two dozen buildings. The place is said to be Montana's most intact ghost town. In 2015, the BLM issued a call for live-in summer volunteers, but were so flooded with applicants they had to stop taking inquiries almost immediately.
10. Calico, California
Calico had a brief but shining heyday as a silver mining town in the 1880s and 1890s, with over 500 mines and $20 million of silver ore produced in 12 years. But when silver lost value in the 1890s, Calico lost its residents. In the 1950s, Walter Knott—of Knott's Berry Farm fame—bought the town and restored many of the buildings to their 1880s glory. It's now a major tourist attraction. In 2005, then-Governor Arnold Schwarzenegger proclaimed it "California's Silver Rush Ghost Town." (Not to be outdone, Bodie, California, was recognized as the state's "Official Gold Rush Town.") There's a museum, a mine tour, a historic train tour, gold panning, and something called a "mystery shack," which promises to amaze and confuse with its optical illusions. This list was republished in 2019.
Whether you're a believer or not, you can conduct your own paranormal investigations with just a few essential tools. Here's 7 Ghost-Hunting Tools Recommended by Paranormal Investigators.