Here's What 10 Symbols on Cosmetics Labels Mean
We get pretty up close and personal with our cosmetics (that's sort of their job after all), but often, these products are stamped with mysterious symbols that go largely ignored by consumers. It turns out that these icons are a great way to get to know the cosmetics that serve to make us more presentable human beings.
1. PAO (Period After Opening) 

The little open jar icon is the PAO (or Period After Opening) symbol, which tells you how long the product will stay good after the package is unsealed. The time period is almost always shown in months and appears as a number followed by the letter 'm', either inside the jar graphic or next to it.  The "period of time after opening" must be included on products with a shelf life of 30 months or more.
2. Best Before End Date
Any cosmetic product that has a lifespan of less than 30 months has a "Best Before End of" date, symbolized by the hourglass or egg timer. Cosmetics sold in the European Union must include either a PAO or BBE symbol, but according to the U.S. Food and Drug Administration (the FDA), there are no regulations or requirements under current United States law that require cosmetic manufacturers to print expiration dates on the labels of cosmetic products. A few general rules to follow: Mascara should be replaced every three to four months, lipstick and liquid foundation can last a year or more, and powders are good for up to two years.
3. Mobius Loop 
Speaking of lifespan, we all know the triangle made of arrows, also called a Mobius loop, indicates a recyclable container, but there are variations we might not know to pay attention to. If the symbol is inside a solid circle, it means the packaging itself is made from recycled material. If the symbol is inside a circle and has a percentage inside the symbol or nearby, that indicates that the packaging is made from that stated percentage of recycled material. Sometimes the symbol has a number inside the triangle and letters below, details which indicate the particular resin used in making the plastic, in order to facilitate the recycling process.
4. The Green Dot Symbol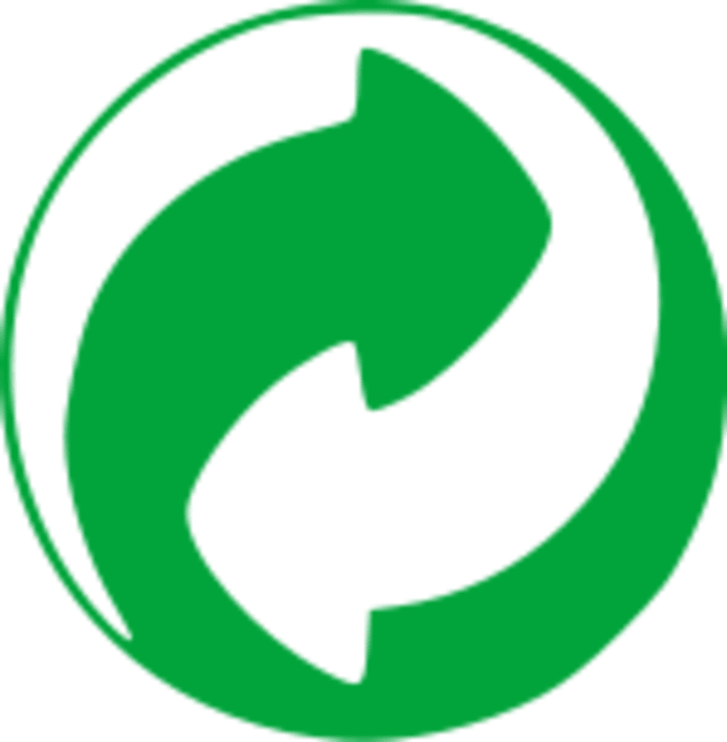 The Green Dot symbol (used in Europe), indicates that the company making the product pays a recovery and recycling organization to oversee ecologically responsible management of their packaging waste.
5. The USDA Organic Seal 
The USDA Organic seal promises that at least 95% of the ingredients in a product are organic. The FDA, however, does not define the terms "organic" or "natural" or regulate their usage in labeling or advertising cosmetics. Since the USDA only allows their seal to be used on products made of at least 95% organic ingredients, the NSF seal was created for products comprised of at least 70% organic ingredients. Not all ingredients used in cosmetics are eligible for organic status under USDA regulations, so the NSF offers less stringent accreditation, along with a logo for marketing purposes, for products that can't meet the stricter USDA standards. 
6. Ecocert  
Ecocert is another nongovernmental certification program for evaluating the organic contents of products. If the Ecocert Organic symbol appears on a product, that signifies that at least 95% of its plant-based ingredients and at least 10% of all its ingredients by weight are organic. If the Ecocert Natural symbol appears on a product, that signifies that least 50% of its plant-based ingredients and at least 5% of all its ingredients by weight are organic.
7. Cosmebio 

These logos attest to certification by the French organization COSMEBIO. The BIO symbol stands for biologique, the French word for organic, and attests that the product contains at least 95% natural ingredients, and that organic farming accounted at least for 10% of the total product and 95% of the plant ingredients. The ECO symbol stands for ecologique, the French word for natural, and attests that the product contains at least 95% natural ingredients, and that organic farming accounted for at least 5% of the total product and 50% of the plant ingredients. 
There are many other logos that speak to a product's organic or natural content. Each certifying organization has their own standards for accrediting a product; check each certifying organization's regulations to know what precisely each logo signifies.
8. Refer to Insert 
When you see a hand pointing at a book, your face mask isn't telling you to go get some reading done. The symbol is referencing information or instructions contained on a leaflet, card, or other insert, such as an ingredients list, usage instructions, or warnings about the product. This "refer to insert" symbol appears when the required information doesn't all fit on a container's label, which happens quite often with smaller cosmetics packages.
9. E-Mark
In the European Union, a lowercase "e" is the estimated sign (sometimes called an e-mark), which indicates that, across all of the cosmetics manufactured, the average volume or weight of the products is the same as the number on the label, per EU law.
10. The Leaping Bunny 

Animal testing is a big concern in the word of hygiene and beauty products, and a good rule of thumb here seems to be to keep an eye out for a bunny. The "Leaping Bunny" symbol tells you the company that manufactured the product does not perform testing on animals and conforms to the standard set by the Coalition for Consumer Information on Cosmetics (CCIC) and Cruelty Free International (CFI). The Not Tested on Animals symbol, also featuring a rabbit, communicates that the company manufacturing the product satisfies the standards of the Australia-based group Choose Cruelty Free and has been deemed cruelty-free across the entire corporation, including its parent or subsidiaries. (Products bearing this symbol have not been tested on animals, and any animal-derived ingredients they contain have been ethically sourced.) The PETA Cruelty-Free Bunny indicates that a company has submitted a statement to PETA asserting that they do not perform testing on animals. There's also a vegan version of the logo, available to companies who state that all their products are vegan.