10 Fascinating Facts About Davy Crockett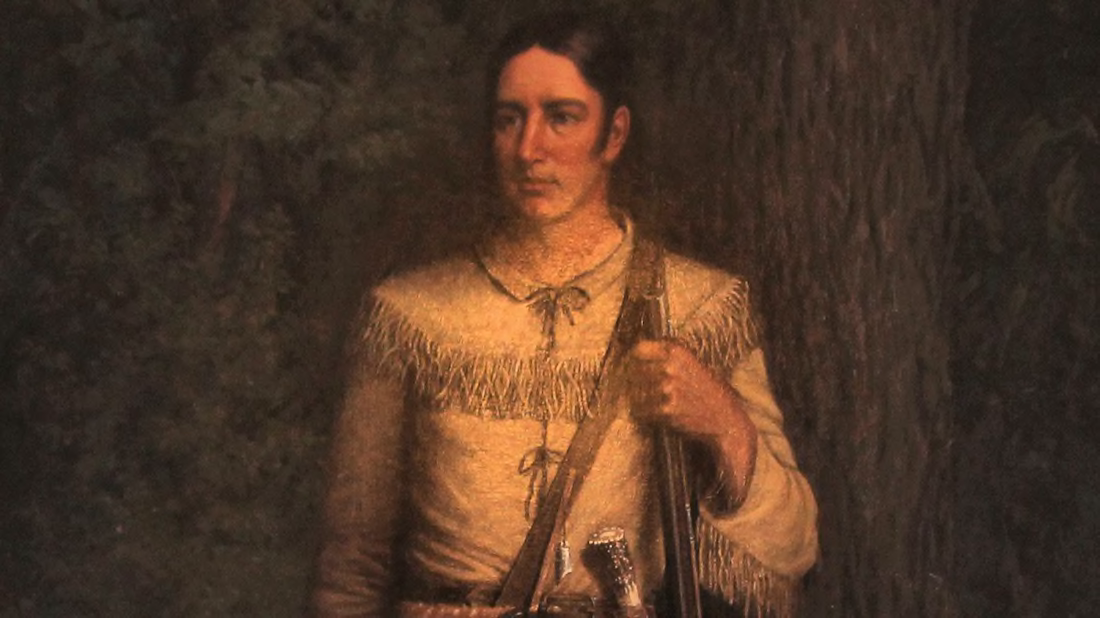 Born on August 17, 1786, backwoods statesman Davy Crockett's life has often been obscured by myth. Even during his lifetime, fanciful stories about his adventures were transforming him into a buck-skinned superhero. And after his death, the tales kept growing taller. So let's separate fact from fiction.
1. HE RAN AWAY FROM HOME AT AGE 13.
When Davy was 13, his father paid for him to go to a school. But just four days in, Davy was bullied by a bigger and older boy. Never one to back down from a fight, one day Crockett waited in a bush along the road home until evening. When the boy and his gang walked up the road, Crockett leaped from the bush and, as he later wrote in his autobiography, "set on him like a wild cat." Terrified that the schoolmaster would whip him for beating one of the boys so severely, he decided to start playing hooky.
His father, John, was furious when a letter inquiring about his son's poor attendance showed up. Grabbing a stick, he chased after Davy, who fled. The teen spent the next few years traveling from his native Tennessee to Maryland, performing odd jobs. When he returned, Crockett's parents didn't recognize him at first. Following an emotional reunion, it was agreed that Davy would stick around long enough to help work off some family debts. About a year later, all these were satisfied, and Crockett left for good not long after.
2. HE NEARLY DIED IN A BOATING ACCIDENT.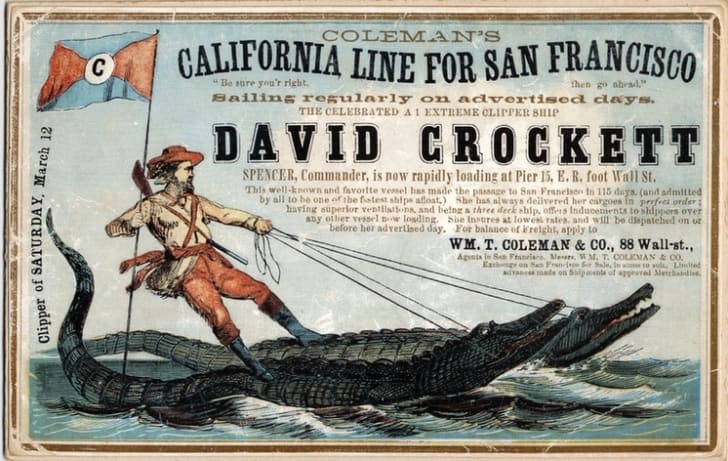 After serving under General Andrew Jackson in the Tennessee militia, Crockett got into politics. Elected as a state legislator, he served two terms between 1821 and 1823. After losing his seat in 1825, Crockett chose an unlikely new profession for himself: barrel manufacturing. The entrepreneur hired a team to cut staves (the boards with which barrels are constructed) that he planned on selling in New Orleans. Once 30,000 were prepared, Crockett and his team loaded the shipment onto a pair of flatboats and traveled down the Mississippi River. There was just one problem: The shoddy vessels proved impossible to steer.
With no means of redirecting them, the one carrying Crockett ran into a mass of driftwood and began to capsize, with Crockett trapped below deck. Springing to action, his mates on the other boat pulled him out through a small opening. The next day, a traveling merchant rescued them all.
3. HE CLAIMED TO HAVE KILLED 105 BEARS IN ONE YEAR.
If his autobiography can be believed, the expert marksman and his dogs managed to kill 105 bears during a seven-month stretch from 1825 to 1826. Back then, bear flesh and pelts were highly profitable items, as were the oils yielded by their fat—and Crockett's family often relied on ursid meat to last through the winter.
4. A SUCCESSFUL PLAY HELPED MAKE HIM A CELEBRITY.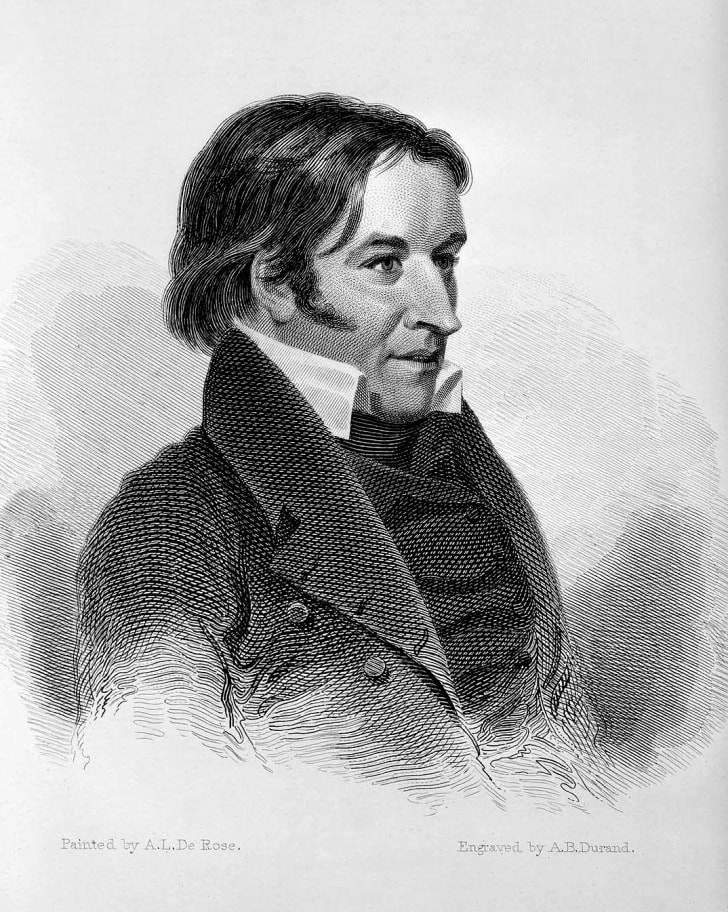 By Painted by A.L. De Rose; engraved by Asher B Durand - Museum of Fine Art, Boston, Public Domain,
Wikimedia Commons
Crockett ran for Congress in 1827, winning the right to represent western Tennessee. Four years later, a new show titled The Lion of the West wowed New York theatergoers. The hit production revolved around a fictitious Kentucky congressman named Colonel Nimrod Wildfire, whose folksy persona was clearly based on Crockett. Before long, the public grew curious about the flesh-and-blood man behind this character. So, in 1833, an unauthorized Crockett biography was published.
Sketches and Eccentricities of Colonel David Crockett of West Tennessee became a bestseller—much to its subject's chagrin. Feeling that Sketches distorted his life's story (although, to be fair, it began, "No one, at this early age, could have foretold that he was ever to ride upon a streak of lightning, receive a commission to quiet the fears of the world, by wringing off the tail of a comet," so it's unlikely anyone thought it was a straight biography), the politician retaliated with an even more successful autobiography the very next year.
When The Lion of the West came to Washington, Crockett finally watched the play that started it all. That night, actor David Hackett was playing Col. Wildfire. As the curtain rose, he locked eyes with Crockett. They ceremoniously bowed to each other and the crowd went wild.
5. HE RECEIVED A FEW RIFLES AS POLITICAL THANK YOU GIFTS.
Over the course of his life, Crockett wielded plenty of firearms; two of the most significant were named "Betsy." Midway through his state assembly career, he received "Old Betsy," a .40-caliber flintlock presented to him by his Lawrence county constituents in 1822 (today, it can be found at the Alamo Museum in San Antonio). At some point during the 1830s, Crockett's congressional tenure was rewarded with a gorgeous gold-and-silver-coated gun by the Whig Society of Philadelphia. Her name? "Fancy Betsy."
If you're curious, the mysterious woman after whom these weapons were christened was either his oldest sister or his second wife, Elizabeth Patton.
6. HE PUT A LOT OF EFFORT INTO MAINTAINING HIS WILD IMAGE.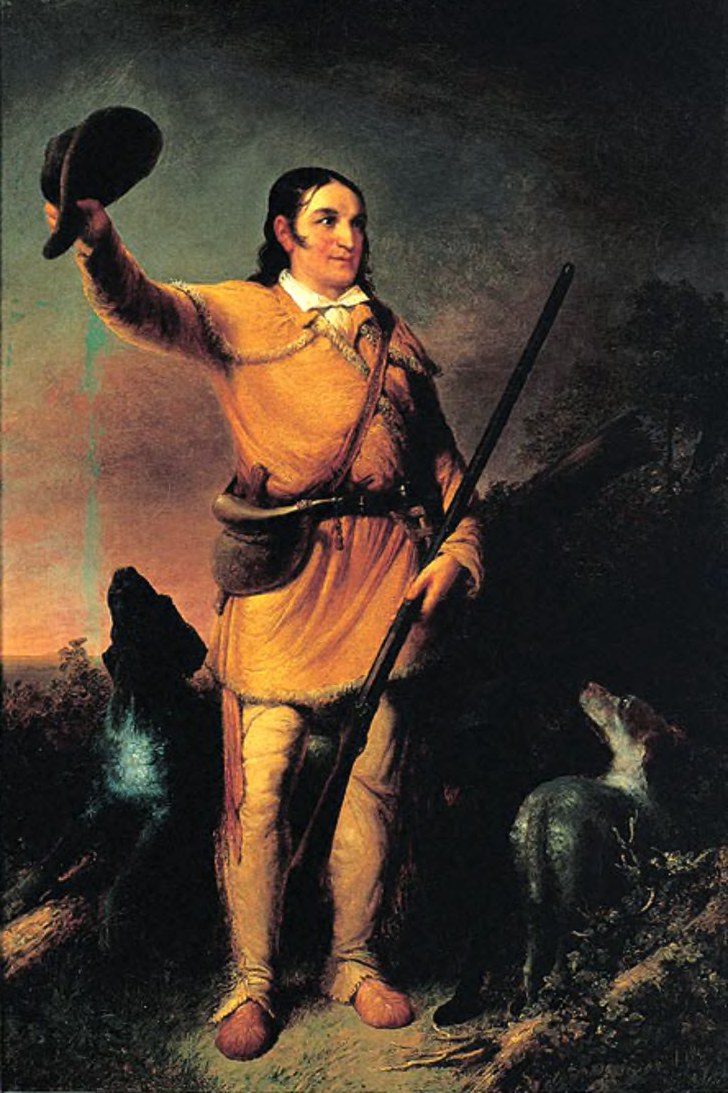 By
John Gadsby Chapman
- Art Collection, Harry Ransom Humanities Research Center, The University of Texas at Austin., Public Domain,
Wikimedia Commons
For somebody who once called fashion "a thing I care mighty little about," Crockett gave really detailed instructions to portraitists. Most likenesses, the politician complained, made him look like "a sort of cross between a clean-shirted Member of Congress and a Methodist preacher." For the portrait above—arguably the world's most dynamic painting of Crockett, as rendered by the esteemed John Gadsby Chapman—Crockett asked the artist to portray him rallying dogs during a bear hunt. Crockett purchased all manner of outdoorsy props and insisted that he be shown holding up his cap, ready to give "a shout that raised the whole neighborhood."
7. HE COMMITTED POLITICAL SUICIDE BY SPEAKING OUT AGAINST ANDREW JACKSON'S NATIVE AMERICAN POLICY.
Andrew Jackson was a beloved figure in Tennessee, and Crockett's vocal condemnation of the President's 1830 Indian Removal Act didn't win him many friends back home. "I believed it was a wicked, unjust measure," the congressman later asserted, "and that I should go against it, let the cost against me be what it might." He then narrowly lost his 1831 reelection bid to William Fitzgerald, who was supported by Jackson. In 1833, Crockett secured a one-term congressional stint as an anti-Jacksonian, after which he bid Tennessee farewell, famously saying, "You may all go to hell, and I will go to Texas."
8. HE REALLY DID WEAR A COONSKIN HAT (SOMETIMES).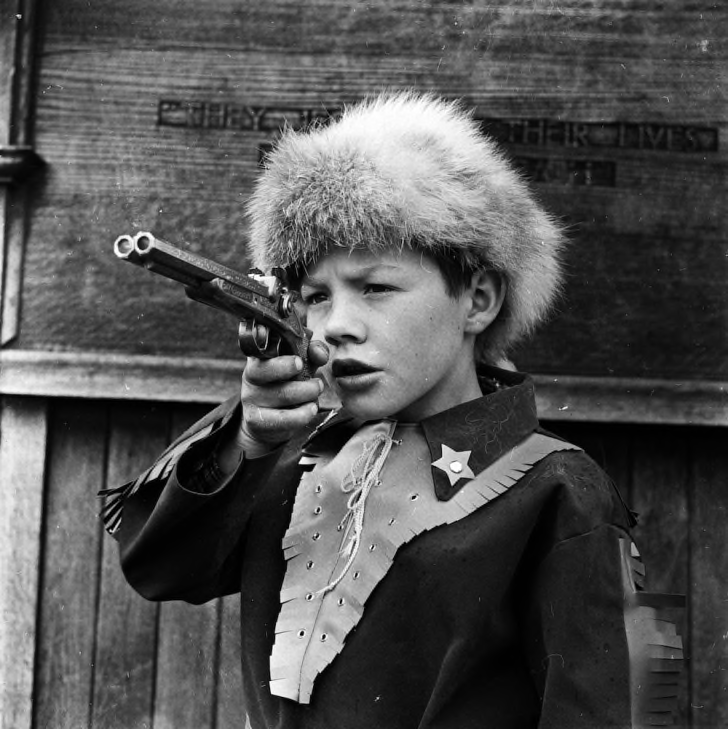 Harry Kerr/BIPs/Getty Images
Walt Disney's Davy Crockett TV serial triggered a national coonskin hat craze in the 1950s. Suiting up for the title role was square-jawed Fess Parker, who was seldom seen on-camera without his trusty coonskin cap. Children adored Davy's rustic hat and, at the peak of the show's popularity, an average of 5000 replicas were sold every day.
But did the historical Crockett own one? Yes, although we don't know how often he actually wore it. Some historians argue that, later in life, he started donning the accessory more often so as to capitalize on The Lion of the West (Col. Wildfire rocked this kind of headgear). One autumn morning in 1835, the frontiersman embarked upon his journey to Texas, confident that the whole Crockett clan would reunite there soon. As his daughter Matilda later recalled, he rode off while "wearing a coonskin cap." She'd never see him again.
9. THERE'S SOME DEBATE ABOUT HIS FALL AT THE ALAMO.
It's clear that Crockett was killed during or just after the Battle of the Alamo in 1836—but the details surrounding his death are both murky and hotly-contested. A slave named Joe claimed to have spotted Crockett's body lying among a pile of deceased Mexican soldiers. Mrs. Suzannah Dickinson (whose husband had also been slain in the melee) told a similar story, as did San Antonio mayor Francisco Ruiz.
On the flip side, The New Orleans True American and a few other newspapers reported that Crockett was actually captured and—once the fighting stopped—executed by General Santa Anna's men. In 1955, more evidence apparently surfaced when a long-lost diary written by Lieutenant Colonel José Enrique de la Peña saw publication. The author writes of witnessing "the naturalist David Crockett" and six other Americans being presented to Santa Anna, who promptly had them killed.
Some historians dismiss the document as a forgery, but others claim that it's authentic. Since 2000, two separate forensics teams have taken the latter position. However, even if de la Peña really did write this account, the famous Tennessean still might have died in combat beforehand—perhaps the Mexican officer mistook a random prisoner for Crockett on the day in question.
10. DURING SPORTING EVENTS, A STUDENT DRESSED LIKE CROCKETT RALLIES UNIVERSITY OF TENNESSEE FANS.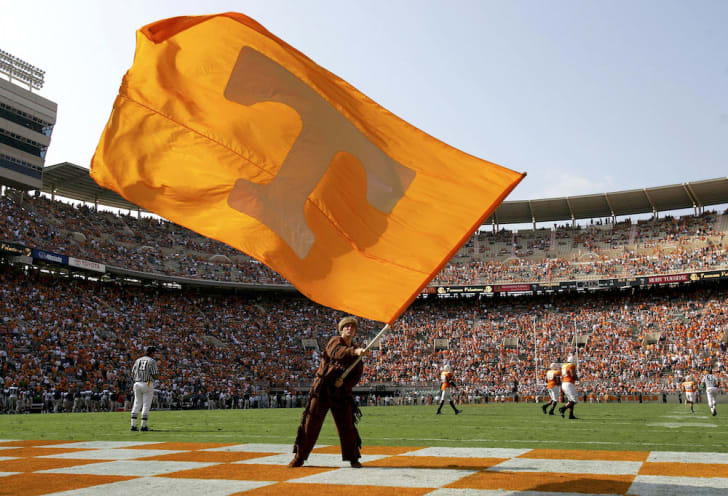 Doug Pensinger/Getty Images
Smokey the hound dog might get all the attention, but the school has another mascot up its sleeve. On game days, a student known simply as "the Volunteer" charges out in Crockett-esque regalia, complete with buck leather clothes, a coonskin cap, and—occasionally—a prop musket.