8 Tips for Packing Your Car for a Camping Trip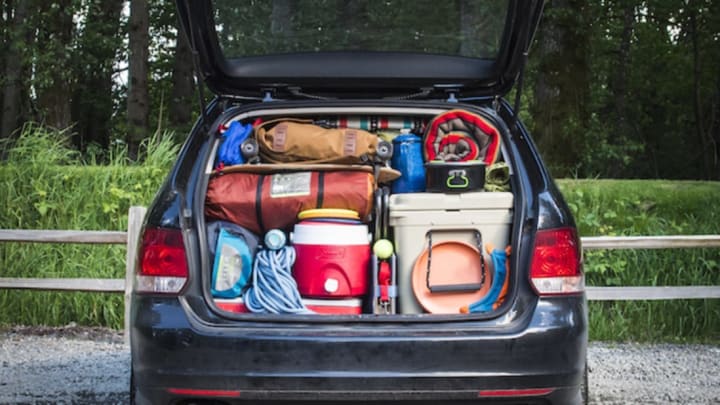 REI / REI
Everyone has felt the frustration of struggling to pack a car—including Tad Summersett, Director of Product Strategy for Private Brands at outdoor retailer REI. "I'd find myself packing and unpacking multiple times before getting everything to fit. Or sweating and frustrated as I dug through layers of tightly packed gear just to find a flashlight to set up camp," he tells mental_floss. So he decided to do something about it. Through "years of trial and error," he developed a strategy he dubbed Precision Packing—and by following his tips below, you can quickly and painlessly load up a car, no matter what you're packing for. "Some of these are specific to camping, but most of these tips can be applied to all types of packing," Summersett says. "Let my mistakes save you from the unnecessary frustration and waste of time."  
1. DON'T JUST START THROWING THINGS IN THE TRUNK.
Summersett advises laying out all the items near your car—including things that were already in your car—and assessing what you have to fit in there. And make sure that everyone has put out everything they're planning to bring before you start packing. "Adding just one forgotten item mid-way through the job can mean starting all over," Summersett says. "Once you have everything laid out in front of you, assess what all needs to fit. Then start playing Tetris—so to speak—taking into account any of your individual needs throughout the trip and upon arrival. The more you do it, the more efficient your packing becomes."
2. START WITH A GOOD FOUNDATION ...
As with many projects, the key to packing your car is to start with a strong foundation. "Place your heavier or larger items with flat sides—like a camping cooler or camp stove, or heavier boxes when moving—and build up," Summerset says.
3. … AND LEAVE SOME HOLES AS YOU BUILD.
It sounds counterintuitive, but leave holes and gaps as you're packing, which you can later fill with stuff you might need along the way—like camping chairs for a roadside picnic—which you'll then be able to easily slide out.
4. POSITION BAGS JUST RIGHT.
You want to make sure everything is easily accessible so you can get into everything without having to fully unload. Summersett advises doing things like turning bags so you can get to the zippers and putting lighting on the top just in case you arrive at the campsite at night.
5. UNROLL THOSE SLEEPING PADS.
Not only will unrolling your sleeping pads give you more flexibility when you're packing, but you can also put them to work: "They can be used to hold things together," Summersett says.
6. STRATEGICALLY PLACE THE HEAVY STUFF.
Any heavy or hard objects should be placed "below the highest point of your rear seat to prevent items from banging into your head given a sharp turn or sudden stop," Summersett says.
7. THINK ABOUT WHERE YOU'RE GOING, WHEN YOU'LL ARRIVE, AND WHAT YOU'LL NEED WHEN YOU GET THERE.
"If you're arriving at dinnertime, have your camp kitchen readily accessible," Summersett says. "If you're arriving after dark, be sure to strategically place your lighting. Aside from those key items, stick to the foundation method with heavier items on the bottom and you'll set yourself up for success."
8. WHEN YOU'RE DONE, SNAP A PHOTO.
It will make it much easier to recreate what you've done for the trip home. Now hit the road!