11 Things You Might Not Know About 'The Little Mermaid'
My daughter has spent much of the year standing on her bed shouting, "LET IT GO!!!" in no particular melody. I can't fault her too much for this, though—25 years ago all the little girls at my school wanted "to be where the people are…wanna see them dancing…" and sang of that desire with just as much off-key earnestness. Still, who can ignore the craftsmanship that went into making The Little Mermaid? 
Here are a few things you may not know about everyone's favorite self-loathing mermaid. (Not included? The alleged "phallus" on the VHS box. It was an accident, and it wasn't put there by a disgruntled artist. Most pointy things happen to look like phalluses.)
1. JODI BENSON TRIED OUT FOR THE PART OF ARIEL VIA RECORDED AUDITION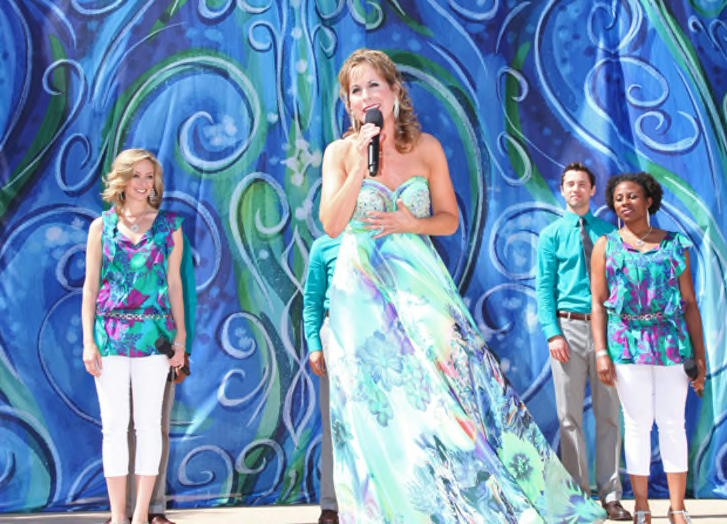 While Benson had never been in a movie, she appeared on Broadway in Smile, written by Howard Ashman. The production closed quickly, and Ashman, feeling guilty, gave all the women who'd been in the play a rare opportunity to try out for a Disney movie he was co-producing. Benson handed in her reel-to-reel voice audition with all the other girls' and waited a whole year before learning she'd landed the part of Ariel.
2. PRODUCER HOWARD ASHMAN STAYED IN THE BOOTH WITH BENSON WHILE SHE WAS RECORDING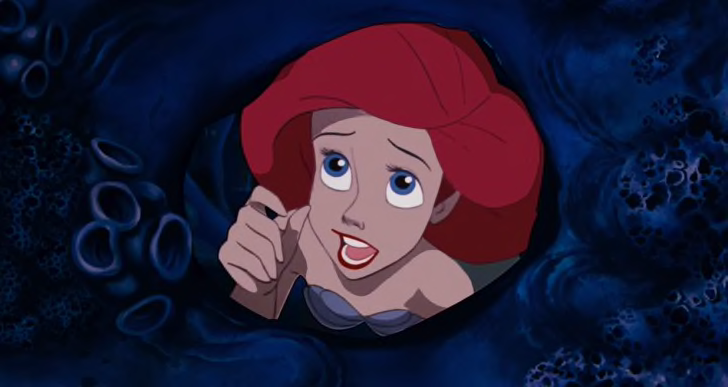 It's rare for a director or producer to sit inside the glass booth with a voice artist while he or she records vocal tracks, but Ashman wanted his young star to inhabit Ariel as perfectly as possible. Howard had to sneak around while directing her from inside the booth so the microphone wouldn't pick up his movements.
3. THE LITTLE MERMAID KICKED OFF WHAT IS KNOWN AS "THE DISNEY RENAISSANCE."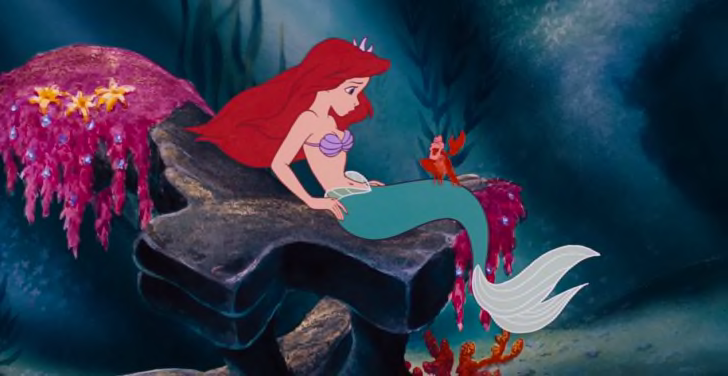 Do you remember what Disney was serving up before Ariel came along? Some examples are Oliver & Company, The Black Cauldron, and a whole bunch of live action films, many of which started with the word "Herbie." All of these were miles away from the beauty and craft of Cinderella, Dumbo, and the like.
Some credit the downward slide of Disney films to Walt's death in 1966 (quickly followed by his brother, Roy, in 1971). For 20 years, it can be said that Disney churned out children's movies based on a lackluster version of the company's original vision. But then came Ariel. After The Little Mermaid came ten years of fantastic features, including major hits like Aladdin, The Lion King, and Mulan.
4. THE LITTLE MERMAID WAS ONE OF THE FIRST FEATURES TO USE PIXAR'S COMPUTER ANIMATION PROCESS.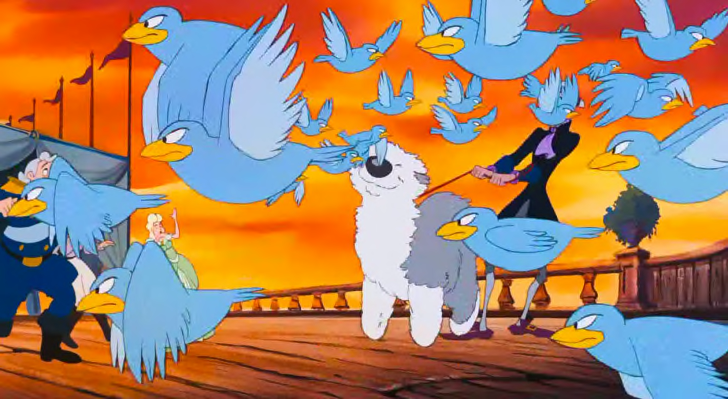 The usual way to make cartoons had always been by transferring animators' drawings to celluloid and then painting the reverse side. This process can yield beautiful results, but it was obviously time consuming. Pixar's program allowed animators to upload drawings onto a computer loaded with an infinite color palette and capable of impossibly subtle blending and transparencies. Though computers were used in very few scenes in The Little Mermaid, Pixar continued to develop the process until computer animation became the standard for quality Disney releases.
5. WRITER SHERRI STONER AND A YOUNG ALYSSA MILANO WERE THE PHYSICAL INSPIRATIONS FOR ARIEL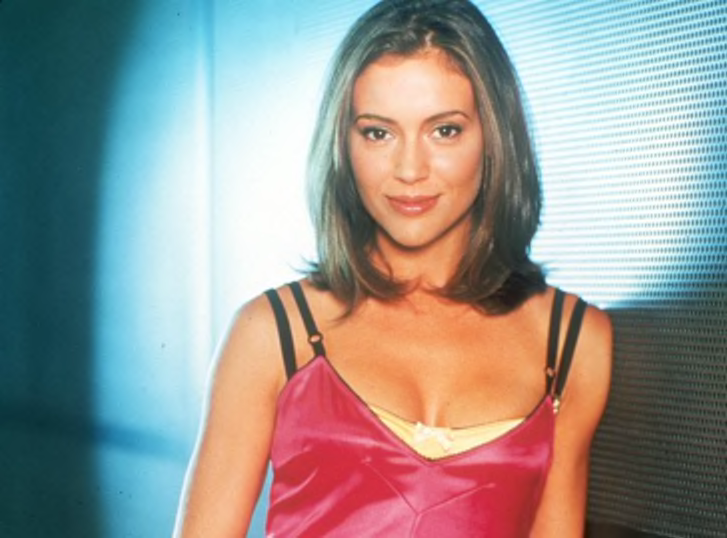 Stoner's slight and graceful frame guided the animators to make Ariel's movements realistic. (You can watch a compilation of Stoner modeling the physical movements for the film here.) Meanwhile, and unbeknownst to her at the time, Ariel's face was modeled after Alyssa Milano. Watch Milano reveal that little-known but suddenly obvious fact on The Wendy Williams Show:
6. THE INSPIRATION FOR URSULA WAS POSITIVELY DIVINE.
Many only know the talents of super-sized drag queen Divine from the original Hairspraymovie. Divine was a staple of John Waters' joyfully trashy films until his death in 1988. He never lived to see himself immortalized as one of the most fun and nasty Disney villains in history. The particular inspiration appears to be taken from Pink Flamingos (see the undeniably astounding similarities here), a film that should definitely be avoided by young fans of The Little Mermaid.
7. THE FIRST CHOICE FOR URSULA'S VOICE WAS BEA ARTHUR.
And she probably would have done a wonderful job. In fact, the screenplay even called for Ursula to have a "Bea Arthur-type basso voice." However, she declined, or at least her agent did. As co-director John Musker remembers, "Her agent, I guess, read the script, and ... somehow in her mind, (it came across as if) we were saying Bea Arthur was a witch. I don't think that she even gave it to her." Many other famous women auditioned for the role, but only veteran character actress Pat Carroll was able to give the extremely picky songmeister Howard Ashman the performance he wanted.
8. A MUPPET VERSION WAS PLANNED AS A TELEVISION SERIES.
It was called Little Mermaid's Island and it was scrapped in favor of a fully animated series that appeared on CBS. You can watch a sample of the show, which mixed puppetry and live action, above.
9. MICKEY MOUSE AND PALS CAN GO WHEREVER THEY PLEASE IN THE DISNEY UNIVERSE. EVEN UNDER THE SEA.
There is a remarkable website, last updated in 2007, that is devoted to finding "hidden Mickeys" in the Disney universe. There is no denying Mickey's omnipresence. Look closely and don't be distracted by the flaming trident—we all know who the real king in this picture is.
10. URSULA WAS PROBABLY TRITON'S SISTER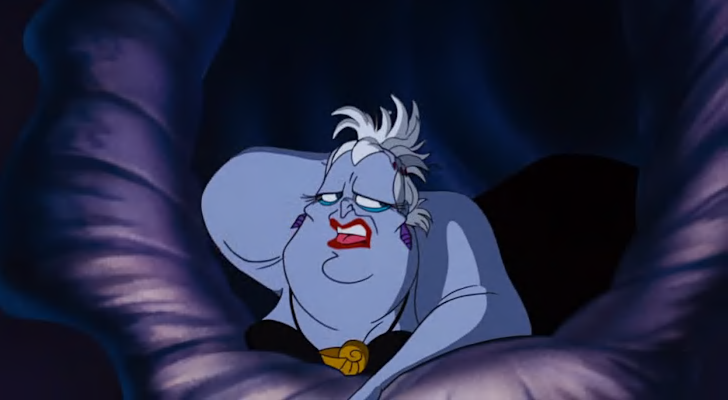 Although it's never directly dealt with in the film, Ursula does make reference to good old days when "I was in the palace." The family connection is a part of the Broadway production storyline, and the 2006 DVD re-release of The Little Mermaid includes a short documentary called Treasures Untold that mentions the preliminary planning to make this family tie part of the film.
11. CHRISTOPHER DANIEL BARNES WAS ONLY 17 WHEN HE RECORDED THE VOICE OF PRINCE ERIC. 
Barnes was cast despite being only 17 years old at the time. He may be better remembered as Greg from The Brady Bunch movies of the 90s, as well as the voice of many animated incarnations of Spider-man. Says Barnes, "It's my favorite of all the Disney films, I'm not just saying that because I'm biased. In every animated film that came after, all the women look like Ariel. I was the Prince in The Little Mermaid. If I never do anything else, Disney on laserdisc is eternal!"