10 Vital Cultural Sites That Might Vanish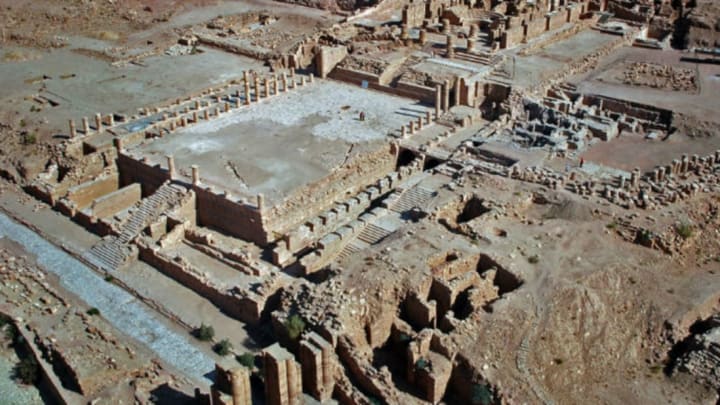 World Monuments Fund / World Monuments Fund
The World Monuments Fund just released its biennial list of the 50 most at-risk cultural heritage sites, calling attention to cases of neglect, decay, or political endangerment that threaten to destroy some of history's most important slices of real estate.  
The organization—which began issuing the reports in 1996—hopes that public awareness can help stir action from government or community forces. Here's a sampling of sites in danger of disappearing:
1. PAVLOPETRI // GREECE
Located in southern Greece, the fragile remains of this underwater city are being damaged by passing ships and pollution. Ceramics found there have allowed researchers to date its society back 5000 years.
2. SPAC PRISON // ALBANIA
A deteriorating labor camp in Albania that sent many prisoners to their death working in copper mines, Spac had been host to human captivity as late as the 1990s; the Fund argues it should be restored as a way of remembering a time when Communism prevailed.
3. THE GENERAL CEMETERY OF SANTIAGO // CHILE
An eloquently designed resting place located in Chile, this cemetery is home to more than two million graves. A series of earthquakes have undermined its foundation, and local officials are allegedly doing little to address the damage.
4. SABU AND JADDI // SUDAN
Two rock art sites in Sudan have been subject to both vandals and natural erosion. Flood waters from newly erected dams threaten to destroy some of the Neolithic portraits before they can be properly studied.
5. THE CHURCH OF SAO CRISTOVAO // PORTUGAL
Lisbon's infamous 1755 earthquake reduced many buildings to rubble, but this opulent temple of worship remained standing. It now requires restoration in order to preserve its intricate woodwork, oil paintings, and other other features.
6. THE ARCH OF JANUS // ROME, ITALY
The last quadrifrons (four-faced) arch from ancient Rome still standing has yet to be preserved, even though the rest of the Forum Boarium (once a livestock market) is being brought up to date.
7. MOSELEY ROAD BATHS // BIRMINGHAM, ENGLAND
The Edwardian architecture of this indoor pool house is still being enjoyed by current residents, but government cutbacks are threatening to close the area down permanently.
8. PETRA // JORDAN
A city carved largely out of rock, Petra is irresistible to tourists. Unfortunately, uncontrolled foot traffic is one reason the area is in danger of crumbling. Flash floods and erosion are also taking their toll.
9. THE BRUSSELS PALACE OF JUSTICE // BELGIUM
Built as a courthouse for a newly independent Belgium in the 19th century, this immense structure was derided as too extravagant when it was built, and later suffered when it was deemed too expensive to maintain. The sprawling, 250-plus-room building is now in desperate need of renovation.
10. THE CHUG-CHUG GEOGLYPHS // CHILE
Located in Chile's Atacama Desert, the geoglyphs (pictures made out of land surfaces) are thought to be more than 1000 years old. Some are over 30 meters in diameter and depict human figures hunting animals. The establishment of a park is needed to preserve, protect, and explain the amazing art for future generations.   
All images courtesy of the World Monuments Fund
Additional Sources:
"World Monuments Fund 2016 World Monuments Watch" [PDF]; "World Monuments Fund 2016 Facts and Figures" [PDF].