14 Things You Might Not Know About U-Haul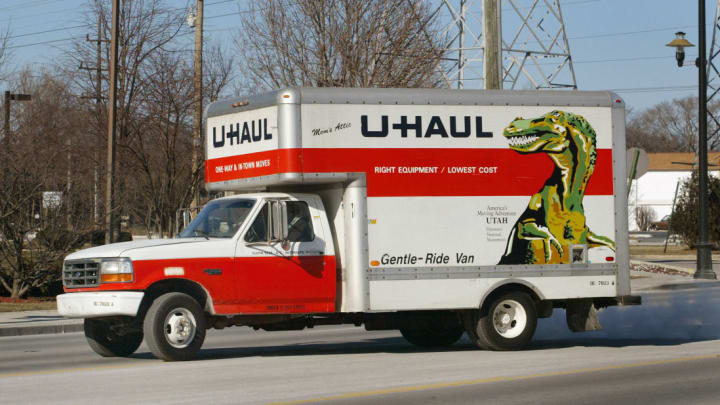 Tim Boyle, Getty Images / Tim Boyle, Getty Images
If you've ever pulled up housing roots, you've probably realized that your accumulated possessions are more than enough to fill up a 26-foot-long rental truck. That's good news for U-Haul, a company with 70 years invested in offering a fleet of vehicles to transport everything from furniture to cat stowaways. (More on that later.)
If helping entire households transplant themselves sounds like a mammoth undertaking, it is: The family-owned and operated company has seen its share of growing pains over the years. Check out some facts on corporate fistfights, a CEO fond of tossing money out the window, and which of their moving supplies are safe to eat.
1. U-Haul once compared its trucks to covered wagons. 
When Leonard "Sam" Shoen and his wife wanted to move from Los Angeles to Portland in 1945, they found that no one was willing to rent them a one-way trailer. Shoen, who had just been discharged from the Navy, saw a need to enable families in a post-World War II economy to relocate on their own. He began U-Haul that same year, with the company comparing the trucks to the covered wagons of the early frontier. Customers could rent the trailers for $2 per day—a small price to enable what Leonard's son Joe would later call a "better life."
2. U-Haul's orange color scheme is a safety thing. 
Originally, Shoen had painted his trailers black. That proved to be a problem when he made a turn at a four-way intersection and got hit by an oncoming vehicle because—according to the other driver—he couldn't see Shoen. The U-Haul owner immediately set about copying the bright orange design he had seen on highway barricades so his fleet would be visible to other drivers on the road. The distinctive paint job also made the vehicles double as portable billboards for the company.
3. U-Haul trusted their trailers to complete strangers. 
Before U-Haul was able to establish a footprint in every major city across America, their strategy was to entice local business owners to become "agents" for the company by dropping off rented trailers at motor vehicle service stations. Customers would drive to their destination, find a station, and leave the trailer (trucks weren't introduced until 1959) along with a packet of information about becoming an official dealer. Though it risked losing their haulers to disreputable owners, the tactic paid off: By 1954, the company had over 1000 locations.
4. U-Haul used to rent VHS tapes.
The oil crisis of the 1970s closed many service stations, a fixture of the company's business. Opening self-contained rental facilities enabled U-Haul to stamp their familiar orange brand across a variety of rentals: RVs, jet skis, lawn mowers, paint sprayers, and even party supplies were among their offerings in the 1980s. The most dramatic off-message business: VHS tapes. U-Haul opened seven locations in Michigan in 1985 that rented movies [PDF]. (It operated under the name Haullywood Video Rentals.) Customers could also make use of a free VCR rental that was customized with the familiar orange chassis. Lack of inventory and competition from the thousands of video stores that popped up that decade suffocated their business, though, and the company soon returned to their core hauling services.
5. The U-Haul family got into a nasty feud. 
Shoen's 12 sons and daughters often had disparate ideas for the direction of the company. In 1979, the founder made son Sam Shoen CEO, leading Sam's brothers, Joe and Mark, to quit. Hostilities boiled over to the point that, according to Bloomberg, Leonard once accused the duo of being involved in a plot to murder Sam's wife, Eva, in 1990. (She was shot and killed during an attempted robbery.) Mark filed a defamation suit that was thrown out of court due to his status as a public figure. According to the Associated Press, a man named Frank Marquis confessed to the murder during his 1994 trial. His arrest grew out of a tip that came in after a segment on the crime aired on Unsolved Mysteries.  
6. A U-Haul shareholder's meeting erupted into a brawl.
The Shoens' familial strife came to a head in 1989, when many company principals were in attendance for a shareholders' meeting in Reno, Nevada. According to the Los Angeles Times, Mark Shoen got into a verbal altercation with brothers Sam and Michael. Tempers grew so heated that Michael was "pummeled" by Mark and Joe. The senior Shoen, who had been forced into retirement during the power scuffle in 1986, observed of his business that he had "created a monster."  
7. The founder of U-Haul liked to toss money out of windows. 
IStock
Though the company seemed relatively calm under his watch, Leonard Shoen was far from being a demure chairman. To demonstrate the ease with which a corporation could waste money, Shoen arranged for a visual by appearing in front of employees during a meeting in 1970 and tossing $1000 out of the window. Anyone who found the action objectionable was forced to watch it anyway: Shoen had placed an armed guard at the door.
8. U-Haul once banned Ford Explorers. 
Besieged by complaints of turnovers and vehicular accidents owing to improper loading precautions on their trailers, U-Haul took the unusual step of refusing to rent trailers to anyone intending to attach one to a Ford Explorer beginning in 2003. According to a 2007 Los Angeles Times feature, the company's reasoning was that Explorer SUVs were frequently the target of safety litigation, inviting greater potential for U-Haul to become involved in a lawsuit. (Defective tires on 1998 Explorer models resulted in several fatalities.)
9. The CEO of U-Haul gave out his personal phone number for anyone to use.
When news media, including The Los Angeles Times, reported on a series of turnover accidents involving U-Haul fleet vehicles in 2007, current CEO Edward "Joe" Shoen didn't hide behind a corporate-speak press release: He appeared on Inside Edition to explain that the accidents were likely due to improper loading. If any customer had questions about the vehicles or the company, he said, they could phone him directly. He kept his promise: Shoen has answered the phone on Mother's Day, at home, and at 5:45 a.m. Most days he'll get between three and 10 calls. "Sometimes, though, someone may post something angry on the Internet with my phone number, and then I'll get 100 calls in one day," he said in 2013.
10. Cats like to hitch rides in U-Haul vehicles. 
Marco Varisco, Flickr // CC BY-SA 2.0
Several felines have been discovered among boxed-up belongings in U-Haul vehicles. One stray used a truck as a delivery room, giving birth to a kitten as a family drove from Florida to Utah; a cat missing for nearly two years was found across the country, tucked away in a U-Haul, and returned to its owner thanks to a microchip. The cat, Kevin, was an orange tabby.
11. Pythons also enjoy U-Haul rides. 
While litters of kittens are adorable discoveries, monster reptiles are significantly less charming. An Oregon customer drove a U-Haul truck for an entire day without realizing a 3-foot-long ball python had been curled up in the passenger-side leg space right next to him. No one is entirely sure how the snake got in the cab.
12. Marriages have been proposed inside of U-Haul trucks. 
Indiana resident Mark Nolt hatched a unique plan to propose marriage to his girlfriend, Kim Shannon, in 1992. Nolt took her to a drive-in where he and a friend had spent the afternoon preparing a truck to look like a cozy dining area with a table, chairs, and flowers. The friend, Kyle, called it "exquisitely tacky," but it apparently had charm: Kim said yes.
13. The space above a U-Haul cab is called "Mom's Attic." 
Though the origin of the name remains a mystery, the company has a specific label for the small storage space that appears above the driver's cab on its trucks and vans: Mom's Attic. The area is usually reserved for fragile items that may not survive a trip in the body of the vehicle. U-Haul claims items stored here are as stable as they would be in the cab itself.  
14. U-Haul packing peanuts are edible. 
Citing concerns over the lack of biodegradability of conventional Styrofoam packing peanuts, U-Haul opted for a more eco-friendly alternative in 1993. Their in-house peanuts are made of corn and potato starch that totally dissolve in water, eliminating both environmental harm and the potential for a child or pet to harm themselves via ingestion. U-Haul staffers have even eaten the peanuts to demonstrate their virtues—though we wouldn't recommend it.