10 Amorphous Facts About The Blob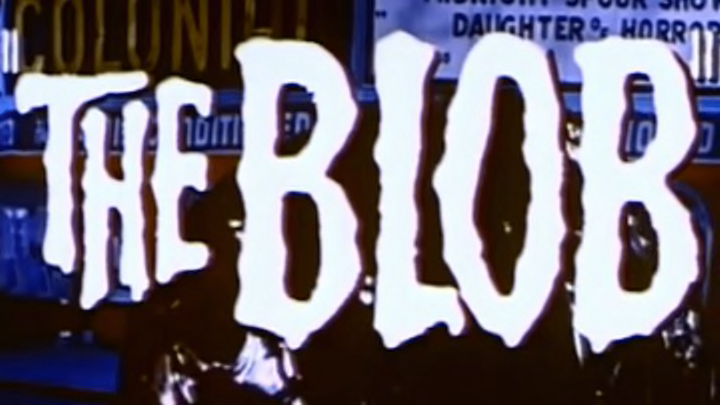 YouTube / YouTube
A quintessential drive-in horror movie, The Blob has been absorbing viewers for more than 50 years.
1. IT'S BASED ON A (SUPPOSEDLY) TRUE STORY.
On September 27, 1950, The Philadelphia Inquirer ran an article with the headline "Flying 'Saucer' Just Dissolves." The night before, police officers John Collins and Joe Keenen swore that they'd watched a mysterious object fall from the sky. Rushing towards the landing site, the men stumbled upon a purple, jelly-like mass. Collins and Keenen immediately summoned two of their colleagues, who arrived just in time to watch the material evaporate without a trace. The FBI was contacted, a press conference was held, and the whole mess became a national laughing stock.
Fast forward to 1957: That year, producer Jack H. Harris was looking to make a creature feature, but he couldn't come up with a decent premise. So he asked his friend, Irvine H. Millgate, to try and devise one. "It's gotta be a monster movie," explained Harris. "It's gotta be in color instead of black and white. It can't be a cheapy creepie, it's gotta have some substance to it. It's gotta have characters you can believe in. And there's gotta be a unique monster—never been done before. And the method of killing the monster would have to be something that grandma could have cooked up on her stove." Millgate remembered the Philly incident and the rest is history.
2. THE BLOB WAS PRODUCED BY A RELIGIOUS FILM COMPANY.
Harris pitched the idea to an unlikely production company: Pennsylvania-based Valley Forge Films had released hundreds of well-received Christian movies. However, those weren't paying the bills—at least, not according to Harris. "Their basic mission was to promulgate the Word. They were doing that pretty well, but starving to death at the same time. I convinced them that we could take what facilities they had ... and come up with films that a lot of people would come and see. And if they did it right, we'd do it again; and the more notice they got, the more Word they'd be able to transmit."
3. ORIGINALLY, IT WAS GOING TO BE CALLED THE MOLTEN METEOR.
The Night of the Creeping Dread and The Glob that Girdled the Globe were also considered as possible titles. By the time Harris suggested The Blob, shooting was well underway. Hence, the script never refers to the gelatinous monster by that name—instead, it's usually called a "mass."
4. THE BLOB WAS A MIXTURE OF SILICONE AND RED VEGETABLE DYE.
In order to make their villain seem huge, the silicone was sent oozing over an assortment of miniature sets. You'll occasionally see the Blob expand and contract—an effect the filmmakers achieved by smearing this reddened substance over a weather balloon. Also, keep an eye on the blob's coloration: With every new victim, it gets redder.
5. LEADING MAN STEVE MCQUEEN CHEATED HIMSELF OUT OF A HUGE PAYCHECK.
Despite a handful of television roles—including a guest appearance on the NBC series Tales of Wells Fargo—Steve McQueen (credited here as Steven McQueen) had yet to establish himself as Hollywood's favorite bad boy. So Harris got him for a bargain price. After taking on the lead role (his first) in The Blob, McQueen was offered a choice: $3000 upfront or 10 percent of the film's gross profits; he didn't hesitate in opting for the former. At the time, McQueen was in dire financial straits and didn't have much faith in The Blob's box office prospects. He'd soon regret that call. Within a month of its release, The Blob had earned $1.5 million and went on to snag $12 million (nearly $97 million in today's dollars) domestically.
6. ITS THEME SONG CRACKED THE BILLBOARD TOP 40.
Titled "Beware of the Blob," this catchy anthem spent three weeks on the Billboard charts, peaking at #33. The song was co-written by Burt Bacharach, who also penned such hits as "Raindrops Keep Fallin' on my Head" and "What's New Pussycat?" Thus far, Bacharach's career has included six Grammy and three Oscar wins. Mack David—his partner on The Blob—was a seasoned vet, too (and eight-time Oscar nominee) who'd written lyrics for Disney's Cinderella (1950), among many other films.
7. ED MCMAHON CAN BE HEARD DURING THE MOVIE THEATER SCENE.
When the throbbing invertebrate descends upon an unsuspecting cinema, the audience is watching a genuine, real-life thriller flick. Daughter of Horror (a.k.a. Dementia) was released in 1955 and features narration from Johnny Carson's future Tonight Show sidekick. Keep your ears open for McMahon's familiar voice near the beginning of the clip above.
8. MANY ASSUMED THAT THE BLOB WAS A METAPHOR FOR COMMUNISM.
"Maybe that's why it never played in Russia," joked Harris. In The Blob, an insatiable menace—and a red one, at that—threatens countless American lives. A mere eight years earlier, Joseph McCarthy claimed that the State Department had been infiltrated by no less than 200 "red" communists. Was Harris making a political statement? Several critics thought so, but the producer laughed off the allegation as "hogwash."
9. A CHUNK OF THE BLOB'S ORIGINAL TRAILER APPEARS IN GREASE.
"It crawls! It creeps! It eats you alive!" As the T-Birds and Pink Ladies pull up for a drive-in flick, The Blob's melodramatic trailer seeps onto the screen. And Grease is not the only film to pay tribute to The Blob: DreamWorks' Monsters vs. Aliens (2009) includes a shot-for-shot parody of the gelatinous mass's exit from the aforementioned theater.
10. A SMALL PENNSYLVANIA TOWN HOSTS AN ANNUAL "BLOBFEST."
Phoenixville, Pennsylvania (population: 16,599) sits about 30 miles northwest of Philadelphia. Although parts of The Blob were shot elsewhere, the film's most famous set pieces—including the high school, the mechanic's garage, and the diner—were all Phoenixville locations. In 2001, the town organized a three-day Blobfest. Now an annual convention, Blobfest events have included 1950s car showcases, live music, Steve McQueen look-alike contests, and—of course—screenings of The Blob at the actual theater used in the movie. Attendees can also reenact the movie theater scene by sprinting away from the establishment in a mass "run-out." The event takes place each July, with Blobfest 2016 scheduled to kick off on July 8, 2016.