10 Neat Facts About Newts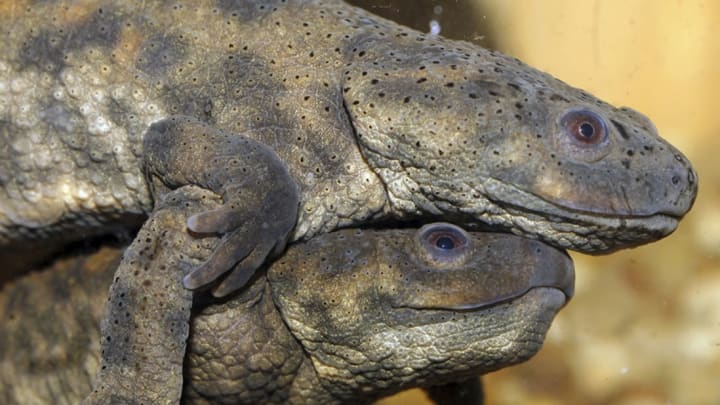 iStock / iStock
The subject of an unmade Pixar film and the occasional Monty Python joke—and a key ingredient in many a witch's brew—these little amphibians are world-class survivors. 
1. ONE SPECIES DEFENDS ITSELF WITH MOVABLE RIBS.
Pengo, WikimediaCommons // CC BY-SA 3.0
Prod a Spanish ribbed newt (Pleurodeles waltl) at your own risk. These flat-headed animals have a nasty surprise in store for wannabe predators: They can rotate their ribs forward so that they break through the skin, creating protective spikes. And that's not all: When the ribs break through, they're coated with a poison that is secreted simultaneously. Once danger passes, the ribs retract and the punctured skin starts to heal.
2. IN MEDIEVAL EUROPE, NEWTS WERE ASSOCIATED WITH EVIL SPIRITS.
Legend had it that witches could summon demons via a newt-based brandy. The Bard himself referenced this in Macbeth: Act IV opens with Shakespeare's witches tossing such ingredients as "eye of newt and toe of frog" into their special brew.
3. SOME CAN RE-GROW THEIR EYE LENSES AT LEAST 18 TIMES.
That fact that most lizards can replace a lost tail is common knowledge, but newts make this talent look like a party trick: After losing a limb, they can grow another one in a matter of weeks.
Newts are also capable of regenerating tails, jaws, spinal cords, heart ventricles, and eyes. But can they do so indefinitely? Between 1994 and 2010, a team from University of Dayton tested the limits of this healing superpower. Over those 16 years, half a dozen Japanese newts (Cynops pyrrhogaster) had their eye lenses surgically removed 18 times apiece. The results were unbelievable: Not only did new lenses appear after every single extraction, but the replacements functioned just as well as the originals had.
According to Panagiotis Tsonis, who headed up the experiment, the discovery could have enormous medical implications. "We are still a long way from relating this to humans," he told Wired UK, "but what this shows is that the newt is an excellent source for finding answers to regeneration."
4. THE EASTERN NEWT (NOTOPHTHALMUS VIRIDESCENS) IS NEW HAMPSHIRE'S STATE AMPHIBIAN.
Raeky, Wikimedia Commons // CC BY 2.0
In 1985, New Hampshire became the first state to designate an official amphibian. Seventeen others have since done likewise, but they've all picked non-newts. Notophthalmus viridescens has a huge range extending from Canada to Florida and from New England to Kansas.
5. CERTAIN NEWTS WILL METAMORPHOSE TWICE.
Like most amphibians, newts start out as gilled, water-bound larvae that grow up into air-breathing adults. However, some actually assume an intermediate form. After leaving their larval stage, many species, like the eastern newt, become bumpy-skinned juveniles, or efts, adapted for life on dry land. A few years later, they return to the water as aquatic adults, complete with webbed feet and paddled tails.
6. AMOROUS MALES SECRETE REALLY POTENT PHEROMONES.
The key to a female newt's heart is through her nostrils. When mating season rolls around, male Alpine (Ichthyosaurua alpestris) and palmate (Lissotriton helveticus) newts release a titillating cocktail of pheromones into the water to attract nearby females. The courtship ritual begins with a male waving its tail at a female, who then follows him around for a bit. When she's ready to mate, she touches her nose to his tail, and he deposits a spermatophore on a leaf or other surface; he'll lead her to it, and it will stick to her cloaca and eventually lead to insemination.
A 2011 experiment showed that the pheromones might work a little too well—in fact, the scent rendered captive females uncontrollably lustful. No males were present, so they started courting each other. "We were convinced that if we put in a plastic toy moving at the right speed, they would follow it," said researcher Franky Bossuyt of Vrije Universiteit Brussel. 
7. SPANISH RIBBED NEWTS HAVE BECOME AMPHIBIOUS ASTRONAUTS. 
Between 1985 and 2005, six different missions sent Pleurodeles waltl into orbit. Astronomers keep choosing this species in part because of its superhuman healing ability. Does a brief stint in the final frontier affect the ribbed newt's limb regeneration process? For the most part, the answer is no—except for when you launch one that's currently growing a new leg. Being in space slows down the appendage's development. But when the newt returns to Earth, the growth rate accelerates beyond what's considered normal.
Scientists have also studied the effects of extraterrestrial travel on P. waltl embryonic development. Females give birth to live larvae and can keep sperm "on hold" inside their bodies for up to five months. When they detect the right hormone, the newts fertilize their eggs with this stored sperm. So we can observe P. waltl embryos that were actually conceived in outer space. Unfortunately, those fetuses are mostly deformed.
8. THEY MAKE BARELY AUDIBLE NOISES.
Newts may not be as vocal as frogs and toads, but if you listen closely, you just might hear them chatting. Eastern newts, for example, emit a faint "tic-tic-tic" sound. Meanwhile, California newts (Taricha torosa) will click while walking through unfamiliar terrain, squeak when handled, and ward off their rivals with a whistle.
9. A SINGLE ROUGH-SKINNED NEWT (TARICHA GRANULOSA) IS POISONOUS ENOUGH TO KILL AN ESTIMATED 25,000 MICE.
Rough-skinned newts may not look very threatening, but they're some of the most dangerous animals on Earth. These natives of the American west coast produce a powerful substance called tetrodotoxin (TTX) that blocks the signals through which the victim's brain communicates with the rest of its body. Numbness, dizziness, spasms, and paralysis ensue.
The TTX-filled skin of an average adult T. granulosa could potentially kill some 25,000 mice. Out in the wild, biologists have documented them killing 30 different types of vertebrates [PDF], including fish, great blue herons, and belted kingfishers. The newts give their predators fair warning, though: They advertise their toxicity by looking upwards and flashing their brightly colored throats. Most carnivores back off—though it looks like this bullfrog didn't get the memo:
10. ROUGH-SKINNED NEWTS ARE IN A DEADLY ARMS RACE WITH THE COMMON GARTER SNAKE. 
Why is this species so ridiculously poisonous? Why does it wield enough TTX to kill 25,000 mice? Shouldn't having a sufficient amount for, say, 15,000 be plenty?
Actually, it isn't. For all its secretions, there's one predator that the rough-skinned newt still fears: the common garter snake (Thamnophis sirtalis). Some populations of these serpents have enough TTX immunity to dine on the amphibians and live. Faced with this threat, the newts have responded by becoming even more toxic. Meanwhile, the snakes keep growing more TTX-resistant.
It currently looks like the reptiles may be winning. A few garters are now built to tolerate as much as 100 milligrams of TTX—almost 10 times more than what the newts can physically produce. But there's a trade-off for the snakes: Highly resistant individuals are atypically slow—which makes them more vulnerable to their own predators. Who knows? Maybe the newts will get the last laugh.