15 Fun Facts About Monty Python's The Meaning of Life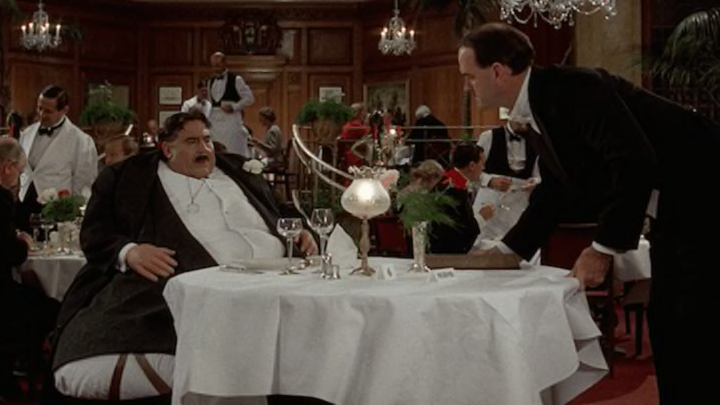 YouTube / YouTube
In what would be their final movie together, in 1983 the classic comedy troupe Monty Python gave the world a collection of funny sketches meant to document every stage of a person's life, from "The Miracle of Birth" to "Death" (give or take a Terry Gilliam free-for-all short film). Here are some facts about Monty Python's The Meaning of Life before we start wondering where that fish could be.
1. INITIAL CONCEPTS FOR THE MOVIE INCLUDED MONTY PYTHON'S WORLD WAR III.
The Pythons—John Cleese, Michael Palin, Terry Jones, Terry Gilliam, Eric Idle, and Graham Chapman—produced a lot of material while writing in Jamaica, but couldn't figure out how to link it all together into one general theme. Eventually, Jones—who ended up directing the film with Gilliam—said during a breakfast that "it's somebody's life story." Eric Idle responded with the title of the movie.
2. THEY SENT UNIVERSAL STUDIOS A POEM INSTEAD OF A SCRIPT.
The Pythons got around getting notes from the studio by submitting a budget and a poem, which was a summary of the movie.
3. MICHAEL CAINE MADE A CAMEO IN THE ZULU WAR SCENE.
He played a dead soldier as a nod to his first major role in the 1964 movie Zulu. The Pythons asked Clint Eastwood, Julie Andrews, and Paul Newman to appear in the movie to talk about "heating arrangements in cinemas." They all declined, though Jones said that, "Paul Newman thought about it. We got a very nice letter from him saying that he would really like to, but he thought that after all he wouldn't. Clint, I'm afraid, turned us down cold. I don't think he even replied to our letter."
4. DOUGLAS ADAMS CONTACTED THEM OVER USING A VERY SIMILAR TITLE.
The Hitchhiker's Guide to the Galaxy author Douglas Adams, who was one of only two non-Pythons to get a writing credit on a sketch on the troupe's television show, contacted Terry Jones while he was in Jamaica to inform him that he was writing a book titled The Meaning of Liff with John Lloyd. This led to Gilliam having the tombstone in the opening credits initially read "The Meaning of Liff" before a bolt of lightning turned the last letter into an E. Lloyd remembered Adams saying he purposely titled their book Meaning of Liff to confuse people into thinking it was related to the Python movie.
5. THE "CRIMSON PERMANENT ASSURANCE" SHORT WAS INITIALLY SUPPOSED TO BE AN ANIMATED PIECE.
Gilliam wanted to get out of animation, and convinced the other Pythons to let him try something out on his own sound stage. He eventually had to cut it down to 15 minutes after his colleagues kept insisting it was too long.
6. MAX HEADROOM IS IN IT.
Matt Frewer was one day out of drama school when he excitedly took on the role of "Cornered Executive Who Jumps" in the "Crimson Permanent Assurance" short, which marked his first feature film appearance. The film was also the feature debut of Jane Leeves, Frasier's Daphne; she played a dancer in the "Christmas in Heaven" number.
7. TERRY JONES CAME UP WITH THE MR. CREOSOTE SKETCH WHILE MICHAEL PALIN WAS COMING BACK FROM THE BATHROOM.
Jones had the image of a huge man walking through a park with his stomach on a wheelbarrow, but nothing more. Palin told Jones that he had better have a punch line to the joke by the time he returned from the restroom. When Jones heard Palin's footsteps returning from the toilet, he quickly jotted down the concept of the corpulent man's stomach exploding after dining in a restaurant. Palin laughed.
8. MR. CREOSOTE'S VOMIT WAS COMPRESSED SOUP.
Nine hundred gallons of pre-mixed vomit containing vegetable soup, sweet corn, a bit of tomato, diced carrots, and Russian salad dressing were prepared for the infamous sketch. A catapult that could handle 20 to 30 gallons of the mix, and launch it 30 yards, was used to fling vomit at the extras with the cheapest costumes. Quentin Tarantino once claimed watching that scene was the only time he ever was grossed out by any scene in any movie.
9. GRAHAM CHAPMAN ONCE ACTUALLY HELD A DISMEMBERED LEG.
It was while he was in medical school, where a nurse eventually "took it away to the leg bin." Though Chapman never ended up practicing medicine, he wrote the strange incident into the movie.
10. THE KIDS WERE SPARED FROM HEARING THE DIRTY WORDS.
When singing "Every Sperm is Sacred," Jones said to the children, "A little rubber thing on the end of his sock," forcing him to change the word in editing later. Also, Cleese's sex tutorial was filmed without the children on set.
11. THERE WAS ONE CLASSIC AD LIB.
Palin protesting, "Hey, I didn't even eat the mousse!" wasn't in the script.
12. THEY USED THE SAME CHOREOGRAPHER AS THE MOVIE ANNIE.
Arlene Phillips choreographed music videos for Aretha Franklin, Elton John, the Bee Gees, and Queen, and worked with the Pythons on their movements. She continued to do so for their live performances over the years.
13. GILLIAM RECYCLED A COSTUME FOR THE "FISH" SCENE.
The elephant costume was made for Gilliam's movie Time Bandits. It was cut from that movie, but he had always wanted to use it somewhere.
14. A BUNCH OF HIGH SCHOOLERS WERE SOME OF THE FIRST PEOPLE TO SEE THE MOVIE.
At a test screening held in Yonkers, New York, Jones recalled that, "we had an audience of 75 percent high school kids, 15- to 18-year-olds. Out of 400, 18 (or 80, depending on how you understand Jones' accent) of them walked out in disgust. I think it got the strongest negative response of any film on which they've actually carried out one of these surveys. Disgraceful film!"
15. A "SCATHING ATTACK" ON MARTIN LUTHER WAS CUT.
Idle claimed that test audiences didn't know who Luther was, causing them to lose faith in the scene and drop it.