10 DIY Harry Potter Projects That Muggles Should Try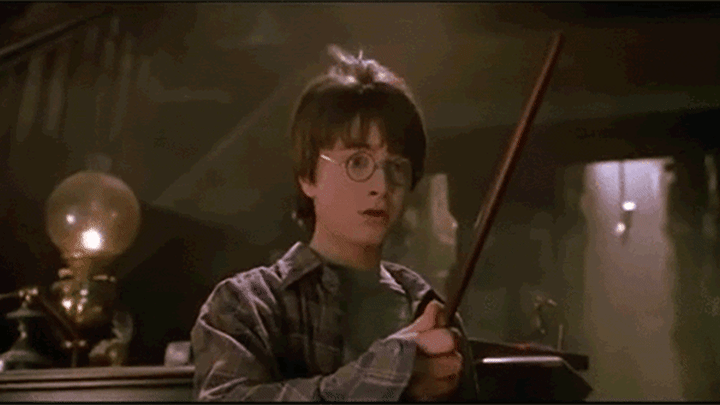 YouTube / YouTube
We can't take you to Azkaban or tell you where to find a hippogriff, but here are 10 awesome things from the Potterverse that you can make at home.
1. MAKE A MANDRAKE
In the Harry Potter universe, the shriek of baby mandrakes can knock a wizard out—and the cries of adult plants can kill. Thankfully, you won't need to wear earmuffs around the one you make at home. Following a tutorial from the blog Offbeat Home & Life, all you need is some flour, salt, and water, which you combine to make salt dough. Sculpt and bake the dough slowly—according to the tutorial, cooking the dough mandrake too quickly might cause it to crack—then paint it brown with craft paint and plop a plastic aquarium plant on top of your creation's head. Planting the mandrake in dirt would add authenticity, but it could also get messy and would hide your handiwork, so planting in a clear vase is the way to go.
2. FOLD AN ORIGAMI HOWLER
There are a couple ways to make your own paper Howler, and one is a bit more involved than the other. The first method (shown in the video above) is 100 percent origami, so if your paper folding skills are on point, then following the step-by-step instructions should be as simple as pronouncing the Wingardium Leviosa correctly. The second method, as outlined by Deviantart user mizutamari, requires eight to 10 pieces of 24-gauge floral wire, bow-making and silky ribbons, rag paper, and various adhesives. It will probably take considerably longer than the origami howler, but the finished product is more than worth it.
3. BREW HOMEMADE BUTTERBEER
Eating Bertie Bott's Every Flavour Beans can be a crapshoot (what if you get earwax, or worse, vomit?!), but butterbeer is one Harry Potter treat that sounds delicious in both alcoholic and family-friendly variations. Pick up heavy cream, butter flavoring, vanilla extract, sugar, butterscotch caramel, milk, cream soda, and brown sugar. The recipe calls for a mixer to whip the foam, but that could also be a manual task.
4. SCULPT A CUSTOM WAND
Wands are supposed to choose the witch/wizard, but those of us who can't make it to Ollivanders can follow this easy tutorial. All you need are chopsticks covered in hot glue and/or clay, beads or other decorative objects for texture, and paint. There's really no wrong way to design and craft a wand, as long as it's personal and works for you.
5. RECREATE THE MARAUDER'S MAP
The company Shomer-Tec makes security pens with disappearing and reappearing ink, so the real trick here is getting the design right. There are copies of Moody, Wormtail, Padfoot, and Prongs's creation on the Internet, so if you are not artistically inclined, printing and tracing are allowed. Other methods for a DIY Marauder's map involve staining paper with tea.
6. BUILD A MAGIC PENSIEVE
One of the most advanced projects on this list, building a pensieve like the one in Dumbledore's office at Hogwarts will take a long time and cost a lot of Galleons. To build one you'll need an LCD monitor connected to a laptop, an ultrasonic water mister, various lengths of plywood and boards, foam insulation, and mirror panels, not to mention carpentry skills and tools. If you're up for the challenge, reserve a weekend (or a few) and roll up your sleeves.
7. CRAFT A BOOK OF MONSTERS
This book box, a replica of the book Hagrid uses to teach Care of Magical Creatures, is fairly simple to make. All you need is some faux fur, cardboard, an Xacto knife and scissors, glue, vase stones for the eyes, and clay to create the mouth and teeth. In under an hour, you can have a cool prop for your bookcase (bonus points if you fill the box with a Harry Potter book).
8. CONSTRUCT AN OVERSIZED TIME TURNER
It's not exactly the same as the gold necklace that Hermione wore in Prisoner of Azkaban, but this wooden time turner is more visible and makes a much better decoration. Once you find embroidery hoops and wooden balls (or a real hourglass) at a craft store, just tie them together as demonstrated in the video above and hang it somewhere special.
9. MAKE A MOTORIZED GOLDEN SNITCH
Creating a fake snitch that seems like it could lead a Seeker on a great chase is easier than it looks. With a small sphere like a ping pong ball, two small motors, cell batteries, wire, a tilt sensor switch, tape, and, of course, gold paint, your game-winning snitch can be fluttering in your hands in an afternoon. Working with basic electronics for the first time may be a little challenging, but compared to the task of catching the real deal, there's nothing to it.
10. BIND TOM RIDDLE'S DIARY
Before the horcrux was destroyed with a basilisk tooth, it was a pretty attractive leather diary. YouTuber Lauren Fairweather shows you how to use bookmaking skills in the video above to create a beautiful leather diary in which to store all of your secrets, or pretend you're writing to the memory of young Tom. Here's hoping it never becomes a Horcrux!