15 Things You Didn't Know Your Hair Dryer Could Do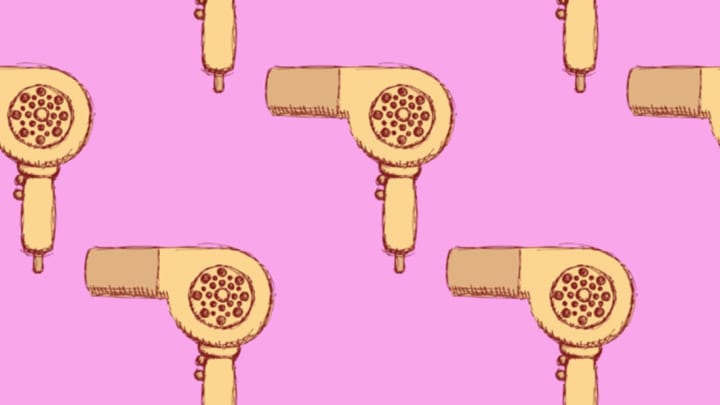 istock / istock
You know a good hair dryer can fight frizz, tame cowlicks, and accentuate curls and layers. But its other functions might blow you away. You don't need to be a stylist to use your hair dryer as any of these things.
1. SHOE SIZER
Breaking in new shoes can be a painful process. Skip the wait—and the blisters—by putting on a pair of thick socks, stepping into your new kicks, and then blow-drying the tight areas for a few minutes. Walk around until your feet cool off to loosen up the leather. Be careful using this method on synthetics, though; it's possible to melt the shoes on too high a setting. 
2. GLASSES ADJUSTER
If your glasses are too tight or too loose, here's how to get them just right: Take off your frames and use a hair dryer to blow hot air on the part that hooks over your ears. After a minute or so, gently adjust the bend up to loosen or down to tighten. Repeat on the other side. Spec-tacular! 
3. STICKER REMOVER
Price tags and other stickers can be a pain to remove, unless you've got a hair dryer to loosen the adhesive's hold. Blast the pesky paper for 30 to 45 seconds and peel it right off. (With some patience and a lot of heat, you can get bumper stickers off this way, too.) 
4. BAND-AID PEELER
The previous trick doesn't just work on inanimate objects. Don't rip off a Band-Aid—and all your arm hair. Blow some warm air on it for a few seconds and peel it off painlessly. 
5. GUM CLEANER 
When chewing gum gets stuck in carpet or clothing, don't curse. Find your hair dryer! Heat softens the gum so you can pull it out. 
6. AIR MATTRESS INFLATER
Can't find the pump to the air mattress you last used in 2003? Impress your houseguest by inflating it with a hair dryer. Just make sure you use cool air—there's nothing hospitable about a melted bed. 
7. EYELASH CURLER
Combine an eyelash curler and hair dryer for maximum curl power. Blast the curler for a few seconds on medium heat and then check the temperature on your wrist before using. 
8. CAKE FROSTER
Bakery-style frosting is a piece of cake. Lightly blow warm air over your dessert's frosted top and sides for a glossy finish. 
9. SHOE SHINER
Shoes look brand new when you blast them with some heat between coats of polish. Shine on!
10. ICE CREAM THAWER
Scooping ice cream shouldn't be an upper-body workout. Give your frozen Ben & Jerry's pint a quick blast of warm air for easy transfer from the container to your bowl to your mouth.
11. SPOT IRON
A completely wrinkled cotton garment requires an iron. Everything else can be tamed by your hair dryer. Hang the garment up, spray a little water on it, and then blast it with hot air from an inch or two away until the wrinkle disappears. If you're really in a hurry, you can even do this carefully with your clothes on. 
12. TOWEL WARMER
Some people have fancy heated towel racks and use the word "summer" as a verb. The rest of us have a hair dryer to make towels toasty and use "summer" strictly as a noun. (You can also do this with sheets in the winter for that cozy, straight-out-of-the-dryer feeling.)
13. CRAYON CLEANER
When the muse calls, young artists listen, which can result in crayon all over the wall. Blow hot air to melt the wax, then wipe it up with regular dish soap and a paper towel. This trick works on most walls, but you should start with a test spot just to be sure—some walls can be prone to "ghosting" when the image doesn't quite disappear.
14. ART MEDIUM
Then again, maybe you like the look of crayon on the wall. If so, here's an even cooler way to do it. Peel the labels off a pack of crayons and hot glue them to the top of a blank canvas. Once the glue's dry, put some newspaper on a table and then prop the canvas at an angle crayon-side up. Melt the crayons by blowing hot air on a low setting, so you won't get wax everywhere. Go all Jackson Pollock and vary the tilt to control the drips. Once your masterpiece is dry, you can hang it up or sell it for $1 million. Your choice. 
15. KEYBOARD DECRUMBER
There's a good chance you're reading this while eating at your computer. No worries—just make sure you clean up your keyboard every now and then. Instead of a compressed air duster, try using your hair dryer to excavate the crumbs. Stick to cool air to avoid melting your spacebar.