10 Incredible Ice Skating Rinks Around the World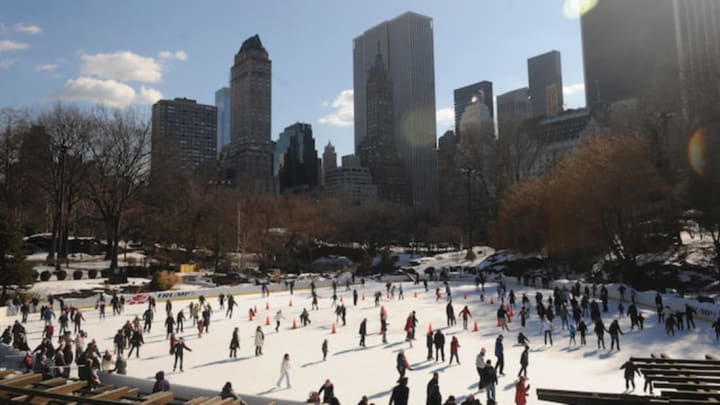 Getty Images / Getty Images
You don't have to have be an Olympic figure skater or NHL forward to appreciate the ambiance at these magical skating rinks. Bundle up, pack a thermos of hot chocolate, and hit the ice—a winter wonderland awaits.
1. VIENNA ICE DREAM // VIENNA, AUSTRIA
Getty Images
Break out of the usual loop at this expansive, fairytale-esque rink that pops up each winter in front of Vienna's magnificent Rathaus (City Hall). The winding ice paths and wide-open rinks comprise over 86,000 square feet of space that will keep everyone—from beginners to experts—from getting bored. For the biathelete, there are also curling lanes that open each evening at 5 p.m.
2. BANFF LAKE LOUISE // ALBERTA, CANADA
If you're more interested in natural beauty than urban cityscapes, head to this Canadian UNESCO World Heritage Site. The Chateau Hotel in Banff National Park maintains nearby Lake Louise as a skating rink as soon as the ice is thick enough—usually sometime in December. The simple splendor of the surrounding mountains is the primary appeal, but the rink is also adorned with a large ice castle. Take note, Elsa cosplayers. 
3. RIDEAU CANAL SKATEWAY // OTTAWA, CANADA
First opened in 1832, the Rideau Canal is another UNESCO World Heritage Site and the oldest continuously operated canal system in North America. In the winter months it freezes over to earn another distinction: The world's largest naturally frozen ice rink. Locals and tourists alike can skate for almost 5 miles (equivalent to 90 Olympic-sized skating rinks!) through downtown Ottawa for free, or the price of a skate rental. Now in its 45th season, Rideau Canal Skateway hosts about a million visitors each year.
4. WOLLMAN RINK // NEW YORK CITY
Getty Images
There's no denying that Rockefeller Center boasts the most famous ice skating rink in New York City, and sure, that tree is something to see. But why battle the crowds and lines for a rink that's pretty puny compared to Wollman? Located just up the street in Central Park, Wollman Rink is not only four times larger than its more famous neighbor, it also provides a much better view of the city's impressive skyline.
5. HOTEL DEL CORONADO // SAN DIEGO, CALIFORNIA
The year-round sunny weather doesn't keep this beachside resort off the ice: As part of their world-famous holiday celebration, the Hotel de Coronado opens an ice skating rink each year from Thanksgiving to New Year's. Special machinery keeps the ice cool, allowing visitors to skate within view of the surf and the palm trees. In other words, the best of both worlds.
6. SOMMERSET HOUSE // LONDON
Getty Images
From classic history during the day to rocking parties after dark, this roughly 9600 square foot rink is the perfect way to experience London. The rink, which is located in the courtyard of a historic 18th century home, has luxury shopping around the perimeter, and visitors can come back in the evening for "Club Nights," late night skating with tunes spun by world-class DJs.
7. CURRY VILLAGE ICE RINK // YOSEMITE VALLEY, CALIFORNIA
It'd be hard to find a more stunning natural backdrop in the United States than Yosemite Valley, so it makes sense that this has been a popular skating location for decades. Skaters have been gliding in the shadows of Half Dome and Glacier Point since 1928. If you go, be sure to pack s'mores fixings for the rink-side fire pit.
8. MEDEO // ALMATY, KAZAKHSTAN
This Soviet-era stadium (sometimes also called Medeu) has the distinction of being the highest skating rink in the world, sitting 5548 feet above sea level. Once the home of frequent speed skating and bandy competitions—more than 120 records were set there—it now provides year-round recreational skating to locals and tourists.
9. BONDI ICE RINK // SYDNEY, AUSTRALIA
If you find yourself craving a spin around the ice during the six months when everything up north has thawed, head to Australia, where they'll be celebrating winter by ice skating on the beach—in Sydney, at least. Bondi Beach's rink is the smallest rink on this list, but even at just 131 feet in length, it's still your best shot at skating on the sand, just a few steps from the surf. While relatively small, the rink is a massive undertaking: Once a year, more than 21,100 gallons of water are carted to the beach to feed the rink, drawing huge crowds with it.
10. GORKY PARK // MOSCOW, RUSSIA
At 193,750 square feet, Gorky Park's annual winter wonderland is one of the largest skating surfaces in Europe. All that ice is spread over a maze of paths, cul-de-sacs, and kiddie rinks that can host up to 4000 skaters at a time. At night, 33,000 adjustable LED lights illuminate the rink from within the ice to create a stunning spectacle.