10 Incredible Forests You Can Visit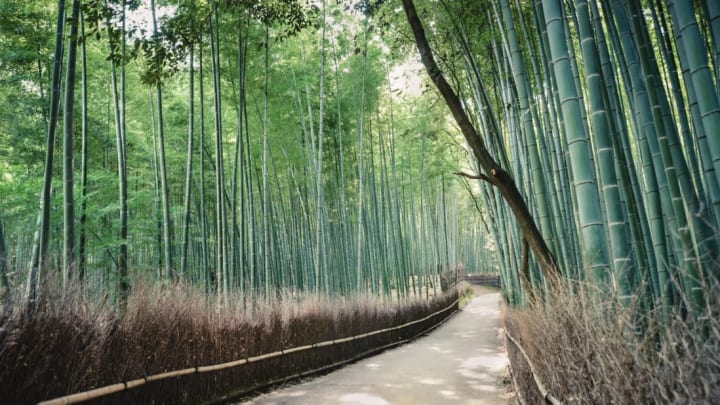 iStock / iStock
Escape modern living with these remarkable stretches of wood. Whether boasting century-old trees, flaunting vibrant foliage, or harboring dark folklore, each one is a natural marvel.
1. THE CROOKED FOREST // NOWE CZARNOWO, POLAND
Lisa via Flickr // CC BY-NC-2.0
Named for the curve of 400 curious pines, the Crooked Forest offers surreal scenery. But what caused this patch—surrounded by more typically straight trees—to curl? While there's been much speculation on the matter, the most likely scenario is a manmade alteration. The trees, planted around 1930 and bent in a sharp 90-degree angle, have become a quirky national treasure.
2. HALLERBOS // HALLE, BELGIUM
John Thys/AFP/Getty Images
"The Blue Forest" isn't known for its trees, but for the vibrant bluebells that densely carpet its floor every spring. The blossoming is so beautiful that many hikers along its popular paths have compared the experience to walking into a magical land from a fairytale. But fall has its fair share of glory too, thanks to the changing foliage that bathes the whole woods in warm hues.
3. THE BLACK FOREST // BADEN-WÜRTTEMBERG, GERMANY
delawega via Flickr// CC BY-NC-2.0
Also known as "Schwarzwald" in German, this 2320-square mile area boasts rolling hills, dipping valleys, and rumbling rivers, plus a number of trails for hikers and bicyclists. But its most distinctive aspect is the one for which it's named. Here, the trees grow so thick that the canopy blocks out the sun, casting the world beneath them in an eerie darkness. Little wonder this is where the classic fairytale of Hansel and Gretel is set.
4. SEQUOIA NATIONAL FOREST // CALIFORNIA, USA
Litwiler via Flickr // CC BY-NC-2.0
Named for the towering sequoia trees that fill its groves, this American forest was established as a forest reserve in 1891, and later renamed by decree of President Theodore Roosevelt. As the largest trees in the world, sequoias boast a natural grandeur. The biggest of these is General Sherman. Named after an American Civil War hero, it is the world's largest tree by volume, and is believed to be more than 2,300 years old.
5. JIUZHAIGOU // SICHUAN, CHINA
Jean-Marie Hullot via Flickr // CC BY-NC-2.0
This national park has also earned distinction as a UNESCO World Heritage site, thanks to its breathtaking blue-green lakes and rushing waterfalls framed by dense and vividly colored forests. Visitors to this sprawling park will likely want to bring their binoculars: Not only does Jiuzhaigou contain more than 220 different species of birds, but the area is also home to giant pandas, golden monkeys, and the Sichuan takin.
6. DAINTREE RAINFOREST // QUEENSLAND, AUSTRALIA
Mark Kolbe/Getty Images
This dense tropical rainforest offers mountain ranges, sprinting streams, wondrous waterfalls and a wealth of colorful creatures and rich plant life. Portions of this remarkable terrain are protected and conserved by Daintree National Park. Best of all, you don't need to book a ticket to Oz to view some of this rainforest's most incredible contents. Its website offers a photo gallery with shots of fauna, flora, forest, fungi, insects, and spiders.
7. HOIA-BACIU FOREST // CLUJ-NAPOCA, ROMANIA
Cristian Bortes via Flickr // CC BY-NC-2.0
This Transylvanian wood is known as the most haunted forest in the world. Named for a shepherd who went missing there ages ago, the area is ripe with ghost stories and claims of UFO sightings. Visitors to the forest have complained of anxiety, nausea, rashes, and burns. Orbs of light have been spotted and strange female voices have been heard whispering through the trees—so this is not a destination for the faint of heart.
8. SAGANO BAMBOO FOREST // KYOTO, JAPAN
iStock
When it comes to Sagano Bamboo Forest, it's almost better to show rather than tell. A photo will easily capture how lovely and green this forest is with its stories-high stalks of bamboo reaching toward the sky, as slivers of sunlight leap through in spurts. But locals say the true attraction of this area is its soothing soundscape. As the wind blows, you'll hear the rustling of leaves, the creaking and clacking of the bamboo stalks. So the prime time for a trip through this forest is early or late on weekdays, when its popular pathways are least crowded.
9. OTZARRETA FOREST // BASQUE COUNTRY, SPAIN
jose_maria camposvia Flickr // CC BY-NC-2.0
contains countless beech trees whose branches stretch up more than out. Their bark glistens with green moss. Their generous foliage cakes the forest floor in radiant reds and oranges in the fall. When conditions are right, a mist will waltz through the trees, perfect for pictures or enchanting nature walks.
10. GOBLIN FOREST // WELLINGTON, NEW ZEALAND
Toni Almodóvar Escuder via Flickr // CC BY-NC-2.0
The trees in the Goblin Forest have grown in knots and tangles. And the climate there is so moist that moss thrives, coating every branch and every bit of bark, making for trees that let off an eerie, greenish "goblin" glow. 
This island country of the southwestern Pacific is so lush with jaw-dropping landscapes that they brought the fantasy world of J.R.R. Tolkien to life as backdrops for the films in The Lord of the Rings and The Hobbit trilogies. Shockingly, neither trilogy took advantage of the unique bit of woods tucked into Tararua Forest Park at the side of Mount Taranaki.