15 Theories for Your Pet's Odd Behavior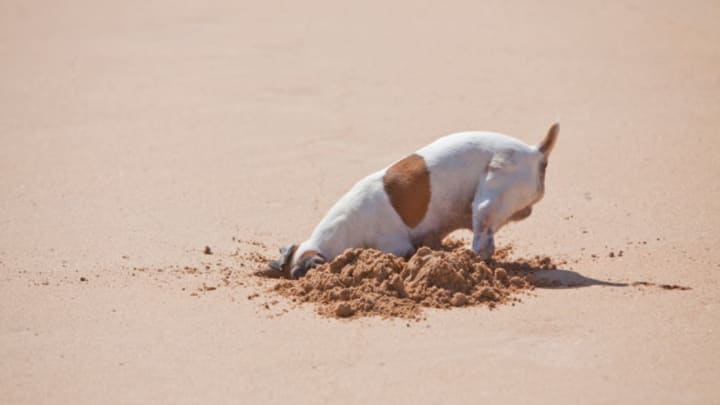 istock / istock
Pets do the weirdest things. Some dogs insist on circling three times before lying down; some cats won't let you in the door without meowing your ear off and winding their bodies around your legs. But why? Here are a few theories for the more offbeat behaviors our pets exhibit.
1. WHY DO CATS PURR? 
They want you to stick around. Cats will purr when they're content, but they also purr when they're sick or injured, so the vibrational noise is not just a sign of happiness. It probably means something more like, "Stay here, take care of me!"
2. WHY DO DOGS TILT THEIR HEADS?
There are several theories as to why dogs do that adorable head cock while looking at their owners, but it might mean that Fido is listening intently. Dogs can read body language and know that you're talking to them, so they're often on alert for specific cues that might, for instance, indicate a treat on the way. Tilting their heads might adjust their outer ears just slightly for better hearing.
3. WHY DO HAMSTERS AND OTHER RODENTS RUN ON WHEELS? 
Rodents might just be built to run. When one animal behavior researcher placed an exercise wheel in natural settings, absent any food reward for running on it, wild mice still showed up for a turn to run. Using an exercise wheel can keep pet hamsters, mice, and rats fit, and a jaunt on the wheel can help them get out pent-up energy that might otherwise be spent trying to gnaw through their cages.
4. WHY DO CATS MEOW ALL THE TIME? 
Cats don't typically meow at each other. Kittens meow to get their mothers' attention, but they grow out of the behavior. Rather than an innate feline behavior, meowing is a learned response to living with people. A meow might be a simple greeting, or it might mean, "Pay attention; play with me!" As any cat owner could tell you, it might also mean, "Feed me!"
5. WHY DO RABBITS CHEW ON EVERYTHING? 
Bunnies will chew just about anything, whether it's your 10th phone charger or the baseboards of your house. Rabbits need to chew to wear down their teeth, which keep growing for their whole life. Excess chomping can be a symptom of depression, too. Without companions or adequate toys to keep them busy and mentally stimulated, rabbits can grow bored and lonely, which will drive them to take out their energy on anything they can get their teeth around.
6. WHY DO CATS WIND AROUND YOUR LEGS? 
When feral cats return to their families after hunting, they rub up against each other in greeting. They wrap their tails over each other's backs and brush their bodies against each other. Your cat might be just saying hello in a way that makes sense to him. The other theory? He's marking his territory. Rubbing his cheeks against you is a good way to deposit sebum, an oily secretion that makes you smell like him.
7. WHY DO FISH JUMP OUT OF THEIR TANKS? 
For guppies, the behavior may be evolutionary. The fish can launch themselves approximately eight times their body length, one study of the wily piscine escape artists found. One theory holds that in making these leaps, wild guppies might be able to jump into different habitats within a mountain stream to find a more suitable environment or new mates.
8. WHY DO SNAKES YAWN? 
Snakes can stretch the ligament that holds their two jaws together in order to open their mouths super wide while devouring prey that is much larger than themselves. They regularly yawn, therefore, as a way of keeping their jaws limber or adjusting their bite after they've swallowed a big meal. Like humans, yawning also helps them take a deeper breath. However, if it happens too often, it could be a sign of respiratory disease, so call your vet if Viper seems a little sleepier than usual.
9. WHY DO DOGS PLAY FETCH? 
Certain breeds of dog have been selected over the centuries to help hunters retrieve game. Others were bred to sit still and guard the house. Dogs from the former breeds are more likely to enjoy fetching balls and sticks, since it's a pattern of motor activity their ancestors were selected for. Plus, it's fun! Dogs can get something like a runner's high from it.
10. WHY DO CATS JUMP AT THE SIGHT OF CUCUMBERS? 
Because you surprised them with a strange object, silly! While viral videos of cats jumping at the sight of green garden vegetables may be hilarious, there's nothing inherently scary about a cucumber. The jumping is probably more the result of your cat's surprise at finding a new object invading its territory, more so than an innate fear of cucumbers. Other theories hold that your cat may mistake the rounded vegetable for a snake. Either way, don't stress your kitty out—leave your cukes in the fridge.
11. WHY ARE HORSES AFRAID OF WIND? 
Horses are prey animals, so they're always on the lookout for other animals that may want to eat them. Over the course of history, this vulnerability has made them extremely adept at spotting threats—and getting the heck away from them. Unfortunately, it has also made them scared of anything unfamiliar, especially if it's moving. Strong winds block out normal sounds horses might hear with a strange hiss. Then, when the horse is already on high alert because it can't hear, the wind makes stuff start to move around—power lines swing, leaves rustle, bushes move, and plastic bags go flying. You might be a little freaked out, too.
12. WHY DO PARROTS TALK? 
They're trying to fit in. Parrots in the wild have their own dialects that they use to keep in touch with the other members of the flock. In a house, where they only have humans for company, they treat their human housemates as their flock, imitating the sounds they hear.
13. WHY DO DOGS WALK IN A CIRCLE BEFORE LYING DOWN? 
Wolves and other wild dogs circle around their preferred spot to bed down in order to squish down whatever vegetation might be in the way, and also to warn any snakes or other critters lurking in their bed to bug off. It's also a good way to establish sleeping spots within a pack. The behavior doesn't make much sense for modern pet dogs, but the instinct still survives.
14. WHY DO ANIMALS TWITCH IN THEIR SLEEP? 
For young animals (and human babies), sleep twitches may be a way to learn how to use all their limbs and muscles. One study found that when newborn rats twitch in their sleep, their brains are firing neurons associated with motor control. It may be an unconscious way for the body to practice moving, rather than a byproduct of your pup chasing bunnies through her dreams.
15. WHY DO DOGS BURY THINGS? 
Dogs' wild ancestors buried food so that they could return to eat it later without some other animal snatching up their snack. In a human household, dogs will bury chew toys, bones, food, and occasionally, your shoes. It may be because the dog is bored, he's saving his chew toy to enjoy later, or he's simply trying to keep his precious valuables (your shoes included) safe.