The Mysterious Case of the Severed Feet in British Columbia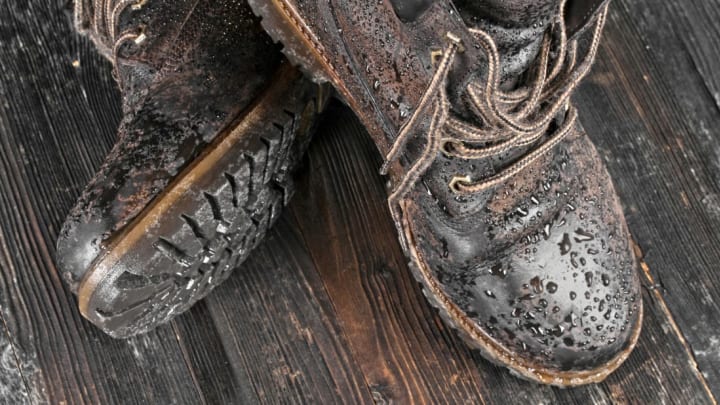 iStock / iStock
While walking on the beach, many people look out for a number of things: Shells, buried treasure, crabs, and dolphins among them. But if you're on a beach in British Columbia, you might want to keep an eye out for something a little more sinister—about 15 severed feet have washed up on the shores there in the past few years. The latest was found on May 6, wedged in a mass of logs on Gabriola Island, according to the Royal Canadian Mounted Police.
The feet have been surprising unlucky British Columbians for over a decade. The first appeared back in 2007 on Jedediah Island; it was eventually matched to a deceased man whose family declined to provide additional information. Bizarre, but not particularly alarming—until another one showed up on Gabriola Island less than a month later. More feet followed, and though some were matched to missing persons, most remained anonymous (feet, unfortunately, don't contain much identifying information). Instead, police focused on the fact that each foot was encased in a running shoe—though sizes, genders, and brands differed.
This seems like a real-life episode of The X-Files, but it turns out there's a perfectly reasonable explanation for the severed feet: They're not really "severed," which would indicate cutting or slicing, at all. According to scientists who tested the theory, the feet likely belong to suicide, drowning, or plane crash victims. It's common for decomposing bodies to come apart at the joint, making it natural for the foot to come apart from the leg. But if that's the case, wouldn't hands be similarly susceptible to washing up on beaches? Nope, that's where the shoes come in.
While the rest of the body naturally decomposes in water, feet are surprisingly well protected inside the rubber and fabric of a shoe. The soles can be pretty buoyant, and sometimes air pockets get trapped inside the shoe, making it float to the surface. Most of the "severed" feet have been clad in jogging shoes such as Nikes and Pumas, but at least one case involves a hiking boot. In that instance, the boot (and foot) was matched to a man who went missing while fishing more than 25 years ago. The most recent case also involves a hiking boot.
That leaves the question: Why British Columbia? According to Richard Thompson, an oceanographer with the federal Institute of Ocean Sciences, it's connected to ocean current. "There's a lot of recirculation in the region; we're working here with a semi-enclosed basin. Fraser River, False Creek, Burrard Inlet—all those regions around there are somewhat semi-enclosed. The tidal currents and the winds can keep things that are floating recirculating in the system." Several feet have also been found further south, in Washington state, which shares a network of coastal waterways with British Columbia.
Others aren't so quick to accept this scientific analysis, however. Criminal lawyer and crime author Michael Slade still wonders if a serial killer is afoot. "We also have to consider that this could be a serial killer," he said. "Somebody who right now is underneath the radar. That has to be on the table."