11 Strange Habits of Geniuses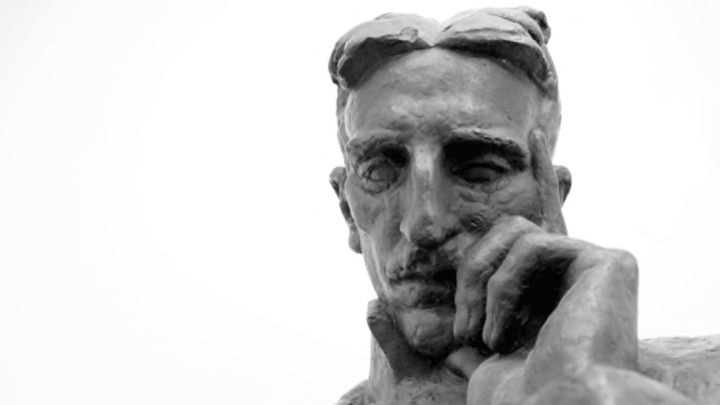 istock / istock
Genius and eccentricity often go hand-in-hand. Here's a sampling of strange habits practiced by some of history's most respected artists, writers, and inventors.
1. PYTHAGORAS HATED BEANS.
Dubbed "the father of vegetarianism," Greek mathematician Pythagoras is credited with popularizing a meatless lifestyle. But although he subsisted solely on veggies, he had no love for legumes. Pythagoras refused to eat beans, and even forbade his followers from ingesting or touching them. While we don't know whether this aversion stemmed from health or religious reasons, it may have it led to his death. According to legend, attackers ambushed Pythagoras, and he refused to escape by running through a bean field.
2. BEETHOVEN KEPT A TUB OF WATER HANDY.
Ludwig van Beethoven's process was almost as dramatic as his compositions. Beethoven was fond of writing in between visits to his washstand. He'd pace around a bit, then pour water all over himself—and his floorboards.
3. DEMOSTHENES HID OUT UNDERGROUND.
Demosthenes, a revered ancient Greek statesman, took the maxim "Practice makes perfect" to a whole new level. The orator rehearsed in an underground hideout for extended periods of time, according to an account by the historian Plutarch. He'd run through his speeches with stones in his mouth, and would occasionally shave half of his head to discourage himself from facing an audience before he was ready.
4. BALZAC DRANK 50 CUPS OF COFFEE A DAY.
Balzac might have owed his productivity to the copious amounts of caffeine he consumed, but the habit also came with a price. He was plagued by stomach cramps, headaches, and high blood pressure.
5. ANTHONY TROLLOPE TIMED HIS WRITING.
For a man who wrote only three hours a day, Anthony Trollope was quite productive. He churned out 250 words every 15 minutes—meaning by the time he was done working each day, he had produced 3000 words. And if he finished the book he was working on before his daily time allotment was up, he wouldn't stop writing. Instead, he'd immediately begin another book.
6. STRAVINSKY DID HEADSTANDS.
Russian-American composer Igor Stravinsky stood on his head for 15 minutes each morning to "clear his brain."
7. EDGAR ALLAN POE WROTE ON SCROLLS.
Edgar Allan Poe often wrote on thin strips of paper, which he glued together and rolled into scrolls for easier storage. He felt the medium better contributed to a work's flow than a regular old manuscript (and, presumably, looked spookier).
8. DA VINCI AND TESLA SHUNNED EIGHT-HOUR SLEEP SCHEDULES.
Leonardo da Vinci and Nikola Tesla adhered to alternative sleep schedules. Leonardo was said to have followed the polyphasic cycle, which means he took multiple short naps every 24 hours. Meanwhile, Tesla only rested two hours a day.
9. TESLA DID TOE EXERCISES.
Speaking of Tesla, the inventor had another strange habit: He'd curl his toes 100 times per foot every evening before going to bed because he thought the practice boosted his brain cells.
10. BEN FRANKLIN TOOK "AIR BATHS."
Before he began the day's work, Benjamin Franklin would spend up to an hour taking naked "air baths" at his open window.
11. KIERKEGAARD, NIETZSCHE, AND WOOLF WORKED STANDING UP.
Søren Kierkegaard, Lewis Carroll, and Virginia Woolf all wrote standing up. Woolf, who believed that writing was merely painting with one's words, would often position herself at a lectern, next to her artist sister Vanessa's easel. Friedrich Nietzsche would have approved; he slammed his pal Gustave Flaubert in a letter for the writer's affinity for lounging during working hours. "There I have caught you, nihilist!" he wrote. "The sedentary life … is the very sin against the Holy Spirit. Only thoughts reached by walking have value."