11 Things You Already Have in Common With Geniuses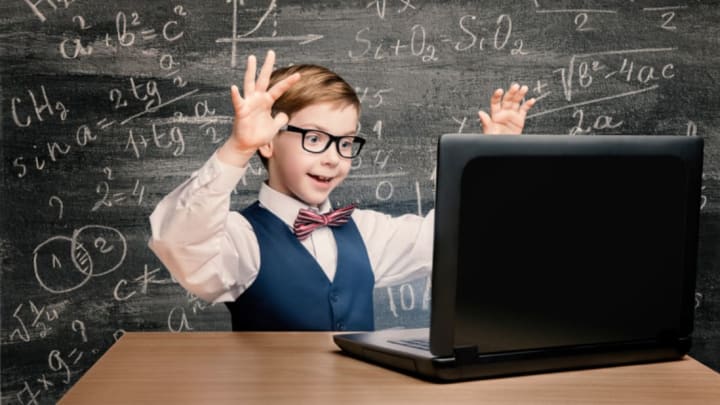 istock / istock
"Genius" is a lofty title that can feel unobtainable for the average person; but geniuses are people, too. It's easy to put the best and brightest thinkers of all time on a pedestal, but it turns out that they did and liked a lot of the same things we "normal people" do. Here are a few of the ways that you are just like them.
1. YOU DON'T SLEEP VERY OFTEN.
Being a night owl is not always a bad thing. Health professionals say we should get between seven and eight hours of sleep each night, but geniuses rarely abide by that rule. Famed inventor Nikola Tesla claimed to only sleep two hours at a time, and once continued working for 84 hours straight. Historians say that Leonardo da Vinci followed the Uberman cycle (more scientifically called polyphasic sleep) which consisted of 20-minute naps every four hours.
2. YOU ARE PARTICULARLY FOND OF CATS.
Highly intelligent and creative people throughout history have been cat lovers, including Salvador Dali, Henri Matisse, and Ernest Hemingway (to name a few). Studies have shown that cat owners tend to have higher IQs and are more educated.
3. YOU CAN BE A BIT MESSY.
Brilliant people tend to thrive in cluttered working environments, and a recent study has psychologists believing that a messy desk can lead to more creative thinking (in their research, messy workers were more likely to choose new projects and challenges over conventional choices). Want proof that messy people have a creative edge? Mark Twain was a notorious slob.
4. YOUR HANDWRITING IS NOT GREAT.
If someone says that your handwriting is illegible, take it as a compliment. Studies have suggested that gifted people often have terrible handwriting because their brains are working faster than their hands.
5. YOU'RE ATHLETIC.
The stereotype of a dumb jock simply isn't true (well, sometimes, at least). For starters, Pythagoras was once a boxer. And it's no coincidence that ancient Greece gave birth to both philosophy and the Olympics: The Greeks believed that athleticism was a sign of a good leader. Aristotle also believed that sport or play was closest to "contemplation," since it's an action performed for its own benefit, not as a means to an end.
6. YOU START YOUR DAY WITH A CUP (OR TWO) OF COFFEE.
Musical genius Beethoven had very specific coffee demands and would count out 60 beans for every cup. Benjamin Franklin often hung out at coffee shops and even sold his own beans, and Balzac chronicled his own coffee addiction in "The Pleasures and Pains of Coffee." So the next time you need a boost, don't hesitate to grab a mug.
7. YOU LIKE YOUR PRIVACY.
Geniuses are notorious for being introverts, and some genuinely believed that meaningful things could only be accomplished in solitude. Jane Austen was known to keep the hinges on the door to her study squeaky so she would be alerted to the arrival of visitors.
8. YOU ENJOY LONG WALKS.
Great thinkers from Soren Kierkegaard to Charles Dickens did some of their best thinking while strolling; Kierkegaard would rush back to his writing desk, hat and walking stick in hand, when inspiration struck (Beethoven was better prepared: he always carried a pencil and notepad on his walks). Tchaikovsky made sure he walked for a full two hours every day, and even managed to convince himself that he would fall ill if he didn't get a full 120 minutes outside.
9. YOU KEEP A DIARY.
Geniuses from Leonardo da Vinci to Wolfgang Amadeus Mozart to Virginia Woolf were known to journal their thoughts and observations. The French Romantic artist Eugène Delacriox (who's most well known for his work Liberty Leading the People) said of his diary, "I am taking up my Journal again after a long break. I think it may be a way of calming this nervous excitement that has been worrying me for so long." 
10. YOU CAN'T GET ENOUGH OF NATURE.
Ralph Waldo Emerson, Henry David Thoreau, and Robert Frost (to name a few) all had a deep respect for the natural world.  Some of their best work was done by observing or reconnecting with nature.
11. YOU LOVE MUSIC.
You don't have to be a genius composer to benefit from a good melody: Leonardo da Vinci played several instruments and even invented his own, while Galileo played the lute and let music inspire his work as a philosopher.
Now that you know you have more in common with geniuses than you thought, you need not be so intimidated by the pint-sized whiz kids on Lifetime's Child Genius: Battle of the Brightest. To see the habits they develop to prepare for the ultimate battle of brains, tune in to the season premiere of Child Genius: Battle of the Brightest on Thursday, January 7th at 8/7c on Lifetime.