The Healthy Habits of 15 U.S. Presidents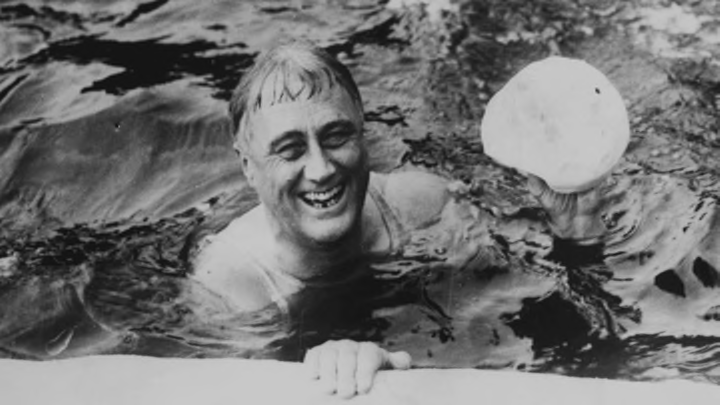 Franklin Roosevelt (#7) // Getty Images / Franklin Roosevelt (#7) // Getty Images
The presidency is an exhausting job—both mentally and physically. From John Quincy Adams to Barack Obama, many of the men we've voted into the White House really understood the importance staying in shape.
1. JOHN QUINCY ADAMS LOVED MORNING CARDIO.
When it comes to personal fitness, early birds have an edge. Studies have shown that morning workouts can curb your appetite, prevent weight gain, and even help you get a good night's sleep later on. Nobody understood the virtues of morning exercise better than John Quincy Adams. As America's foreign minister to Russia, Adams would wake up at five, have a cold bath, and read a few chapters from his German-language Bible. Then came a 6 mile walk, followed by breakfast. 
Like all good fitness gurus, the politician enjoyed setting new goals. In 1817, under President James Monroe, Adams was appointed Secretary of State. During his Cabinet tenure, Adams favored skinny dipping over walking (the Potomac River was Adams's favorite place to take the plunge).
In 1822, he established a personal record by spending 50 minutes out in the Potomac without touching the bottom. The very next year, he did so for 80 minutes. After that feat, though, Adams wasn't allowed to outdo himself—future First Lady Louisa Adams made sure of that. With some help from a physician, she convinced her middle-aged husband to cut his swim time down to hour-long sessions. Undaunted, the Secretary of State got the best out of his shortened workouts by jumping in fully-clothed, which added extra resistance.
2. JAMES BUCHANAN SELDOM RODE WHEN HE COULD WALK.
Lincoln's predecessor didn't often travel via carriage. "I doubt whether Mr. Buchanan used his coach and horses more than a dozen times a year, except during the summer," wrote James Buchanan Henry, the President's nephew and secretary. "He greatly preferred the exercise of walking, with its exchange of kindly personal greetings with friends."
3.  THEODORE ROOSEVELT REGULARLY SHOOK UP HIS ROUTINE.
Of course Teddy had to make this list. At various points in his life, Roosevelt took up wrestling, boxing, hiking, rowing, polo, and judo (in which he became the first American to earn a brown belt). Furthermore, our 26th president also installed the original White House tennis court.
Variety was the spice of TR's personal workout program. "While in the White House I always tried to get a couple of hours' exercise in the afternoons—sometimes tennis, more often riding, or else a rough cross-country walk," he wrote in his autobiography. To Roosevelt, who'd been a feeble, asthmatic child, physical activity was more than the means to an end: "I rarely took exercise merely as exercise. Primarily, I took it because I liked it."
4. WILLIAM HOWARD TAFT CUT CARBS, DROPPED 70 POUNDS. 
"Heaviest president of all time" isn't the most desirable distinction. At his biggest, Taft weighed in at a whopping 340 pounds. But within nine months of leaving Pennsylvania Avenue, he lost some major league poundage—and kept it all off until the day he died. How'd Taft do it? By cleaning up his diet. The Republican completely axed bread, potatoes, salmon, bluefish, wine, liquor, tobacco, and fatty meats like pork. "I can truthfully say that I never felt any younger in all my life," he told The New York Times. "Too much flesh is bad for every man."
5. SILENT CAL INSTALLED A MECHANICAL HORSE.
Despite having been raised in rural Vermont, Calvin Coolidge was allergic to real horses—but he loved to climb onto his electronic mount, which he acquired in 1925. Like a modern bull-riding machine, the calorie-burner came with settings that ranged from trot to full gallop.
6. HERBERT HOOVER PLAYED A CUSTOM-MADE GAME CALLED HOOVERBALL.
Wikimedia Commons // Public Domain
From the start, President Herbert Hoover prioritized working out. "Getting daily exercise to keep physically fit is always a problem for presidents," he once noted. But Hoover didn't like many standard exercises, writing, "Once the day's work starts there's little chance to walk, to ride, or to take part in a game. Taking walks or rides early in the morning is a lonesome business, and the inevitable secret service guard when the President leaves the White House grounds is not enlivening company." 
So, after some brainstorming, Hoover and his physician Joel T. Boone conjured up an alternative that was well-suited to the president's schedule. Inspired by another game called "bull-in-the-ring," they created Hooverball. Strenuous and fast-paced, the sport more or less looked like a tennis/volleyball hybrid—but instead of a tossing a lightweight object around, players used a 6-pound medicine ball.
Six days of just about every week during "Bert's" administration, there was a Hooverball contest. Players generally assembled at the south lawn of the White House, where games started at 7 a.m. sharp and ended half an hour later. As one of Hoover's friends attested, "It is more strenuous than either boxing, wrestling, or football. It has the virtue of getting at nearly every muscle in the body."
7. FDR ENJOYED A GOOD SWIM.
By the autumn of 1921, polio had taken Franklin Roosevelt's ability to walk without a leg brace—or, at least, that was the case on dry land. Underwater, FDR's legs were still capable of supporting his bodyweight. So, three times a week, the future president swam in either a private pool or pond. The results were encouraging: Come wintertime, Roosevelt had significantly strengthened his arms, stomach, and lower back. "As a matter of fact," he told Dr. George Drapper the following year, "I see continuous improvement in my knees and feet."
Sadly, FDR's limbs never fully recovered. Still, regular swimming helped them regain more than a bit of their former strength. In 1924, he boasted to a reporter that "I [can] walk around in water 4 feet deep without braces or crutches almost as well as if I had nothing the matter with my legs."
8. PORTION CONTROL KEPT HARRY TRUMAN SLENDER.
Healthy bodies are made in the dining room. When Harry S Truman was sworn in, he embraced dietary discipline. "I eat no bread, but one piece of toast at breakfast, no butter, no sugar, no sweets," he wrote in a 1952 diary entry. "Usually have fruit, one egg, a strip of bacon and half a glass of skimmed milk for breakfast, liver & bacon or sweet breads or ham or fish and spinach and another non fattening vegetable for lunch with fruit for dessert."
Dinner consisted of steak, a fruit cup, healthy veggies, and "an ice, orange, pineapple, or raspberry." Thus, Truman said, "I maintain my waistline and can wear suits bought in 1935!"
9. DWIGHT EISENHOWER KNEW THE POWER OF GOLF.
During his eight-year administration, Ike squeezed in a staggering 800 rounds of golf. Now considered the "game of presidents," the sport would help Eisenhower recover when a heart attack struck him in 1955. The timing couldn't have been worse—Ike would soon be up for re-election. To keep his shot at a second term alive, Eisenhower needed to reassure the public that he was healthy as ever. Before long, Ike hit the golf courses, cameramen took some publicity shots, and the incumbent secured a November landslide.  
10. LBJ MADE TIME FOR NAPPING.
President Lyndon Johnson was both an early riser and a night owl. Generally, his days would start at 6:30 or 7 a.m. and wrap up after midnight. To avoid sleep deprivation, he'd most always grab some post-lunch shuteye. In Johnson's mind, shedding his morning outfit was an essential part of the process. "The only way to relax," he said, "is to peel off all your clothes and make believe you're going to bed for the evening." Forty-five minutes to an hour later, LBJ woke up rejuvenated. Then it was time to grab a shower and tackle what he called his "second shift." 
11. WITH AGE, JIMMY CARTER HAS CHANGED HIS TACTICS.
"I was an avid runner until I was 80 and my knees gave out," Carter told CNN. "I have two new knees and those have worked well. Now I swim regularly at home and when I travel. I'm active around the house and with painting and woodworking." He and his wife, Rosalyn, also ride around on matching three-wheeled scooters every so often. Carter likens the experience to skating: "It gives you a workout all the way from your ankles up to your shoulders… [and] there's no jarring to your joints," he says. 
12. RONALD REAGAN TRAINED ALL MUSCLES EQUALLY.    
In 1983, Parade treated its subscribers to an especially eye-opening read: "How to Stay Fit: The President's Personal Exercise Program" was a tell-all article penned by the Gipper himself. Reagan traced his workout pattern back to the 1981 attempt on his life. "My calisthenic and gym routine actually started as therapy after the shooting, but doctors say I am now in better shape than when I came to the White House," he wrote.
Every evening, Reagan would hit the gymnasium—a place where beginners sometimes forget to alternate between arm, leg, and chest drills. The president specifically avoided that mistake. "I have two different sets of exercises I do on alternate days," he said. "[Most] people don't realize it, but you can overdevelop a set of muscles at the expense of other muscles and thus reduce flexibility, so it's important that the routine you develop be well-rounded. All your muscles—not just a few—need exercise."
13. BILL CLINTON JOGGED RELIGIOUSLY—AND DROVE THE SECRET SERVICE CRAZY.
During his time as President, Clinton jogged up to three days per week. To the chagrin of everyone charged with his safety, those runs mainly took place in public. "He dealt us this nightmare," former Special Agent Dan Emmett said. Clad in shorts, Clinton was liable to spend over half an hour out in the open during his jogs—sometimes with a congressman or two tagging along. Oftentimes, people who tried keeping pace with the Arkansan found that they couldn't match his stamina. Not to worry, though: The White House organized a "straggler van" with which to pick up exhausted running buddies.
14. GEORGE W. BUSH: BIKING CONVERT.
The 43rd president was once a devout runner who even completed the 1993 Houston Marathon—which he finished in a respectable three hours, forty-six minutes, and fifty-two seconds. "Running helps me set goals and push myself towards those goals," he once said. "In essence, it keeps me young. Plus, I just look and feel better."
When knee pain forced him to change his routine in 2003, W reinvented himself as a cyclist. "He's an avid rider, a fanatic," Matt Mannelly—who then headed Cannondale cycling—said in 2006. While on presidential trips, Bush developed a reputation for slipping off to enjoy a ride whenever opportunity allowed. For the White House, the world leader purchased a $1700 indoor cycling trainer. These days, Bush stays in shape with a combination of elliptical machine exercises, core training, golf, weights, and—of course—mountain biking.
15. BARACK OBAMA MIXES WEIGHTS, CARDIO, AND BASKETBALL.
"You'll have to exercise or at some point you'll just break down," Obama told Moneyball author Michael Lewis. The Oval Office's current occupant kicks off every morning with 45 minutes of either cardio or weight training, but better-known to the public is his passion for hoops. Of the several courts that he uses semi-regularly, Obama prefers the FBI's—given his age, he cites its smaller size as a big plus. 
All images courtesy of Getty Images unless otherwise noted