In all fairness, President Obama started it: Just before his final State of the Union Address last night, he tweeted "One last time"—coincidentally (or maybe not?) the title of a song from the Broadway show Hamilton. Accordingly, Hamilton fans went nuts, taking tweeting photos of the president and screengrabs from the proceedings with lyrics from the show's songs:
"I think your pants look hot, Biden I like you a lot" #Ham4SOTU pic.twitter.com/g6UcsVZj83

— ASYA (@communistbabe) January 13, 2016
I wanna talk about what I have learned
The hard-won wisdom I have earned
One last time.
#Ham4SOTU pic.twitter.com/dl9Mak8E8v

— Jon Lipe (@JonLipe) January 12, 2016
Don't be shocked when your history book mentions me. #Ham4SOTU pic.twitter.com/wXcHI43eJQ

— Megan Schmidt (@Veganmathbeagle) January 13, 2016
This isn't the first time Hamilton fans have gotten creative; here are a few more brilliant mashups they've created. And this is likely just the beginning—there're a million mashups that haven't been done … just you wait.
1. #FORCE4HAM
When J.J. Abrams announced on The Tonight Show Starring Jimmy Fallon that Hamilton creator Lin-Manuel Miranda had written music for a scene in Star Wars: The Force Awakens, #Force4Ham was born—and it was wonderful.
"Send in your seconds, see if they can set the record straight." #force4ham pic.twitter.com/Ah6VtSR7X6

— Sus (@SusLikesTurtles) December 1, 2015
"I survived, but I paid for it... Now I'm the villain in your history." #Force4Ham pic.twitter.com/Mo9JrR0NlU

— Crystal Bell (@newyorkbell) December 1, 2015
2. SONGS FROM HAMILTON WITH THE THEMES OF STAR WARS
#Force4Ham inspired Hamilton's conductor, Alex Lacamoire (who also orchestrated the score and arranged the show's music with Miranda), to get in on the fun: He took the music from Hamilton and mashed it up with the themes of Star Wars.
A "Right Hand Man"/"Emperor's Theme" Mashup? @Lin_Manuel @HamiltonMusical #Force4Ham pic.twitter.com/pbKeUQFxFt

— Alex Lacamoire (@LacketyLac) December 1, 2015
Or King George/Opening Theme? @Lin_Manuel @HamiltonMusical #Force4Ham #iknowanotherone pic.twitter.com/nWfGQCDz3n

— Alex Lacamoire (@LacketyLac) December 1, 2015
...Or "Satisfied"/"The Force Theme"?? (@IFcoach's idea!). @Lin_Manuel @HamiltonMusical #Force4Ham pic.twitter.com/Xahob7ABE7

— Alex Lacamoire (@LacketyLac) December 1, 2015
3. "OH HI HAMILTON"
Combine Hamilton with Tommy Wiseau's cult film The Room and you get "Oh Hi Hamilton," created by actor and composer Zachary Spound and Harvard MFA theater student Jeremy Fassler. Spound explained to Playbill that Fassler, who co-wrote and directed "Oh Hi Hamilton," "was an apprentice at a Vassar theatre program the same summer that [Lin-Manuel] Miranda was workshopping Act I of The Hamilton Mixtape [the project's original title]." There, Fassler met Miranda and discovered that he loved The Room. So did Spound and Fassler, but inspiration didn't strike until the duo became obsessed with the Hamilton cast recording. "We started talking about how hilarious it would be if we rewrote The Room with characters and songs from Hamilton. So 'Oh Hi Hamilton' was born," Spound said. "The lyrics are rewritten to incorporate the most iconic dialogue from The Room into the most iconic moments from Hamilton." Spound, who stars as Hamilton (and also arranged the music), really nails Wiseau's signature delivery.
4. PARKS AND REVOLUTION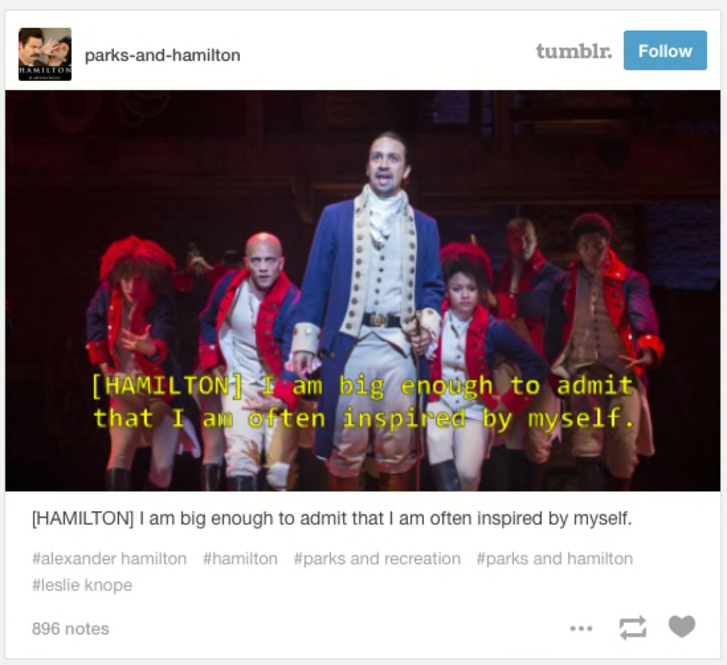 Parks and Rec + Hamilton = Pure genius. (Above, Hamilton is quoting Leslie Knope.)
5. POTTER4HAM
Like Hamilton, the Harry Potter series is about two orphans who end up fighting to the death—and the twitter account #Potter4Ham proves that's not where the similarities end:
At least I keep his eye in my life
#Potter4Ham pic.twitter.com/fxwwZ933K0

— Very Harry Hamilton (@Potter4Ham) January 10, 2016
how did we know that this plan would work?
we had a spy on the inside, that's right
SEVERUS SNAPE
#Potter4Ham pic.twitter.com/XytqSSl4ao

— Very Harry Hamilton (@Potter4Ham) December 19, 2015
you have no control
who lives, who dies, who tells your story
#Potter4Ham pic.twitter.com/V4ko47BTDM

— Very Harry Hamilton (@Potter4Ham) December 7, 2015
look him in the eye, aim no higher
summon all the courage you require
#Potter4Ham pic.twitter.com/SCotGHw6CG

— Very Harry Hamilton (@Potter4Ham) December 5, 2015
6. ALEXANDER SMASHILTON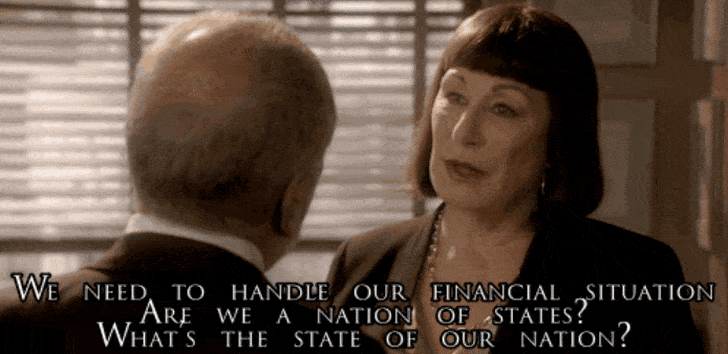 This tumblr combines images from Hamilton with lyrics from the songs featured in NBC's defunct making-of-a-musical show Smash (and vice versa).
7. SAGA4HAM
After Miranda tweeted that he had finished Saga, the sci-fi series written by Brian K. Vaughan and illustrated by Fiona Staples, Preeti Chhibber was inspired to create Saga4Ham, which marries lyrics from Hamilton over panels from Saga. Natalie Zutter at Tor writes that "it is insane how well Alexander's very smooth pickup line to Eliza fits with Marko and Alana's star-crossed (and gun-crossed) love."
8. "DEAR THEODOSIA" / "HEY THERE DELILAH"
In the above video, YouTube user Going Spaceward mashes up Hamilton's "Dear Theodosia" with the song "Hey There Delilah" by the Plain White T's. "I'm sure I'm not the first person to notice that these two songs sound similar," he wrote, "but I am the first person to mash them up."
9. "THE SCHUYLER SISTERS" AND THE "SINGLE LADIES" MUSIC VIDEO
Robert Dallas had the brilliant idea to put "The Schuyler Sisters" over Beyonce's music video for "Single Ladies." They go pretty seamlessly together, don't they?
10. "THE TEVYE SISTERS"
Miranda, the cast of Hamilton, and stars of other Broadway shows often put on a performance at Hamilton's ticket lottery, which Miranda dubbed #Ham4Ham. The last #Ham4Ham of the New Year featured a mashup, written by Miranda, of "Matchmaker, Matchmaker" from Fiddler on the Roof and Hamilton's "The Schuyler Sisters." And more Miranda-written mashups are coming:
Guests who I could not get to perform outside, meet me inside.
Ham mashups that will cave your chest in.
#Waitforit https://t.co/wuWc1gIeAa

— Lin-Manuel Miranda (@Lin_Manuel) January 12, 2016
He plans to post them online.
BONUS: HAMILTON AS DOGS
— hamilton as dogs (@hamiltonasdogs) January 12, 2016
This Twitter account that matches Hamilton stars with dogs isn't a mashup, but it's still pretty great.