11 Sound Facts About the Apollo Theater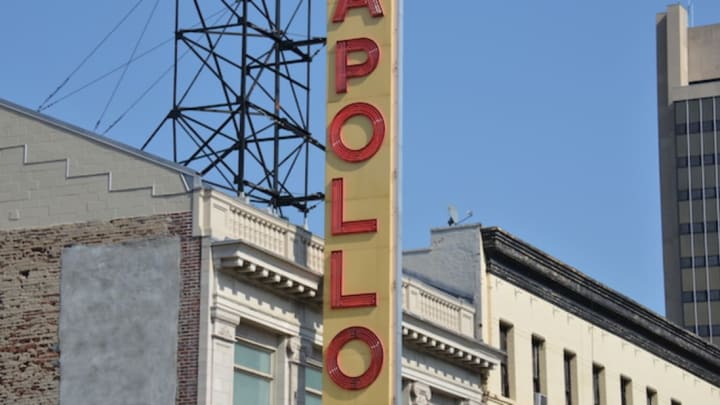 iStock / iStock
Before The Voice and American Idol, there was the Apollo. Since its opening 82 years ago, the Harlem, New York house of entertainment has helped jumpstart the careers of innumerable singers, dancers, rappers, and musicians. But the institution behind those stories of rising fame has a pretty impressive tale of its own.
1. IT WASN'T ALWAYS CALLED THE APOLLO THEATER.
In a little over 20 years, the structure we know as the Apollo Theater changed hands a number of times. In 1913, Hurtig & Seamon's New Burlesque Theater opened on 125th Street in Harlem. At the time, the neo-classical auditorium, designed by New York architect George Keister, was owned by Sidney Cohen. A year later, burlesque theater owners Jules Hurtig and Harry Seamon took over and solidified their hold on the building with a 30-year lease.
But the long-term lease was never fulfilled. The duo found themselves out of business when Mayor Fiorello LaGuardia banned burlesque in New York City in 1933. A year later, Cohen got his building back and renamed it after the Greek god of music. And in 1935, Frank Schiffman and Leo Brecher bought the Apollo. They would go on to run it until the late 1970s, putting the famed variety-show format on the map.
2. IT DIDN'T CATER TO AFRICAN-AMERICAN AUDIENCES AT FIRST.
As the home of the Great Migration and the birthplace of the Harlem Renaissance, Harlem is known to many as the Black Mecca. But the northern Manhattan neighborhood hadn't yet developed that reputation when the building was erected. Hurtig & Seamon's New Burlesque Theater adhered to a whites-only policy in its audience and onstage. And even after the building became the Apollo and integrated its audience, performances were controversial. Up until the '50s, black actors would don blackface makeup and exaggerated, painted lips in skits, despite backlash from the NAACP. Still, the Apollo is known for becoming one of the first theaters in Harlem to allow black performers on stage and to welcome mixed-race audiences. The 1500-seat venue was also one of the only performing spaces to employ African-Americans as backstage hands and theatrical workers.
3. IT'S WHERE LEGENDS ARE BORN ...
Ralph Cooper, an actor and producer, began Amateur Night in 1934, broadcasting the performances on the radio. Since its inception, the themed show has taken place every Wednesday night at 7:30 p.m. Rappers, singers, poets, comedians, and musicians as young as 5 years old are required to audition before they can take part. The ones lucky enough to pass auditions compete for the title of Super Top Dog, a lucrative prize of $10,000 ($2000 for children), and a spot in a pretty impressive alumni class.
They have to act fast, though—only the first 300 acts in line are able to audition, and if they make that cut, they'll only have 90 seconds to perform. Jimi Hendrix, the Jackson 5, Ella Fitzgerald, the Isley Brothers, Patti LaBelle and Lauryn Hill are among the stars that began their careers on the Apollo's stage. Another notable is Gladys Knight, who currently cohosts BET's Apollo Live.
4. ... AND MEMORIALIZED.
Getty Images
James Brown, the Godfather of Soul, also competed in Amateur Night. When he died in 2006, it was only right that he be returned to the place that he called home. Thousands of mourners and fans lined up for hours to get one last glimpse at the Godfather of Soul. Brown's memorial service has been the only one held at the theater so far.
5. THE LUCKY STUMP HAS DEEP ROOTS.
Ice Cube and actress Aleisha Allen rubbed the Tree of Hope stump in April 2007.
Getty Images
Everyone from Michael Jackson to Beyoncé has rubbed the stump—a 12-inch shellacked log that sits atop a gold pillar in the wings of the right stage. Before it was a stump, it was part of the Tree of Hope, rooted six blocks away. The tall elm was considered a good luck charm in the community for years before it was chopped down in 1934. Ralph Cooper Sr., the Apollo's host at the time, purchased a piece. Two new trees have been planted in the original's place since 1941—but the tradition of rubbing it for luck still remains intact.
6. THE SANDMAN HAD MANY HATS.
Howard "Sandman" Sims was best known for shooing unpopular acts off the stage once the audience's collective jeers got loud enough. The Arkansas native got his start on the same stage. As a tap dancer, Sims won Amateur Night 25 times—a record impossible to match today. (He was still able to sympathize with the people he "swept" away: He was booed off stage five times in a row before his first win.)
Because of Sims, the theater initiated a four time limit for winners. His skills catapulted him from stage manager to his self-titled role as the theater's "exterminator." Outside of the theater, Sims mentored famous dancers like Gregory Hines. He also gave Muhammad Ali a hand in developing his footwork, as Sims was a former boxer. And his influence extended outside of the venue. He once said that The Gong Show got its concept from the Apollo—removing contestants from the stage while providing comic relief.
7. MANY CELEBRITIES HAVE LEFT THEIR MARK AT THE VENUE.
About 27 years ago, the Apollo's crew started The Wall of Signatures. Visitors and performers often sign the wall located behind stage right. It touts tags from President Barack Obama, Michelle Obama, Bruce Springsteen, Taylor Swift, Paul McCartney, Tony Bennett, and many more.
8. YOU CAN RENT THE THEATER.
Want to party with more than 1000 of your closest friends? The Apollo welcomes patrons to borrow their space for weddings, graduations, fashion shows, photo shoots, and more. Rates start at $1000 and max out at $30,000.
9. THE APOLLO DEFIES GENRES.
Steven Pasano, Flickr // CC BY 2.0
While its legacy is shrouded in soul, the Apollo is important in other music genres as well. In 1999, Korn played a one-night show for an audience of 1400 fans—the theater's first rock concert. Paul McCartney performed a 2010 two-hour set for a celeb-filled crowd including Matt Damon, Jimmy Fallon, Kevin Bacon, and Alec Baldwin. And three years later, Metallica frontman James Hetfield jokingly expressed his disbelief of the Apollo letting the band play there. Other visitors include Justin Bieber (whose band used so much power that he caused a power outage and had to play an impromtu unplugged set), comedian Amy Schumer, and Kacey Musgraves, who was the theater's first country headliner.
10. IT WILL WELCOME ONE DEATH-DEFYING ACT.
Wikimedia Commons // Public Domain
Famed jazz songstress Billie Holiday graced the Apollo with her presence nearly 30 times during her reign. Now, with the help of Hologram USA, she'll have an encore presentation. The Apollo plans for Holiday's hologram to serve as a tour guide of sorts—she'll be able to explain the theater's backstory, answer questions, and of course, sing a few songs.
11. IT REALLY IS A PIECE OF HISTORY.
Harlemites aren't the only ones who consider the Apollo their pride and joy. In 1983, the venue was deemed a federal and city landmark following a few decades of financial turmoil. The Apollo Theater Foundation, Inc., a nonprofit dedicated to preserving and developing the theater, was established in 1991—and to ensure its longevity, the Apollo was given a 99-year lease for $1 a year.