9 Surprising Secrets From Los Angeles History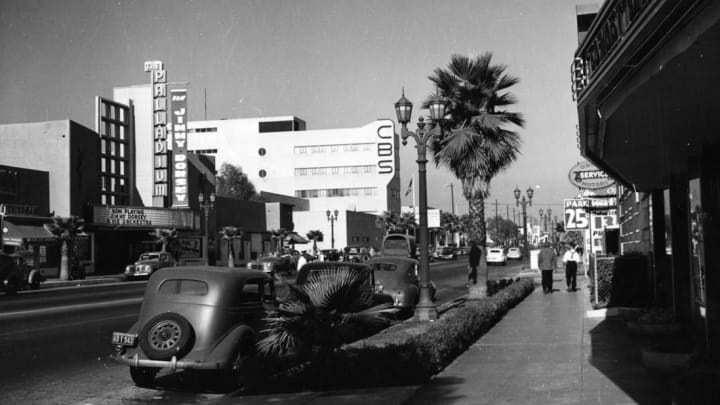 Getty Images / Getty Images
Mock Los Angeles all you want—It's young! It's superficial! It has no real culture!—but the City of Angels can match any other American metropolis in buried stories. We unearthed 10 of the weirdest.
1. LOS ANGELES ONCE HAD A CENTRAL PARK.
When this 10-acre park was created in 1887, it wasn't precisely central (being located in Vernon, then outside city limits), and it wasn't exactly as grand as its NYC counterpart (being about 830 acres smaller). It wasn't even LA's only Central Park (Pershing Square briefly claimed the title about six years later). But it was a nice little urban oasis, dotted with families picnicking under the long boughs of pepper trees. Alas, the privately owned park was subdivided in 1904, and today Vernon is a desolate stretch of storage, industry, and one famous slaughterhouse. Of course, if the park hadn't been destroyed, we never would've had the grimy urban location for Michael Jackson's "Thriller" video.
2. LA WAS ONCE COVERED IN OIL DERRICKS.
Any driver taking La Cienega to LAX will pass a few stray pumpjacks lazily chugging away in the distance. These incongruous pumps are relics from the days when the city was covered in oil wells. In the decades before World War II, Los Angeles resembled a wildcat town from the Texas frontier, sporting a thicket of wooden derricks; in Santa Barbara, they stretched off into the surf. These days, the pumps are a shade more discreet. Modern LA has a taste for comically-disguised infrastructure (think of all those metal "palm tree" cell phone towers), so one pump near Beverly Hills High School has been wrapped up like a Christo installation.
3. THE 1963 BALDWIN HILL DAM COLLAPSE WAS THE NATION'S FIRST LIVE TELEVISED DISASTER. 
The JFK assassination was America's first nationally televised tragedy. But it took a dam collapse three weeks later for a disaster to occur in real time. After a crack in the Baldwin Hills dam in the South Los Angeles neighborhood widened and then split apart, 292 million gallons of water—440 Olympic-size swimming pools—created a 50-foot wave. Remarkably, only five people died in the resulting flood. The entire disaster was captured live by a KTLA helicopter, a TV first. Thirteen years later, nearby oil exploration was blamed for the dam's failure.
4. LA WAS ORIGINALLY PLANNED AS A GRID, WITH NORTH-SOUTH STREETS NAMED AFTER MEXICAN GOVERNORS, AND EAST-WEST STREETS NAMED AFTER U.S. PRESIDENTS.
cooked up this idea in the 1850s, just a few years after the Mexican-American war, when Spanish speakers outnumbered English. The proposed Mexican governor names (Micheltorena, Alvarado, Figueroa) were to be padded with a sprinkling of random Spanish names (San Pedro, Soto). The plan was buried after the demographics of the city tilted toward English speakers, although some of its names survive today.
5. DORITOS ORIGINATED IN DISNEYLAND. 
Tom Simpson via Flickr // CC BY-NC-ND 2.0
Orange County's only true contribution to Mexican fast food sprang from Disneyland's Casa de Fritos restaurant, which opened in 1955 and served free Fritos with every meal. Sometime before 1966, the eatery tried cooking up stale tortilla chips; the new snack was the hit of the park, and became so popular that production eventually moved to Oklahoma and Alabama. The marketing executive who is said to have coined the name (allegedly "little golden things" in a mangled, pigeon Spanish) was buried alongside his signature snack in 2011. 
6. MT. LEE—OF THE HOLLYWOOD SIGN—WAS ORIGINALLY FLATTENED TO MAKE SPACE FOR LA'S GRANDEST MANSION.
The 1700-foot summit behind LA's best-known landmark wasn't always so flat. In 1923, Mack Sennett—the fabulously wealthy producer of the Keystone Cops—bought 18 acres of glorious mountaintop. The space was planned for a vast complex that was to include a library, a 2800-square foot pool with sandy beach, and terraced Italian gardens, all overlooking the splendor of Los Angeles below. The entire mansion would have cost $1 million (roughly $14 million in today's money, or what Chrissy Teigen and John Legend just paid for Rihanna's Beverly Hills mansion). Steam shovels lopped 69 feet off the peak, then the Great Depression lopped off Sennett's fortune. Today the mountain still sports a conspicuous flattop. 
7. SOME OF GANDHI'S ASHES ARE KEPT IN PACIFIC PALISADES.
After the revered martyr's assassination in 1948, a funeral procession of well over a million people attended Gandhi's cremation at the confluence of the Ganges and Yamuna Rivers. Some of the ashes were parceled out in separate urns intended for multiple bodies of water around India. One of these urns was passed along to a journalist, who in turn gave the urn to the guru Paramahansa Yogananda. He installed the ashes in a quaint lakeside shrine inside the Self Realization Fellowship in Pacific Palisades, just north of Santa Monica, where they remain open to visits from the public. 
8. A 1942 PANIC OVER A RUMORED JAPANESE ATTACK WAS SO FIERCE IT RESULTED IN FIVE CIVILIAN DEATHS.
The invasion hysteria behind Spielberg's epic flop 1941 was quite real. Fear of a Japanese attack on the West Coast culminated in a mass freakout in February 1942, when Angelinos reported seeing strange aircraft in the skies. The Great Los Angeles Air Raid kicked off when the 37th Coast Artillery Brigade panicked and fired 1400 anti-aircraft shells at the phantom threat. In the barrage of firepower, three people were accidentally killed and another two died of heart attacks. The event lives on in the hearts of UFO conspiracy theorists. 
9. GEORGE AND BARBARA BUSH ONCE LIVED IN COMPTON.
Getty Images
In 1949, George HW Bush was a salesman, hawking drilling bits for an oil company subsidiary. He and his 24-year old wife Barbara moved into 624 S. Santa Fe Avenue in Compton, where they lived for six months. George W. Bush was three at the time. Compton was white by law, with now-illegal housing covenants restricting occupation. Four decades later, after the 1992 LA Riots, a plan to designate the building a historical landmark fizzled out in the city council. The building became a crack den and was later razed.
An earlier version of this post mentioned secret tunnels that had once existed beneath the Playboy mansion. Alas, that story was an April Fool's joke.