15 Things You Should Know About the Adirondacks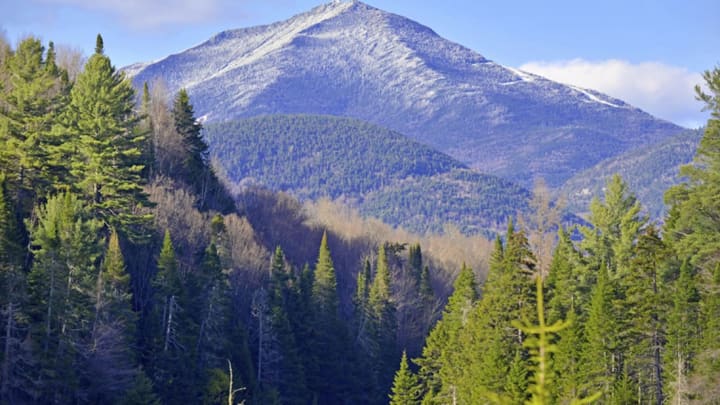 istock / istock
New York's mightiest mountains are as historic as they are breathtaking: The Adirondacks have seen Olympic glory, resurging wildlife, and the sudden dawn of a presidency.
1. THE NAME "ADIRONDACK" IS DERIVED FROM AN INSULT.
Before white settlers showed up, this area was inhabited by two groups: the Mohawks of the Iroquois Confederacy and their Algonquin neighbors. During tough times, the latter sometimes fed on tree bark to survive, and the Iroquois began calling them ha-de-ron-dah, or "eaters of bark." This jab stuck and later evolved into the modern, Anglicized term "Adirondack."
2. THE HUDSON RIVER BEGINS THERE.
infinitedecay, Flickr // CC BY-NC 2.0
The 315-mile river is fed by several Adirondack water sources—most famously Lake Tear of the Clouds at Mount Marcy's base. Leaving Lake Tear of the Clouds as Feldspar Brook, it flows into the Opalescent River, then Calamity Brook; right next to Henderson Lake, it converges with another creek to become the Hudson.
3. A CATHOLIC SAINT WAS THE FIRST EUROPEAN TO TRAVEL THROUGH THEM.
Isaac Jogues didn't exactly have a pleasant Adirondack experience. The Frenchman, who was born in 1607, went to what's now Quebec after he was ordained in 1636. There, Jogues did missionary work for the Huron natives. Then, in 1642, he was captured by Mohawks, who proceeded to remove several of his fingernails—and two whole fingers from his right hand. Afterward, they took Jogues to northern New York via Lake Champlain. The journey took them through the vicinity of Saranac Lake, making Jogues the first known European to have ever seen the interior of the Adirondacks.
When some Dutch merchants helped Jogues escape, he'd been a captive for 13 long months. Shipped back across the Atlantic, Jogues received a hero's welcome in France. In 1646, he returned to the Mohawks to serve as a government ambassador. Not long after, Jogues was accused of witchcraft by the native people and—despite the objections of some clans—beheaded. His story wasn't quite finished yet: In 1930, Pope Pius XI canonized the martyred Jogues as a saint.
4. THE ADIRONDACKS DRAW MORE TOURISTS THAN THE GRAND CANYON.
Every year, 5 million people visit Arizona's greatest natural wonder. By comparison, an estimated 7 to 10 million annually check out the Adirondacks. A single book is credited with turning the mountains into a prime tourism destination. In 1869, Congregationalist minister William Henry Harrison Murray published Adventures in the Wilderness: Camp Life in the Adirondacks. On top of praising its natural beauty, his text pointed out that the wooded wonderland was a mere 33-hour trip away from Boston and New York City.
That summer, thousands of urban tourists—dubbed "Murray's Fools" by the press—swarmed the area. Over the next few years, the region's identity would be transformed forever. In less than half a decade, dozens of hotels were built to accommodate these seasonal visitors. Locals began advertising themselves as guides and huge private lodges were built by wealthy, east coast businessmen. To protect the Adirondacks and other protected areas from all this new interest, a provision was added to the New York state constitution saying that the forest preserve area "shall be forever kept as wild forest lands."
5. THE MOUNTAINS ARE GETTING TALLER.
Geologists have found that the Adirondacks are growing in height to the tune of 1.5 to 3 millimeters annually. At this rate, they're expected to become the tallest mountains in eastern North America within the next million years.
6. AMERICA'S FIRST TUBERCULOSIS RESEARCH LAB WAS BUILT THERE.
The Adirondack Cottage Sanitarium at Saranac Lake, New York was founded in 1884 to both house tuberculosis patients and be a research lab. The facility was the brainchild of Dr. Edward Livingston Trudeau, who himself had tuberculosis. The laboratory component of his sanitarium burned down soon afterwards, so he established the Saranac Laboratory to continue his tuberculosis research. The Sanitarium closed down in the mid-1950s, but the Saranac Laboratory lives on as the Trudeau Institute, whose staff are seeking to unlock the mysteries of several different pathogens. By the way, Dr. Trudeau was the great-grandfather of "Doonesbury" cartoonist Garry Trudeau.
7. JOHN BROWN IS BURIED IN NORTH ELBA.
Wikimedia Commons // Public Domain
Brown is best known for his unsuccessful attempt to kick off an armed slave rebellion by raiding the federal arsenal in Harper's Ferry, Virginia—an insurrection that led to his execution in 1859. The fiery abolitionist was then laid to rest on his North Elba farm. Located in the eastern Adirondacks, Brown's grave is now part of a New York State Historic Site.
8. THEODORE ROOSEVELT WAS EXPLORING THE ADIRONDACKS WHEN HE LEARNED OF WILLIAM MCKINLEY'S IMMINENT DEATH.
On September 6, 1901, President McKinley was visiting Buffalo, New York when a former steelworker named Leon Czolgosz—who newspapers would later brand as "either a lunatic or an anarchist"—shot him twice with a concealed revolver. At first, it looked like the commander-in-chief would pull through. Upon rushing to his bedside, Vice President Roosevelt was told as much. Relieved, the Bull Moose returned to his family, who were vacationing in the Adirondacks.
On September 12, Roosevelt was hiking up Mt. Marcy when he received an urgent telegram. According to the grave message, McKinley's condition had gone south. Shortly thereafter, Roosevelt received a second dispatch—one which revealed that the president was dying. TR wasted little time. He took a hired wagon over 35 miles of rugged, mountain terrain before boarding a train to Buffalo, where he was sworn in as the 26th president of the United States.
9. ADIRONDACK PARK IS A UNIQUE MIX OF PUBLIC AND PRIVATE LAND.
At 6 million acres, Adirondack Park rivals Vermont in size—and despite the fact that the park is the largest publicly protected area in the lower 48 states, a full 50 percent of it is privately owned. New York state owns 2.5 million acres-worth, which have been set aside for conservation. Private lands, meanwhile, fall into an array of regulatory categories designed to keep deforestation under control. "We limit development in areas with significant environmental constraints, and we channel growth to areas of the park that can withstand it—where infrastructure is already in place," says Adirondack Park Agency spokesman Keith McKeever.
10. THE ADIRONDACKS HAVE MORE TOTAL SHORELINE THAN NEW HAMPSHIRE AND VERMONT COMBINED.
If you're looking for a place to go swimming, you'll have plenty of options. Within these mountains, there are about 2800 lakes and ponds—in addition to over 31,000 miles of rivers, streams, and brooks.
11. MOUNT MARCY IS THE HIGHEST POINT IN NEW YORK STATE.
Abhishek Srivastava, Flickr // CC BY-NC 2.0
Named after former governor William L. Marcy (who authorized the surveying of the tallest Adirondack peaks), it boasts an elevation of 5344 feet. Today, those looking to scale it have four separate trails to choose from.
12. AT LEAST HALF OF NEW YORK'S BLACK BEARS RESIDE THERE.
Environmentalists believe that the Empire State is home to a minimum of 6000 to 8000 black bears—and anywhere from 50 to 60 percent currently reside in the Adirondacks. After the elusive moose, this adaptable ursid represents the area's second-largest mammal species, with males weighing up to 600 pounds.  
13. AT THE 1932 OLYMPIC WINTER GAMES, AN ADIRONDACK ATHLETE WON TWO GOLD MEDALS IN HIS OWN BACKYARD.
A native of Lake Placid, Jack Shea was born on September 7, 1910. Shea wasn't yet 19 when his tiny village beat the odds and was chosen to host the third Winter Olympic games. Then a sophomore enrolled at Dartmouth University, the young speed skating enthusiast couldn't wait to rush back home and compete—but the school's administrators weren't too keen on letting him go at first. "They finally excused me from classes," Shea told The New York Times, "but they held me responsible for all the work that went on when I was away. So I spent half the time at the Olympics studying and half the time training, but it worked out very well." Shea earned the 500-meter speed skating gold medal. One day later, he went and won the 1500-meter contest. When Shea returned to Dartmouth, the conquering hero found several hundred people eagerly waiting to greet him. 
14. THE 1980 GAMES WERE A PUBLIC TRANSPORTATION NIGHTMARE.
Getty Images
Lake Placid hosted the Winter Olympics one more time in 1980. American fans mainly remember these games for the U.S. men's hockey team and how it upset the heavily-favored Soviet squad. What's sometimes forgotten is the transportation fiasco that turned the whole village upside-down.
Only about 3000 people live in Lake Placid year-round. But when the Olympics returned, the village had to accommodate 50,000. Things really got out of hand once the local bus drivers went on strike. Thousands of fans—including many who had paid top-dollar to see their teams—were suddenly stranded. Huge traffic jams became an almost hourly occurrence. Five days into the games, the situation had become so chaotic that New York Governor Hugh Carey declared a limited state of emergency.
One Italian journalist summed up the snafu thusly: "It is impossible to be at two places at once, but here in Lake Placid, it is impossible to be in one place at once."
15. ADIRONDACK BEAVERS HAVE MADE A REMARKABLE COMEBACK.
Before 1600, millions of these rodents called northern New York home. But due to over-hunting and Europe's insatiable desire for pelts, only around 50 remained there in the 1820s. Thankfully, things changed in the 20th century. Reintroduction efforts brought in specimens from nearby Ontario and, by 1924, the Adirondack beaver population had risen to 20,000 individuals. Since then, it's only gone up, with somewhere between 50,000 and 75,000 now paddling through the mountains.