9 Minimalist Facts About Architect Mies van der Rohe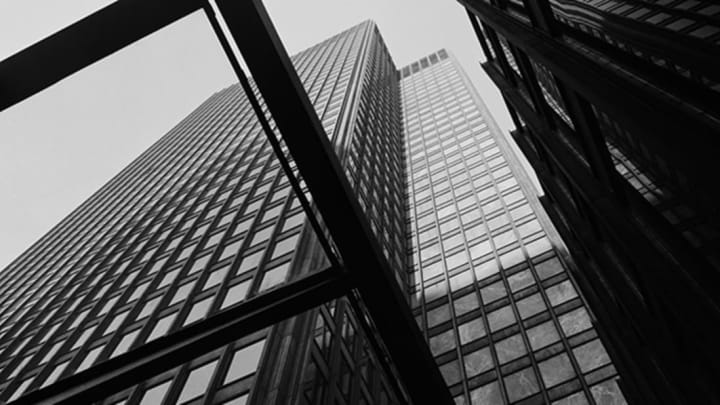 The Seagram Building in New York City // Getty Images / The Seagram Building in New York City // Getty Images
You may not know much about Ludwig Mies van der Rohe, but you definitely know his style. The German-born architect pioneered the simplistic steel-and-glass skyscraper, and the open urban plaza that abutted it. Every boring shiny glass skyscraper you've ever seen is a Mies knockoff. The design may seem banal now that it's commonplace, but in the early- to mid-20th century, Mies's minimalism was radical, and his work became foundational for modern architecture.
Mies van der Rohe was born 130 ago on March 27. In honor of his birthday, here are nine things you might not know about the iconic architect.
1. HE BEGAN HIS CAREER AS A STONEMASON. 
He started working with his father, a stonemason, on construction sites in his hometown of Aachen before becoming an architectural apprentice at age 15. 
2. HE GOT HIS START EARLY IN LIFE. 
Mies got his first independent commission, a German residence called the Riehl House, when he was just 20 years old, finishing it in 1907. However, he wouldn't come up with the tall glass-and-metal aesthetic that became his calling card until the 1920s, when he created a pair of designs for "crystal tower" skyscrapers without any masonry on their facades. (They were never built.)
3. HE HAD NO FORMAL EDUCATION. 
Mies in 1961. Image Credit: Getty Images
The Mies family wasn't wealthy, and he couldn't afford higher education. He went to Catholic school as a boy, then spent two years in trade school with the goal of joining his father's masonry business. He never went through any formal architectural training—instead, he served as an apprentice to leading German designers and architects. He would later go on to play a major role in American architectural education, serving as the director of the architecture program at the Armour Institute of Technology in Chicago (now the Illinois Institute of Technology). 
4. HE ADOPTED A NEW NAME AS HE GOT MORE FAMOUS. 
Born Maria Ludwig Michael Mies, he added his mother's maiden name, Rohe, as his career began to take off. Many of his contemporaries, such as the architect Le Corbusier, used pseudonyms, and he wanted to reinvent himself from a provincial stonemason's son into a cosmopolitan architect. The "van der" part of his name, a Dutch title, he simply added to give himself a more distinguished air. (The German "von" was unavailable, since it was only for nobles.)  Another reason for his name change? Mies means lousy in German.
5. HIS CATCHPHRASE WILL SOUND FAMILIAR. 
Mies was fond of aphorisms. His most famous one, which he used to sum up his architecture philosophy, was "Less is more." While the phrase is inextricably linked with Mies by now, he actually took it from industrial designer Peter Behrens, who he apprenticed under in the early 1900s in Berlin. 
6. ARCHITECTURE CRITICS LOVE HIM … MOSTLY. 
The Farnsworth House in Plano, Illinois. Image Credit: Carl M. Highsmith via Wikimedia Commons // Public Domain
The late New York Times architecture critic Herbert Muschamp called Mies's Seagram Building in New York City—the quintessential modern office building, seen in the image at the beginning of this article—"the millennium's most important building" in 1999. But like any artist who garners outsized praise, Mies also has his detractors. "At one time or another his work and influence have been blamed for everything from urban decay to the continued vigor of American capitalism," as New Criterion editor Roger Kimball explained in a 1989 book review. 
7. HIS FAVORITE NEW YORK CITY BUILDING WAS NOT A BUILDING. 
He loved to go see the George Washington Bridge when he was in New York, and in 1963, he declared it "the most modern building in the city."
8. HE WAS IN PLAYBOY. 
Mies was one of many famous designers to appear—clothed—in Hugh Hefner's magazine. During its early years, Playboy covered architecture's biggest names in features and interviews, insinuating that being knowledgable about good design was an essential (and seductive!) part of contemporary manhood. Mies was featured in the 1950s (the magazine was founded in 1953), as was fellow architecture icon Frank Lloyd Wright.
9. ONE OF HIS BUILDINGS SERVED AS MEL GIBSON'S FICTIONAL HOME. 
2400 Lakeview Avenue, Chicago. Image Credit: Google Street View
In the 2000 film What Women Want, Mel Gibson's character, Nick Marshall, lives in 2400 Lakeview Avenue in Chicago. Completed in 1963, it was Mies' final residential project.