11 Intense Facts About Hostel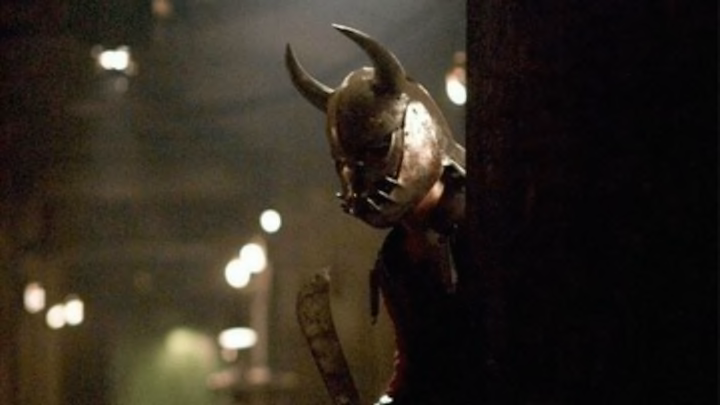 YouTube / YouTube
Hostel, a horror film about a group of college-aged backpackers who stay at a hostel in Slovakia, had a budget of $4.8 million but grossed $80,578,934 worldwide, helping to revitalize the "torture porn" genre of the late 1990s and mid-aughts. Written and directed by Eli Roth and executive-produced by Quentin Tarantino, the 2005 film is known for its intense sex and violence. Though the film takes places in Slovakia, it was filmed in the Czech Republic.
The movie proved to be successful enough that it led to two sequels: Hostel: Part II was released in 2007 with a similar premise (it grossed much less than its predecessor), and Hostel: Part III—which Roth wasn't involved with it—takes place in Vegas and went straight to DVD in 2011. Here a 11 grotesque facts about the horror film.
1. THE PREMISE FOR HOSTEL CAME FROM A DISTURBING WEBSITE.
Ain't It Cool News founder Harry Knowles told Roth about a website where you pay $10,000 to go to Thailand and shoot a stranger in the head for sport. "The site claimed that the person you were killing had signed up for it and that part of the money would go to their family because they were so broke and were gonna die anyway," Roth told Dread Central. "It was to give you the thrill of taking another human life." Roth didn't know if the site was real, and at one point he wanted to make a documentary about it, but decided against it. "My point was like, well, somebody thought of it. That's f*cked up. Someone is thinking about this and went so far as to create a website about it." 
In writing the script, Roth used real-life debauchery as an inspiration. "I saw parallels between guys I knew who would go to Europe or even go to Vegas and go, 'Yeah, we're gonna go get hookers and do drugs,' or 'We're gonna go to Amsterdam,' and it's kind of this American thing of going abroad and doing all these things you're not supposed to do. That's why I made Amsterdam purposefully look like an X-rated Disneyland."
2. QUENTIN TARANTINO TALKED ELI ROTH INTO MAKING HOSTEL.
After Roth's feature debut, Cabin Fever, was a hit, Roth wasn't sure which project to take on next. Tarantino loved Cabin Fever and invited Roth over to his house to hang out with him.
"I said to Quentin, 'You know, I kind of just don't know what to do now," Roth told Dread Central. "'I'm at this weird place where I'm being offered to direct studio movies.' And he's like, 'Well, what ideas are you working on?' I told him, this and this and this, and I said, 'Well, then there's this other thing,' and I told him the idea for Hostel and he was like, 'Are you f*cking kidding me? That's the sickest f*cking idea I have ever heard. You've got to do that. F*ck it. Do it low-budget. Go to Europe and make it as sick as you want to make it … This could be your Takashi Miike film. This could be a classic American horror movie.'" Miike, who directed the 1999 Japanese torture porn film Audition, has a cameo in Hostel.
3. ELI ROTH CAST JAY HERNANDEZ BECAUSE OF HIS EVERYMAN LOOK.
Jay Hernandez plays Paxton, and of course gets tortured. Roth didn't want a pretty boy actor, and responded to Hernandez's realness. "I wanted people who felt like guys I went to college with, grew up with, people that I know," Roth told Dread Central. "The thing about Jay is he's really like a real guy. He has that quality, that very natural style of acting. You don't feel like he's acting. He's just somebody who throws himself in the role. What I also felt about Jay was that he was willing to make himself vulnerable. A lot of those guys want to be macho and tough all the time, they don't want to sit there and be crying like a baby when they're about to die in a movie, and Jay was willing to do that."
4. SLOVAKIA WASN'T HAPPY WITH THE WAY ROTH DEPICTED THEIR COUNTRY.
The premise of Americans being tortured and killed in Slovakia rankled the Eastern European country so much that Roth held a press conference to assuage the Slovakians, who felt the image portrayed in the film would prevent tourists from visiting their country. "In talking to Americans, I realized they have absolutely no idea that Slovakia exists," Roth said. "The latest statistics I found was that 12 percent of Americans own a passport. Twelve percent. They do not travel, but they think they own the world, and their dollar will buy everything. So Slovakia in the movie, it's not really Slovakia. It's Movie Slovakia, and it's based on American stereotypes."
Despite the way Americans view the country in the movie, Roth thought the Americans were doing much worse things than the Europeans. "These people get punished for these beliefs. But if you look closely at the film, the people who are actually doing the worst things are other Americans … And I think anyone who's protesting against the movie probably hasn't seen it, because anyone who'd seen the movie from Slovakia would say this is so obviously set in Prague. How could they take this seriously?"
5. THE CAB DRIVER IN HOSTEL WAS TOO DRUNK TO ACT.
In the script, the travelers arrive via cab to the hostel. Before shooting the scene, the man who was supposed to play the cab driver showed up to the set quite drunk. "I heard the cab driver got so drunk that we couldn't film a single goddamn scene with him, and we have our stuntman doubling him," Roth told the actors in a making of Hostel documentary. "That's probably even better if he's sh*tfaced," Hernandez said to Roth, but Roth disagreed: "Yeah, but he'll go into the river. He can't put his feet on the pedal. He's really loaded." Instead of having the cab driver walk out of the car and take the kids' bags of out the trunk, Roth changed the scene to have the kids hold the bags on their laps.
6. IN THE ORIGINAL ENDING OF HOSTEL, THE DUTCH BUSINESSMAN LIVED.
The Director's Cut ending involved Hernandez kidnapping the businessman's daughter and taking her on a train, with the businessman watching helplessly. "In the original script that I wrote, Jay slit the little girl's throat," Roth told MTV. "I ultimately didn't buy that, that the character would do it. Instead, by taking the little girl, he knew that would torture that guy. But [test audiences] got caught up in the logic of what happens to the girl [after the train leaves], and that's what I didn't want to have happen." The theatrical release ending has Hernandez sneaking into the train station bathroom and slitting the man's throat.
7. THE CHARACTER OF ÓLI WAS BASED ON A REAL ICELANDER.
Óli, the Icelander in Hostel, is played by Eythor Gudjonsson, whom Roth met while living in Iceland. "We went out, and he was insane," Roth told Dread Central. "I had never met anyone like him, and I thought, 'This guy has to be in a movie.'" Roth wrote the part for Gudjonsson because he felt that not enough Icelanders were included in movies. "I know Björk is there, and we saw her when we were there," Roth said. "She's perfectly nice, but she didn't strike me as the people that I've met in Iceland as a typical Icelander. Whereas Eythor, that's what they're like."
Roth, Tarantino, and Gudjonsson attended the film's premiere in Iceland, where they received a dinner from the Minister of Culture. "I got to issue a formal apology to the Minister of Culture for ruining Icelandic culture, which he accepted," Roth said. "Then we met the president of Iceland and I asked him for a presidential pardon for ruining Iceland all over the world and he actually said, 'Well, you know, your character is pretty accurate so I'll give you the pardon.'"
8. BLOODY DISGUSTING THINKS HOSTEL IS ABOUT 9/11.
In a tenth-anniversary editorial on Hostel, the website Bloody Disgusting expressed parallels between 9/11 and the movie. "Paxton represents the United States pre, during, and post-9/11. He was relatively innocent and excited about the future while traveling through Europe. Then he was attacked and maimed in the factory. And in the end he managed to emerge victorious, defeating the man responsible for his suffering. Yet he still couldn't go back to how he was before. Too much had changed for him."
9. STEPHEN KING IS A FAN OF HOSTEL: PART II.
In a 2007 interview with the Los Angeles Times, Stephen King discussed his feelings toward torture porn. "I understand 'torture porn,' he said. "It's a good phrase. But I would argue with you, there's a fine line there ... There's something going on in Hostel: Part II that isn't torture porn, there's really something going on there that's interesting on an artistic basis. Sure, it makes you uncomfortable, but good art should make you uncomfortable."
10. ROTH APPEASED THE RATINGS BOARD WITH "OPERATIC" VIOLENCE.
In the U.S., Hostel passed the ratings board, but Germany, Japan, the Ukraine, and Singapore either censored the film or refused to release it into theaters. "I said to the ratings board, 'This is not worse than Apocalypto. Look at Passion of the Christ—there's a lengthy torture scene," Roth told The Evening Class. "There's intense movies out there and the audience needs something that's not going to be safe. There is an audience for this and let's protect it.' And they did. I explained to [the ratings board], 'Look how I approach every scene.' When I knew it was violence with a child, I shot it off camera. Guys in the movie are getting it as bad as girls, if not worse, and when there is a scene with a girl, I filmed it in an operatic, cinematic kind of way so at least you're aware it's a scene from a movie. [The ratings board] recognized that and they defended that. They said, 'You know what? Eli didn't just randomly approach these scenes; he really thought about it. Let's give him a break.'"
11. ROTH THEORIZES THAT WATCHING THE HOSTEL MOVIES CAN LEAD TO ROMANCE.
Roth told MTV that some people who saw Hostel in the theaters threw up, but others got romantic. "Another report is that a lot of people get [lucky] watching Hostel. I swear to God, people have told me that they brought a date to see the movie, and then the date is grabbing their hand, and they had their head buried in their date's chest the whole time. The girl was too freaked out, she didn't want to go home alone, and the guy brought her home, and it was like, 'Yeah, it worked out. I closed the deal.' So I do think that nine months from now we will have … some Hostel babies."