15 Ways Highways Changed America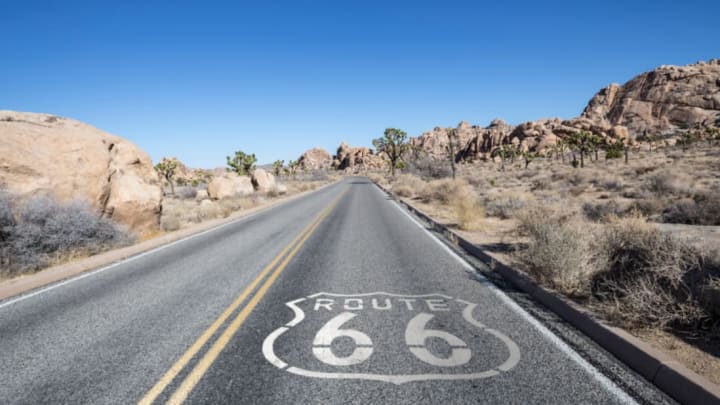 iStock / iStock
In 1919, shortly after the end of World War I, a military convoy comprised of 81 vehicles set out from Washington D.C. for the west coast. Two months and numerous breakdowns later, the convoy limped into San Francisco. While the main purpose of the mission had been to test the unit's mobility over rugged terrain, it would also prove—particularly to a young Lieutenant Colonel named Dwight Eisenhower—the importance of a national highway system. Nearly a hundred years later, and more than 50 years after Eisenhower, as president, authorized construction of the 47,000-mile long Interstate System, America is a vastly different country.
1. THEY OPENED UP THE COUNTRY…
The first highways were a poorly maintained patchwork of routes, often called "trails," that could be very difficult to navigate. The 1921 Federal Aid Highway Act laid the groundwork for government oversight and funding, which led to a system of numbered highways. As navigating the system became easier, and as cars became more affordable, millions of Americans ventured out of their local communities and across state lines and regions. With the Federal Aid Highway Act of 1956, which authorized the construction of Interstate Highways, travel became even faster and more efficient. The cross-country road trip no longer required a military convoy.
2. … AND CREATED A NATION OF DRIVERS.
In 1910, there were less than 500,000 registered automobiles in America. By 1945, that number had ballooned to more than 15 million, and today there's roughly one car for every person living in the U.S. In the span of a century, Americans have become inextricably linked to large, fast-moving machines and all the enjoyment, opportunities and responsibilities that come along with them.
3. THEY ALTERED THE AMERICAN LANDSCAPE.
The construction of America's highways uprooted farms, brought down buildings and fundamentally altered ecosystems. Historians have also argued that highways changed the way Americans perceive their country. Drivers reveled in sweeping vistas but overlooked the finer details that rushed by in a blur. The rugged terrain, once so daunting, had been ironed out to a smooth trail of asphalt.
4. THEY HELPED BUILD THE SUBURBS.
In 1950, three quarters of Denver's population lived inside the city limits. By 1970, that figure had dropped to 42 percent. What happened? Although Interstate highways were intended to service inner cities and move people out in case of an emergency, the lasting effect was permanent relocation. As highways branched out from cities, communities began to take root in the outlying regions. They had jobs, their own business districts and judicial systems, and they promised America's growing middle class more land and increased safety.
5. THEY REMADE CITIES.
In addition to drawing residents away from urban areas, the Interstate System changed the landscape of many inner cities as roadway construction demolished houses and divided neighborhoods. President Eisenhower had stated he didn't want the highways to run through cities, but he was unable to closely manage the project, and city officials, desperate for money and jobs, invited development. An estimated 12 percent of the Interstate System runs through urban areas.
6. SMALL TOWNS BECAME OBSOLETE.
Throughout the 19th and early 20th centuries, America's network of vibrant, self-sufficient small towns was a defining part of the national identity. Early highways connected towns, but Interstate highways bypassed many of them altogether. Local businesses suffered, people moved away, and as the American economy gained speed along its highway system, small town America began to fade in the rearview mirror.
7. THE RAILROAD INDUSTRY DECLINED.
Railroads made America. Throughout the 19th century, they were the primary mover of people and goods, from short hauls to transcontinental treks. But with the growth of the highway system, trains quickly became the more cumbersome form of transportation. Whereas trains had to leave from a particular place, at a particular time, cars moved at the whim of the traveler. In the 20 years following World War II, railroad passenger traffic declined by more than half. 
8. THEY GAVE RISE TO THE SHOPPING MALL …
As the Interstate System built up and suburban communities took root, retail commerce moved away from Main Street America and focused on highway interchanges and other high-traffic areas. Department stores, restaurants and other businesses clustered together, offering a "downtown away from downtown" experience that eventually morphed into the modern shopping mall.
9. … AND FAST FOOD RESTAURANTS.
As with other businesses, restaurants evolved to serve a nation of drivers. Fast food, with its get-in-get-out model, was ideal for motorists, and the industry exploded after companies started setting up along Interstate off-ramps. Fast food also blossomed in the suburbs, where families were eager to eat meals outside their homes.
10. THEY TURBO-CHARGED THE NATIONAL ECONOMY.
The development of America's highways brought dramatic growth for a slew of industries, including construction, retail, auto, and oil. It also had a major impact on the tourism industry, with chain hotels popping up along interstates and newly accessible destinations expanding with the influx of travelers. Indeed, although America's Interstate System cost $425 billion and took almost 40 years to complete, economists see it as a worthwhile investment that increased productivity and drove down costs.
11. THEY REVOLUTIONIZED SHIPPING.
The trucking industry also grew and evolved with America's highways. The Interstate System allowed for more trucks on the road and faster delivery of goods, which helped other industries to grow in turn. It also developed regional supply hubs and other logistical innovations that further cut down on delivery time. Today, trucks move an estimated 20 billion tons of goods each year, compared to just half a billion tons in 1956, when Eisenhower authorized construction of the Interstate highways.
12. THEY DECENTRALIZED MANUFACTURING.
For years, American manufacturing had been concentrated along railway hubs in the Midwest and ports along the east coast. As the highway system remade shipping routes and opened up the rest of the country, production spread out to new regions. California and states throughout the South, in particular, benefited. A stretch of Interstate 85 that ran through South Carolina and Georgia, in fact, became known as the "Boom Belt" after factory jobs flooded the region. Demand for workers was so high that some employers would recruit prisoners upon their release.
13. THEY CHANGED THE WAY WE VACATION.
Early motorists prepared for long-distance travel the same way mountaineers today prepare to climb Mount Everest. They loaded up with gear—tents, cooking stoves, axes, shovels, repair kits, compasses—and prepared for the worst. As highways improved, travel became less arduous and more enjoyable. Not only could people venture further afield, but the journey itself became part of the fun. The age of the American road trip had dawned.
14. AIR POLLUTION HAS BECOME A PROBLEM.
The average American drives around 12,000 miles each year on America's highways, which translates to four tons of carbon dioxide pumped into the atmosphere. Regulations have helped combat emissions, and technology promises to put ever more fuel-efficient vehicles, including hybrid and electric cars, on roadways.
15. THEY CHANGED THE WAY AMERICA BUILDS.
The Interstate System was the largest public works project of the modern era—an undertaking that more than a few historians have compared to the building of Egypt's pyramids and China's Great Wall. In the more than 30 years it took to build the system, engineers developed new ways to tunnel, blast, bridge, and pave their way across America. Moreover, the project inspired builders to think big. Highways now wend beneath cities and waterways. They're 26 lanes wide and run straight through mountains and over vast chasms. There's even talk of developing "smart" highways that respond to traffic and weather conditions. Before further expansion happens, though, many agree America's existing infrastructure must first be addressed.