The Stories Behind 8 Photographs That Were Reused For Album Covers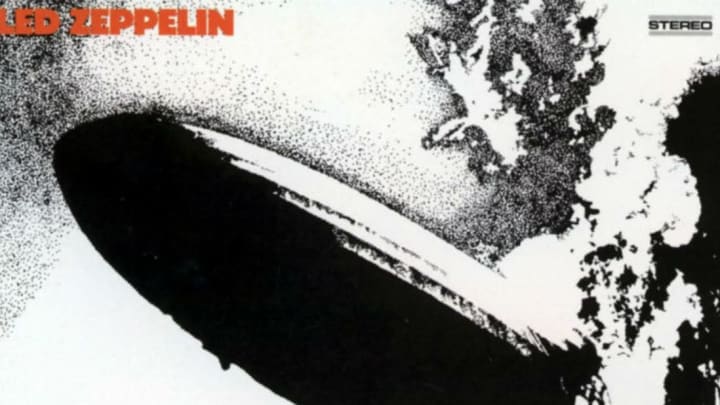 Album image via Amazon / Album image via Amazon
The art on the cover of Led Zeppelin's 1969 debut album is unmistakable: it's the iconic photograph taken May 6, 1937 of the Hindenburg bursting into flames while trying to dock in New Jersey. The following eight examples are from artists who followed Led Zeppelin's lead and reused preexisting, unrelated photos for album covers.
1. BECK // ODELAY (1996)
Photo credit: Joan Ludwig // Album image via Amazon
It might take a few glances to determine what exactly is leaping over a barricade on the cover of Beck's hit-spewing second major-label album. That mop-like creature is a Komondor, a Hungarian breed of herding dog known for its white corded coat. Beck was apparently searching for a cover idea when his girlfriend, singer Leigh Limon, came across the image in a book about dog breeds. According to the book 100 Greatest Album Covers, Odelay's co-art director Robert Fisher contacted the photographer, Joan Ludwig, who is well known for her images of show dogs. Fisher visited Ludwig at her Los Angeles home and the two searched through a garage's worth of boxes of dog photos to find the original transparency of the leaping Komondor. It never turned up, so Fisher scanned the image from the book, which "did give the cover a certain look that I liked."
2. TOM WAITS // RAIN DOGS (1985)
Photo credit: Anders Petersen // Album image via Amazon
In the late '60s, Swede Anders Petersen spent three years photographing regulars at Café Lehmitz, a bar in Hamburg, Germany, that was frequented by prostitutes, drug addicts, and working-class locals. It's easy to see a similarity between those outsiders and the ones described in Tom Waits's music. Waits selected an image from Petersen's book Café Lehmitz as the cover of his Rain Dogs. "I said yes when the record company asked, because I like Tom's music," Petersen told The Guardian. The woman was a charismatic regular named Lilly and the bare-chested man is Rose, one of her many suitors.
3. RAGE AGAINST THE MACHINE // RAGE AGAINST THE MACHINE (1992)
Photo credit: Malcolm Browne // Album image via Amazon
To the teens and 20-somethings who bought Rage against the Machine's complacency-shattering debut album, the cover image of a serene-looking man engulfed in flames probably looked like the work of some hip graphic artist. Or they may have recognized it as a famous news photo, one not altered (beyond cropping) for RATM's self-titled debut. On June 11, 1963, Thích Quảng Đức, a monk, immolated himself in Saigon as part of protests against Vietnam president Ngo Dinh Diem's discrimination against Buddhists. Associated Press Bureau Chief Malcolm Browne captured the disturbing and powerful image. Though several newspapers declined to run it, Browne still won the World Press' Best News Picture of the Year award. Decades later, the band licensed it, putting the monk's last act onto the bedroom walls and t-shirt drawers of kids a half a world away.
4. VAMPIRE WEEKEND // CONTRA (2010)
Photo credit: Tod Barry (disputed) // Album image via Amazon
Rostam Batmanglij, multi-instrumentalist for New York City indie band Vampire Weekend, came across this vintage Polaroid of a blond model in a polo shirt. "We had a lot of discussions trying to figure out how old this person was when the picture was taken," lead singer Ezra Koenig told Pitchfork. "She could be 15 or 27. The ambiguity of her age and expression made me feel like she was on the cusp of something, which really matches the vibe of the new album." They tracked down photographer Tod Barry, who says he took it at a casting call for a TV ad in 1983.
By the time of the album's release, the model, Ann Kirsten Kennis, had retired to Fairfield, Connecticut. One day, her daughter showed her the album cover on the website of Barnes and Noble. After Contra went to number one in several countries, Kennis saw her face from 30 years ago staring back from The New York Times, at the Gap, and on New York City street corners. She sued the photographer, band, and label. Barry claimed he had a release for the photo, but Kennis said he wasn't even the photographer and her mother probably took the shot. Kennis and the band settled out of court.
5. PLACEBO // PLACEBO (1996)
Photo credit: Saul Fletcher // Album image via Amazon
Placebo's self-titled debut went to number five on the British charts. The cover image of a boy in a red jumper pulling his cheeks downward is from Saul Fletcher, a London-based photographer. Fletcher took it at the funeral of his cousin Duane Fox, who died of muscular dystrophy. The boy is Duane's 12-year-old brother Justin. Unlike Kennis, Justin Fox got a heads-up that he'd be on an album cover. But when Placebo charted, he claimed he was teased mercilessly. "Nobody [at school] wanted me on their side or anything like that," he told The Times. "Even the teachers used to pull me aside and ask me about this CD cover."
6. THE ROOTS // THINGS FALL APART (1999)
Photo credit: Corbis // Album image via Amazon
The Philadelphia organic hip-hop group's breakthrough album was originally released with five variant covers, each with a historical photo representing a different societal ill. Most editions of the album feature a '60s-era image of police chasing two African-American teenagers in the Bed-Stuy neighborhood of Brooklyn. "Seeing real fear in the woman's face is very affecting," art director Kenny Gravillis told Complex. "It feels unflinching and aggressive in its commentary on society. I remember going to Tower Records and seeing it huge; it was just so impactful." The label obtained the photo from Corbis, a licensing storehouse for photographs. The identity of the photograph is lost to history.
7. ANTONY AND THE JOHNSONS // I AM A BIRD NOW (2005)
Photo credit: Peter Hujar // Album image via Amazon
For her Mercury Prize-winning second album, baroque pop singer Antony Hegarty licensed Peter Hujar's famous photo "Candy Darling on Her Deathbed." Darling was a Warhol "Superstar" and died from lymphoma at the age of 29. Darling, like Hegarty, was a transgender woman, an issue addressed throughout I Am a Bird Now. Hegarty had been a fan of Hujar's work for several years. She told Politico, "The relationship between light and darkness is something I've been thinking about for a long time starting with my observations of the photography of Peter Hujar."
8. DINOSAUR JR // GREEN MIND (1991)
Photo credit: Joe Szabo // Album image via Amazon
The photo of a smoking girl from Dinosaur Jr.'s fourth album was taken by Joe Szabo, a former teacher at Malverne High School in Long Island, who specializes in candids of teens. The image is entitled "Priscilla," but Szabo doesn't know her name or much about her. "The girl in the photo is a mystery and will ever remain so," he explained about probably the most famous picture from his 1978 book Almost Grown. "One day as I was photographing at Jones Beach I saw 'Priscilla' in front of me and my immediate reaction was to make a photo(s) before the moment changed. I took a few photos, looked down to rewind the film, and put in another roll. When I looked up she was gone!"