11 Imaginative Regional Idioms to Describe Heavy Rain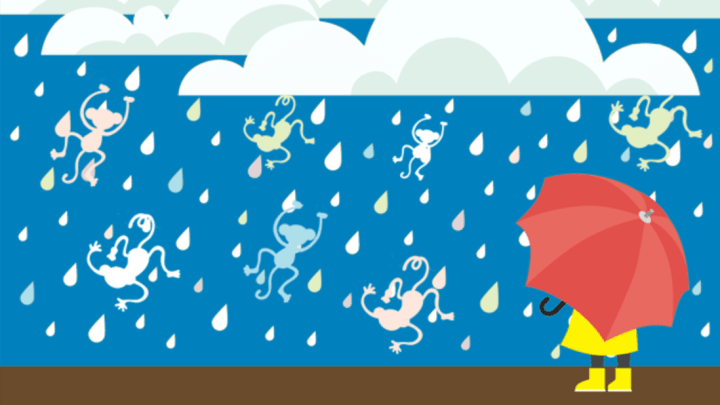 ISTOCK COLLAGE / ISTOCK COLLAGE
You might be up to speed on international idioms to describe heavy rain, but how about the way people across the U.S. talk about it? We've teamed up with the editors at the Dictionary of American Regional English (DARE) to bring you 11 imaginative regional idioms for heavy rain that go way beyond cats and dogs.
1. IT'S RAINING THE DEVIL AND PITCHFORKS
While this particular phrase was found in Florida, variations abound throughout the country, including it's raining pitchforks (tines downwards) and it's raining hammer handles (and pitchforks).
2. IT'S RAINING MONKEYS
Prefer your rain to be mammalian? Go with this idiom from Louisiana.
3. IT'S RAINING BULLFROGS
Bullfrogs and other amphibians tend to emerge after a heavy rain. Hence, this saying, that might be heard in the South and South Midland. Other amphibians it might rain include frogs, toad-frogs, and tadpoles.
4. TOAD-STRANGLER
Also toad-choker, this term for a very heavy rain is used in Gulf States such as Alabama, Louisiana, and eastern Texas, as well as the South Midland. Variations include frog-strangler and frog rain.
5. GOOSE-DROWNDER
"It's sure to be a goose-drownder today!" someone from the Midland states might say. Fish-drownder is another option.
6. TURD-FLOATER
Next time you're caught in a heavy downpour, be sure to shout, "This is a real turd-floater!" a phrase that originated in Texas and Oklahoma. (An alternative is cob-floater.)
7. GULLY-WASHER
A gully-washer is "very heavy rain or the runoff it occasions," according to DARE. It might also be called a gully-buster, gully-pour, or gully-whopper. (A gully, by the way, is a ditch cut as the result of running water after a downpour.) The usage of the term is widespread except in New England and is less frequently used in the Inland North and the Pacific states of Washington, Oregon, and California.
8. MUD-SENDER
What is used in California is mud-sender as well as mud rain. In the mid-Atlantic states, such as Maryland and Virginia, as well as the Lower Mississippi Valley, you might hear trash-mover, and bridge lifter in North Carolina.
9. PALMETTO POUNDER
In Miami and hit by a drencher? That's known as a palmetto pounder, where a palmetto is a kind of tropical palm tree.
10. SIZZLY SOD-SOAKER
In the Appalachians, a sizzly sod-soaker refers to a steady rain. From The Wolfpen Notebooks: A Record of Appalachian Life: "When the old folks wanted a rain they'd look up at the sky and say, 'I wish hit would come a sizzly sod-soaker.'" The book also includes some handy rain-making instructions: "For a sizzly sod-soaker: Three snakes."
11. NUBBIN
A nubbin is an eastern Kentucky term for a heavy rain that causes stunted ears of corn called nubbins to mature into full ears of corn. Also called a nubbin strangler and nubbin stretcher. Nubbin killer refers to the thunder that portends such as a rain. Why would anyone want stunted corn? Nubbins are sometimes used specifically to feed cows, according to a quote in DARE.