10 Buttoned-Up Facts About Levi's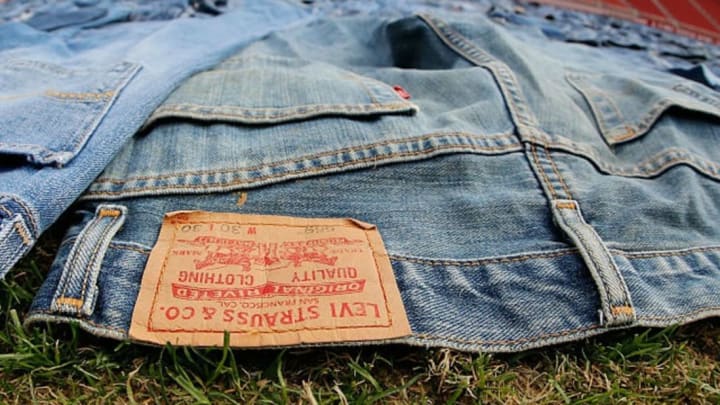 Getty / Getty
Few brands have survived decades of fashion trends the way Levi Strauss has. The company received its first patent for riveted jeans on May 20, 1873, and more than 140 years later, they're still one of the world's most popular denim brands. Here are a few things to think about the next time you slip into your 501s.
1. THEIR FIRST JEANS WERE CALLED "XX."
U.S. Patent and Trademark Office
They were named after the denim they were made from. The fabric, made by Amoskeag Manufacturing Company in New Hampshire, was considered the finest denim in the U.S. In 1890, the company changed the name of their jeans to "501," which reflected the lot number.
2. THEIR ORIGINAL HEADQUARTERS WAS DESTROYED IN THE SAN FRANCISCO EARTHQUAKE.
The earthquake also destroyed two factories, and some important history—a vast majority of early company records were completely lost in the 1906 quake and the fire it caused.
3. BING CROSBY HAD A TUX MADE ENTIRELY FROM LEVI'S.
In 1951, Bing Crosby made the egregious error of trying to don denim in a swanky Vancouver hotel. Unimpressed with his casual dress, the hotel almost denied him entry—until someone realized that the dude in denim was the world-famous crooner. Levi's heard about the tale and made Crosby an entire tuxedo from his favorite fabric—501 denim. The tux even had a custom patch inside to inform all hotel managers that the suit rendered the wearer perfectly dapper and respectable enough to be admitted to any establishment. Crosby was so taken with the tux that he wore it when he did press for the film Here Comes the Groom.
4. THE BRAND HAS RECEIVED LOVE LETTERS FROM CELEBRITIES.
Bing isn't the only famous Levi's fan. Cary Grant once wrote Levi's Art Roth, who worked in the company's public relations department, to thank him for some free shirts. They were apparently a little flashy for his taste, but Grant wrote:
"My temerity is at a low ebb today, but I venture to ask that you let me know if Levi Strauss ever evolve a line of absolutely plain un-checked, un-metal-threaded, absolutely sold-colored shirts....no matter what the colors: I will rush to the nearest shop."
Mr. Roth was also on the receiving end of a letter from Clint Eastwood:
"Glad to hear you approved of the picture in Levi's Continentals. I wear them alot [sic] for casual dress, as they're one of my favorites."
5. LEVI'S HAVE HAD SUPPORTING ROLES IN MANY FILMS.
The long, long list includes: Mark Hamill in Star Wars; Marlon Brando in The Wild One; Michael J. Fox in Back to the Future; Heath Ledger and Jake Gyllenhaal in Brokeback Mountain; Mike Myers and Dana Carvey in Wayne's World; Peter Fonda in Easy Rider; all of the women in Sisterhood of the Traveling Pants.
6. THEY WERE ONCE CONSIDERED REBELLIOUS.
Thanks in part to Brando's implied endorsement, Levi's image turned a bit bad in the 1950s. Trying to keep their image wholesome, the company took out newspaper ads that depicted a clean-cut kid wearing their jeans, along with the phrase, "Right for School." Mothers weren't swayed. "This may be 'right for school' in San Francisco, in the West or in some rural areas, [but] I can assure you that it is in bad taste and not right for school in the East and particularly New York," one New Jersey mother wrote.
7. LEVI'S MADE A "201" JEAN.
The 201 jeans were made in the late 1800s. The "2" indicated that they were less expensive (and probably not as durable) [PDF].
8. THE JEANS ONCE HAD A CROTCH RIVET.
It was, Popular Mechanics reported in 1999, "a source of numerous complaints from folks crouching in front of campfires. The rivet would heat up and you can imagine the results. Even one of LS&CO.'s presidents was treated to a firsthand taste of the toasty treatment." The rivet was eventually removed during World War II, when all manufacturers were required to get rid of some metal from their products for the war effort.
9. THE COMPANY OWNS AN 1879 PAIR OF LEVI'S.
They're kept in a fire-proof safe, and only two people in the company have the combination to it.
10. THEY CREATED A "FIELD OF JEANS" IN 2014.
Getty Images
The company collected 18,850 donated pairs of Levis to create a message about recycling on the San Francisco 49ers football field. Afterward, the jeans were donated to Goodwill where their sales benefited their job training programs.