9 Historic Brewers Who Were Way Ahead of the Craft Beer Craze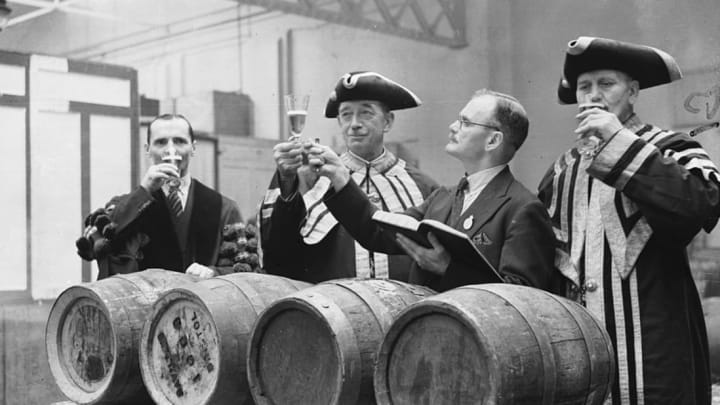 Getty / Getty
It's only been in the last 30 years or so that commercial craft brewing has really been picking up steam—er, foam—and setting its beverages apart with unexpected flavors (pizza beer, anyone?) and lesser-known styles. But suds-masters have been getting creative with their products since brewskis first started appearing around 10,000 years ago. After new research published last month suggested ancient Chinese beer makers mixed their own and Western traditions, we were inspired to tap into some other kegs of yore and the historic brewers behind them.
1. ANCIENT CHINESE BREWERS AND THEIR YAM AND LILY BEER
Pottery remains recently uncovered at an archaeological site in China's Shaanxi province were coated in some very interesting yellow gunk. The residue, it turns out, seemed to be left over from the site's days as an ancient brewery. By analyzing it, researchers found the beer was made from a mix of wild and cultivated grain, with some extra ingredients like yam and lily tuber that would have made the suds sweeter. The finding suggests the Chinese were brewing barley beer nearly 1000 years earlier than previously thought, and the Chinese only started eating the grain after it was used for drinking.
2. GEORGE WASHINGTON AND HIS SMALL BEER RECIPE
Might as well call him the Founding Father of craft brewing: Our first president included a simple recipe for "small beer"—a lower quality, lower alcohol content brew typically consumed by soldiers, servants, and children—in the notebook he kept during the French and Indian War. The young colonel's basic brew called for bran hops and molasses for sweetness. Later in life, Washington added a whiskey distillery on his plantation, too; apparently, after all the stress involved in founding a nation, a beer just wouldn't cut it.
3. PHARAOH SCORPION I AND HIS SPICED BEER
Ancient Egyptian big shots were known for stocking their tombs with all the treasured possessions they might need in the afterlife, and bespoke booze was no exception. The jugs of sorghum beer found in the tomb of pharaoh Scorpion I, who was buried around 3150 BCE, for example, were flavored with thyme, grapes and coriander. Even the tomb walls echoed the ruler's penchant for imbibing: A prayer etched into the stone requests "beer that never turns sour."
4. ANDREW BOORDE AND DEVON WHITE ALE
Dating back to the Middle Ages, Devon White Ale is closer to something you might bake than the hoppy ale we're used to today. The drink is made with eggs, flour, and spontaneous fermentation—sounds refreshing, right? English physician and writer Andrew Boorde was the first to write about the unusual brew in 1542, noting it was "whyte and thycke," but the ale remained popular until the end of the 19th century, when, presumably, people finally caught on to how gross the idea of eggs and flour in beer was.
5. THE WOMEN BREWERS OF PRE-INCAN PERU
Brewing was left to the ladies 1000 years ago at a mountaintop brewery in what is now southern Peru. A 2005 study concluded only the most beautiful and noble women were selected to create the pre-Incan society's "chicha," a beer made from Peruvian pepper tree berries and corn. And the brewery wasn't the only place where women took the lead, beer-wise: Researchers think the task suggests that the modern Andean drinking culture, in which women drink just as much if not more than men, therefore has deep—and tipsy—roots.
6. NEW ZEALANDERS AND THEIR OYSTER STOUT
Briny oysters and malty stout go way back. Accounts of brewers using the bivalve shells to clarify beer date back to Victorian England, but it wasn't until circa 1930 that anyone decided to try adding actual oysters to the recipe. The craft style, pioneered in New Zealand, lives on today, with dozens of breweries making their own version of the mollusk-laden mix.
7. THE VIKINGS AND THEIR HALLUCINOGENIC BREW
Of all the strange ingredients brewers of old tried adding to their brews, henbane is certainly among the stupidest. The herb is toxic, and can even be lethal in large doses. Nordic shamans liked spiking their brews with the stuff so drinkers could experience the hallucinations it was known to cause. The resulting trip was thought to make the beer more of a medicine or even a gateway to the spirit world.
8. THE ENGLISH AND THEIR "COCK ALE"
Don't let the borderline-vulgar name fool you: The English brewed this strange concoction using boiled chicken, though it was also thought to have "invigorating" effects as an aphrodisiac. One 17th century recipe called for a 6-month-old chicken, spices, and dried fruit.
9. THE FINNISH AND THEIR FARM-STYLE SAHTI
Juniper-heavy sahti beer is so ingrained in Finnish culture that, traditionally, mothers would pass down their own farmhouse-style sahti recipes to their daughters. As they were in Peruvian society and elsewhere, women were the primary brewers throughout Finland's history and depending on when and where they lived, the classic sahti might have contained raspberries, rye, oats, or other malts.