10 Buttoned-Up Facts About Striptease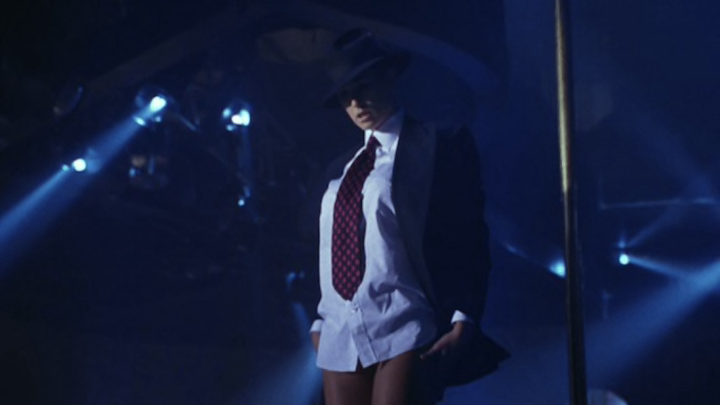 YouTube / YouTube
Striptease was one of the rare films that was going for the genre "erotic comedy." It starred Demi Moore as Erin Grant, a former FBI secretary who, after losing custody of her young daughter, turns to stripping to make enough money to win her back. Burt Reynolds, in an attempt at a career comeback, portrayed Congressman—and suspected murderer—David Dilbeck, who falls for Erin. On the occasion of the film's 20th anniversary, we've uncovered some facts about the film.
1. IT WAS WRITTEN AND DIRECTED BY THE CO-WRITER OF BLAZING SADDLES.
Andrew Bergman had an impressive comedy resume that included writing work on Blazing Saddles, Oh, God! You Devil, Fletch, and Soapdish. Though it wasn't a critical hit (it has since developed a cult following), in 2015 Bergman said that he had no regrets about adapting Carl Hiaasen's book for the big screen. "Is Demi the funniest person in the world? No. Would the movie have been made without her? Probably not. No other major star was willing to take her clothes off, and I was not going to do a TNT version of Striptease with people running around in swimsuits." Bergman did admit to having some trouble writing the script, saying that "Striptease was hard because the tone was so crazy."
2. DEMI MOORE WAS PAID A RECORD-BREAKING $12.5 MILLION.
At the time, it was the most money any actress had ever been paid in Hollywood. The record was broken by Meg Ryan when she was given $15 million for her work on Proof of Life (2000).
3. MOORE DID A LOT OF PREP FOR THE FILM.
In addition to reading the source novel, Moore went to strip clubs in New York, Florida, and Los Angeles. She also had a daily exercise regimen consisting of a long, pre-dawn beach run, up to three hours of dance rehearsal, a session with her personal trainer, and two and a half hours of yoga.
4. MOORE AND BRUCE WILLIS' DAUGHTER, RUMER, PLAYED DEMI'S DAUGHTER, ANGELA.
Rumer Willis, who was seven years old when Striptease was released, asked to audition, and was allowed to after a "long discussion" between her parents. When asked if she had any regrets about letting her daughter see her dance naked, Moore said, "We don't shame the body, we encourage the body as something beautiful and natural, and my children bathe with me, and I walk around naked."
5. GENE HACKMAN WAS THE ORIGINAL CHOICE TO PLAY CONGRESSMAN DILBECK.
But Hackman declined. Hackman appeared in three movies in 1996: The Chamber, Extreme Measures, and The Birdcage.
6. THE PRODUCERS MADE BURT REYNOLDS TAKE OFF HIS TOUPEE WHEN HE READ FOR THE ROLE.
Reynolds, attempting a comeback, flew himself from Los Angeles to Miami to audition. Producer Mike Lobell told The New York Times that he and Bergman were "not enthusiastic" about giving the part of the duplicitous Congressman to the iconic actor. "There was the hair and his reputation, but we were curious."
At his first audition, Reynolds had to take off his toupee in front of "six or seven people," which Lowell realized was "humbling" to the Smokey and the Bandit (1977) star. By the end of the audition, "it was really clear" Reynolds was their man.
7. ROBERT PATRICK HAD A CRUSH ON DEMI MOORE.
In addition to admitting he had a "major crush" on Demi Moore, Robert Patrick said it was fun to play her ex-husband, Darrell Grant. "What an idiot," Patrick said of Darrell. "Oh, my God, what a moron. Playing to my strong suits as a white-trash Southern boy. A redneck."
8. THE MOVIE WAS DELAYED ONE MONTH BECAUSE THEY RE-SHOT THE ENDING.
Test audiences were upset over Burt Reynolds' character turning violent. The ending was changed to make it "funnier."
9. SHOWGIRLS GETTING PANNED RUINED STRIPTEASE'S CHANCES, ACCORDING TO ITS PRODUCER.
''That movie is a pain in the butt,'' Lobell said of Showgirls (1995). ''It was so hated by everyone that we have an uphill marketing battle.''
10. IT WON SIX RAZZIES.
The Golden Raspberry Foundation "honored" Striptease with seven nominations at the 17th annual Razzies, and it won six of them: Worst Picture, Worst Actress (Moore tied with herself in The Juror), Worst Screen Couple, Worst Director, Worst Screenplay, and Worst Song. Burt Reynolds was nominated for Worst Supporting Actor, but "lost" to Marlon Brando in The Island of Dr. Moreau.