10 Times $10 Changed It All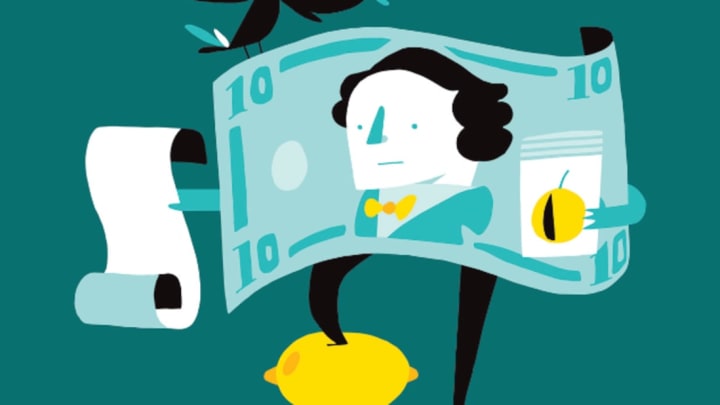 Alex Eben Meyer / Alex Eben Meyer
By Jeff Wilser
Never scoff at the life-altering power of a single Hamilton.
1. A MOVIE FRANCHISE
In the early 1980s, a producer named Gale Anne Hurd bought the rights to an unknown movie for $1. The movie was The Terminator, directed by James Cameron, whose only feature at the time was Piranha Part Two: The Spawning. He's regretted the deal ever since.
2. A HOUSE
The U.S. Department of Housing and Urban Development has a program called the Dollar Home Initiative. It's not a gimmick: When single-family homes go into foreclosure, the Federal Housing Administration tries to sell them. If they can't book a sale within six months, they make them available to low-income families for just $1.
3. A WHOLE NEW LOOK
Stand-up comic Sara Blakely was irritated by the white pants in her closet. "Every time I went to put them on, I had issues," she said. Instead of using them as a comedy bit, she tackled the problem. She took scissors ($1.99) to pantyhose ($2.49) and cut off the feet. Then she slipped on the slacks over the hose. The result: finally getting to wear her pants without unsightly lines, and a new invention—Spanx.
4. A KICK IN THE PANTS
When Stephen Dubner first moved to New York City, he spent $10 on a copy of Ring, Jonathan Yardley's biography of sportswriter Ring Lardner. "It somehow persuaded me that I too could make it as a writer in New York," he said. Since then, Dubner's Freakonomics and SuperFreakonomics have sold more than 7 million copies.
5. A HAPPIER HOLIDAY
Every Christmas, Byron Reese's parents gave him letters from Santa. When he grew up, he realized he could pay it forward. In 2002 he started writing customized letters (paper and pen: $1.99) as the big guy up north. Parents gave him their kids' names and ages, and he took care of the rest. He sold 10,000 in the first year and is now a jolly millionaire.
6. A FINANCIAL CAREER
When Robert Kiyosaki was a kid, he and his brother played Monopoly with their dad, who doled out financial advice as they rounded the board. Kiyosaki purchased his own Monopoly game for 50 cents at a church flea market, and in sixth grade, started a Monopoly Club, where he gave his classmates money tips. His Rich Dad Poor Dad book series, which builds off that advice, has sold over 26 million copies.
7. A MOONSHOT BET
Anyone can buy a lottery ticket. But not everyone has the vision of David Threlfall, who in 1964 wrote a letter to the British betting company William Hill proposing a simple wager: Would they give him odds on a person walking on the moon in the next seven years? They did—1000:1. He put down 10 British pounds. His 10,000-pound payday made history.
8. A BELOVED LEMONADE BRAND
Brooklynite Seun Abolaji was visiting his brother in Nigeria when, thirsty, they picked up some citrus and a plastic juicer ($10 USD) to make a refreshing drink. When a local asked what they were doing, they sold him a cup of lemonade—a novelty in the country. Wilson's Juice now sells bottled lemonade across six states of Nigeria.
9. A PILE OF "NEVERMORES"
In 1845, a desperate young writer, using the pseudonym "Quarles," had a poem to sell. He found a buyer in The American Review: A Whig Journal of Politics, Literature, Art, and Science. They paid him $9. The poem was immediately reprinted across the nation, 10 times in just the first month. "Quarles" was Edgar Allan Poe. The poem? "The Raven."
10. A SURPRISE
Clearly, $10 can get you pretty far. But what if you just left it up to fate? That's what's on offer at Something Store, where—for $10—they'll send you … something. Recent customers have received a necktie, or a Kindle tablet, or a heated ice scraper. The package is always worth at least $10—though that's really in the eye of the beholder.  
For more stories from our 10 issue, click here. Subscribe to mental_floss magazine here!