13 Elusive Facts about Greta Garbo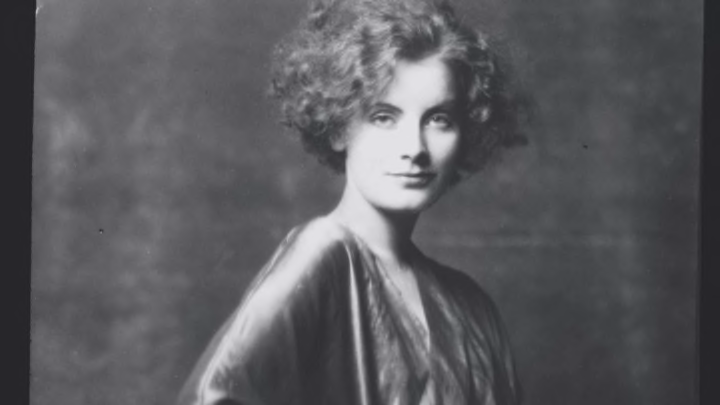 Arnold Genthe, Library of Congress // No Known Restrictions on Publication / Arnold Genthe, Library of Congress // No Known Restrictions on Publication
In the 1920s and '30s, Greta Garbo achieved fame and won accolades for her roles in hit MGM films such as The Torrent (1926), Anna Christie (1930), Mata Hari (1931), Grand Hotel (1932), Anna Karenina (1935), and Camille (1936). Garbo's expressive eyes, subtle acting, and sensual beauty won over audiences and critics, and her secretive, reclusive nature off screen only added to her mystique. In honor of her birthday on September 18, here are 13 things you might not know about the Swedish Sphinx.
1. Greta Garbo's birth name was Greta Lovisa Gustafsson.
Born in Sweden on September 18, 1905, Greta Lovisa Gustafsson lived in poverty with her parents and two older siblings. When she was 14, her father, an unskilled worker, died, and she started working in a barbershop and a department store. In 1924, after getting a scholarship to study acting at the Royal Dramatic Theatre, she starred in a silent film called The Saga of Gosta Berling. Following the advice of the director, Mauritz Stiller, she changed her last name to Garbo.
2. MGM didn't want audiences to hear Greta Garbo's Swedish accent.
When she came to America in 1925, Garbo didn't know any English. Although she eventually learned the language, her heavy accent and deep voice made MGM executives hesitant to transition her from a silent film actress to one who spoke. In 1930, though, she appeared in Anna Christie, her first sound film. MGM publicized the film with the tagline "Garbo Talks!," and Anna Christie was a huge success—Garbo was nominated for a Best Actress Academy Award.
3. Greta Garbo often sent directors out for milkshakes when she filmed love scenes.
According to Rouben Mamoulian, who directed Garbo in 1933's Queen Christina, the actress told him that she had strict privacy rules for filming intimate scenes. "During these scenes I allow only the cameraman and lighting man on the set. The director goes out for a coffee or a milkshake," she said. Mamoulian told her that as the director, he wouldn't be leaving the set for a milkshake. Garbo acquiesced.
4. Greta Garbo was dubbed "the Swedish Sphinx" due to her enigmatic personality.
Although Garbo was an international movie star, she shied away from the press, her fans, and Hollywood events. The Swedish Sphinx avoided making public appearances and granted only a handful of interviews to journalists. In 1927, she told Photoplay about her extreme introversion: "When I was just a little child, as early as I can remember, I have wanted to be alone. I detest crowds … don't like many people." Later in life, Garbo used aliases and bought multiple airplane and theater seats to preserve her privacy.
5. Greta Garbo might have worked as a spy during World War II.
In films, she played a Russian spy and Mata Hari (a Dutch dancer who was executed for being a spy during World War I), and in real life, Garbo reportedly collected information about Nazi sympathizers in Sweden for the British Secret Intelligence Service. She also allegedly conveyed messages between British agents and the king of Sweden. Garbo told her friends that she wanted to meet Adolf Hitler, who had sent her a fan letter, so she could kill him with a gun hidden in her purse.
6. Greta Garbo retired from acting in her mid-30s.
With three Academy Award nominations and multiple successful movies under her belt, Garbo retired in 1941 after her role in the romantic comedy film (and box office failure) Two-Faced Woman. Although she was only 36 years old, Garbo took a hiatus from acting and never appeared on screen again. Once, when she was older, she reportedly warned a new friend: "Don't ever ask me about the movies … especially why I left them."
7. Greta Garbo ate a lot of wheat germ and celery loaf.
A writer for The Cut described Garbo's diet as "strange" and "horrifying." Garbo followed celebrity nutritionist Gayelord Hauser's dietary advice, which meant that she consumed foods such as vegetables, wheat germ, yogurt, yeast, molasses, and buttermilk. One of Hauser's recipes is celery loaf, a vegetarian meatloaf made with pureed celery, chopped nuts, and milk. According to Garbo's friends, her diet was more flexible than Hauser's, and she sometimes ate foods such as tuna sandwiches, Triscuits, and cheese.
8. Greta Garbo owned one of Rin Tin Tin's puppies.
Rin Tin Tin, the famous German Shepherd, was a huge film star in the 1920s. He sired at least 48 puppies during his lifetime, and Garbo (like other celebrities such as Jean Harlow) was given a pup.
9. Greta Garbo's sexuality is still debated.
Greta Garbo reclines in a publicity still for 1926's Flesh and the Devil with frequent co-star John Gilbert. / Wikimedia Commons // Public Domain
For decades, film scholars and biographers have speculated about Garbo's sexuality. Although she never married, Garbo purportedly had relationships with both men and women, including her frequent co-star John Gilbert, whom she allegedly left at the altar. A number of women said that they had romantic relationships with Garbo, who was known to describe herself as a '"bachelor."
10. Greta Garbo was a major art collector.
After retiring from acting, Garbo collected paintings and 18th-century French furniture. In the 1950s and '60s, she visited art galleries and exhibitions looking for pieces to buy. According to David Nash of Sotheby's, the living room of Garbo's Manhattan apartment featured three Renoir paintings and a Savonnerie rug. She also owned a Louis XV chair and banquette. After her death, her paintings and furniture (which were worth millions of dollars) were auctioned at Sotheby's.
11. Greta Garbo loved watching Hollywood Squares.
Speaking about her taste in television, Garbo reportedly said, "I watch the dreck." According to her friends, Garbo loved watching cartoons such as The Flintstones, but her favorite show might have been Hollywood Squares, the trivia game show featuring celebrities. Her friends said that she regularly watched the show and loved Paul Lynde, who was frequently featured in the center square position.
12. New Yorkers had fun when they spotted Greta Garbo in public.
Greta Garbo fills out her U.S. citizenship paperwork circa 1950. / Los Angeles Times, Wikimedia Commons // Public Domain
For almost four decades, Garbo regularly walked around Manhattan, people-watching and window-shopping. Her walks were not brief—she would usually walk south from her apartment on East 52nd Street to Washington Square Park and back. Although Garbo disguised herself in men's pants, sunglasses, and big hats (she also used pseudonyms), some New Yorkers enjoyed recognizing the actress when they saw her out and about. She was also a Rangers fan, and had a seat behind the penalty box.
13. Greta Garbo's face is on Sweden's 100-krona bill.
Starting in 2015, the Swedish national bank began introducing a series of redesigned currency featuring important figures in Sweden's history, including Pippi Longstocking author Astrid Lindgren. The 100 krona note now features Greta Garbo.