14 Entirely Too Specific Netflix Hidden Categories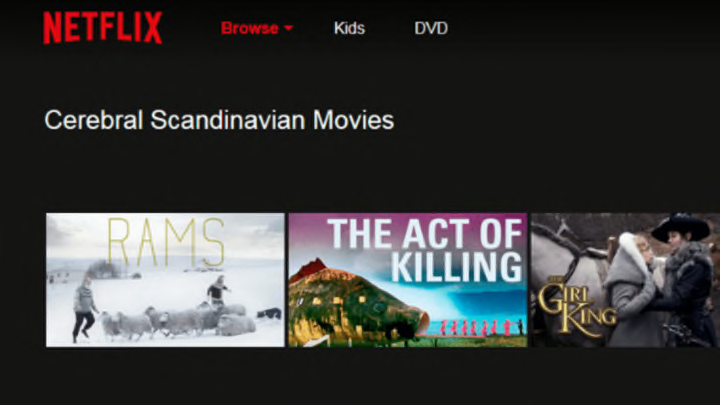 Netflix / Netflix
Ever since word began circulating that Netflix had a "secret" laundry list of content categories that allows the service to sort their films to target specific demographics, users have wondered if narrowing their selections might make for a speedier selection on movie night.
The answer is: Maybe, if you're a huge fan of Casper Van Dien and dogs with magic powers. Check out 14 of Netflix's most oddly specific labels. (To browse on your own, just type www.netflix.com/browse/genre/####, with #### being the accompanying four-digit code.)
1. POLITICAL TEARJERKERS (1291)
Nothing evokes a good cry like a political convention. Unfortunately, Netflix is woefully under-stocked on the genre, offering only Braveheart and Lee Daniels' The Butler as options. 
2. VISUALLY STRIKING MOVIES FOR AGES 11 to 12 (2869)
Are you 10 and a half? Forget it. A day over 12? There's nothing to see here. But if you are just the right amount of prepubescent, you might enjoy The Corpse Bride or Charlie and the Chocolate Factory.  
3. RAUNCHY SCI-FI AND FANTASY (9963)
There used to be entire video store racks devoted to low-budget, scantily-clad barbarian movies. Sadly, those days are long gone. Netflix's only current option for viewers eyeing sexy sorcery is Hell and Back, an R-rated CGI film from 2015 about two brothers who wind up in hell.
4. EXCITING MOVIES STARRING JEAN-CLAUDE VAN DAMME (516)
This category seems redundant if one assumes Belgian thespian Jean-Claude Van Damme is incapable of making an unexciting film. The selection, however, offers evidence to the contrary: It consists mainly of his latter-day filmography. Welcome to the Jungle is no Kickboxer, although Pound of Flesh—in which Van Damme hunts down thieves who stole his kidney—is deserving of a category all its own.
5. GOOFY SLASHER AND SERIAL KILLER MOVIES (3712)   
The Scary Movie franchise probably belongs here, but Netflix doesn't currently own the rights to stream them. Instead, you're stuck with Tucker and Dale vs. Evil, a modest comedy about two affable rural types mistaken for spree killers.
6. FEEL-GOOD SPORTS MOVIES FOR AGES 8 TO 10 (855)
We'd file Brian's Song here, but Netflix is more responsible: The library mainly consists of the Air Bud franchise, a direct-to-video staple about a Golden Retriever smart enough to master a variety of sports but not quite sharp enough to get better acting gigs.
7. CEREBRAL SCANDINAVIAN MOVIES (995)
Be confident all of your Scandinavian entertainment via Netflix will be grim, dire, and full of hopelessness: Director Lars von Trier makes up most of the entries, although you can lighten things up a bit with a documentary about cultural genocide.
8. CRITICALLY-ACCLAIMED GORY DRAMAS (4753)
If you're going to watch a disemboweling, it had better come with a good Rotten Tomatoes score. Saving Private Ryan, Braveheart (again), and Gladiator are among the entries.
9. INSPIRING MOVIES FOR AGES 5 TO 7 (4561)    
Children without any hope in their eyes might benefit from a rousing inspirational film like Hey, Arnold: The Movie or The Land Before Time. 
10. MOVIES STARRING CASPER VAN DIEN (2586)
When you've exhausted your Erik Estrada (1231) or Michael Dudikoff (487) options, it might be time to graduate to Casper Van Dien, the hunky star of 1997's Starship Troopers. Easily his best film, you won't find it here. Instead, you can check out Van Dien in a haunted house (The Pact) or in a very low-budget Avengers rip-off (Avengers Grimm) featuring fairy tale characters.
11. WINE AND BEVERAGE APPRECIATION (1458)
Booze connoisseurs will enjoy this corner of Netflix devoted to documentaries and series about people drinking, talking about drinking, or wishing they were drinking. A Year in Champagne takes a look at how sparkling wine is made; Crafting a Nation examines the trials of small-time brewers.  
Growing up is always better with a pet. (Unless you were the kid in Old Yeller.) Check out this category for stories of taming horses (Flicka 2, Rodeo Girl) and an immortal dog with magic powers (The Amazing Wizard of Paws).
13. SKIING NON-FICTION (4437)
Your standard slope movies—Ski School, Ski School 2—can take significant creative license with the ski world. For the facts, check out the documentary McConkey about the legacy of skier and base jumper Shane McConkey.
14. COMEDIES STARRING LARRY FINE (2171)
As any Three Stooges fan knows, no comedy has ever "starred" Larry Fine. He's always been a supporting masochist, taking thousands of double eye-pokes as a team player. That's probably why there are no titles listed.
All images courtesy of Netflix.