10 Workout Tips From a 14th Century Knight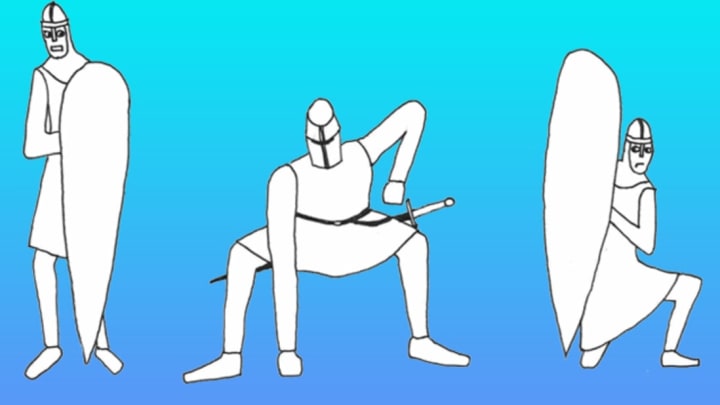 Daniel Meeker / Daniel Meeker
Bored with your typical gym circuit? Interested in CrossFit and American Ninja Warrior, but perhaps with more of a medieval twist? Have we got the workout for you.
It comes courtesy of Jean Le Maingre, better known as "Boucicaut," a French knight renowned for his brashness and fighting skill. Born circa 1366, he fought in his first battle at an age when most kids today are still navigating middle school. In 1390, around the time of his third Crusade, he challenged knights from across Christendom to try and defeat him (and two other knights) in a tournament, including single combat. Over the course of 30 days, Boucicaut clashed with some of Europe's best fighters at Saint-Inglevert, near Calais. The three French knights, led by Boucicaut, emerged victorious, and he was soon after proclaimed marshal of France.
In addition to extensive sword training, coordination, and his willingness to engage in the awful, bloody business of hand-to-hand combat, Boucicaut credited a strict fitness regimen for his battlefield prowess. Combining cardio with strength training, it's a rigorous workout—and even harder when you consider that he did it fully armored (though medieval armor wasn't as cumbersome as you might think).
Here are the various stages of Boucicaut's workout, courtesy of his biography, written in 1409. The exact sequence and duration of each are unclear, so feel free to tailor them to your personal fitness needs.
1. WALL CLIMB
Position yourself between two closely spaced walls and shimmy up as high as you can using your feet and hands.
2. SIDE HORSE VAULT
Find and carefully approach a horse. Place one hand on its back (or atop the saddle) and the other on its neck. Vault onto the horse.
3. TWO-MAN HORSE VAULT
Similar to the above, except have your squire (or a trustworthy friend) seated on the horse; grab their sleeve and leap onto the horse in front of said squire.
4. SOMERSAULT
Perform ground somersaults one after another. If you're wearing armor, take off your helmet first.
5. HAMMER SWING
Take a sledgehammer and swing it about. Note your surroundings. Splitting wood with an ax is a suitable alternative.
6. STONE THROW
Pick up a large stone. Throw it. Repeat as necessary. (This was one of Boucicaut's favorite childhood games, which no doubt served him well on the battlefield.)
7. PUNCHING PRACTICE
To toughen your hands, repeatedly punch the ground, a wall, or another punchable surface.
8. LADDER CLIMB
Take a tall ladder and lean it against a tree. Climb up the bottom side using only your hands. Added challenge: If wearing chain mail, do as Boucicaut did and remove it with one hand at the top while holding on with the other.
9. DANCE FOR YOUR LIFE
Dance vigorously and often to your favorite lute melody or hip-hop album while wearing mail armor.
10. FUN RUN
Enjoy a long run. If wearing armor, wave to your neighbors so they know you mean them no harm.
All art by Daniel Meeker.