Where Swimming With Otters Brings Peace and Healing to Kids (and Adults)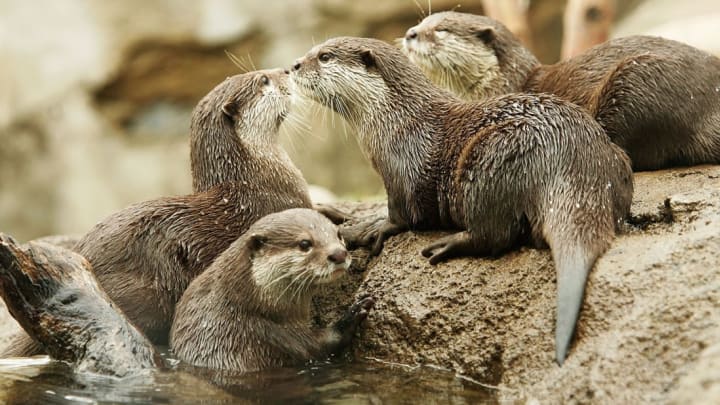 Alex Wong/Getty Images / Alex Wong/Getty Images
For the fourth time in an hour, I reached into the back of my bathing suit and pulled out a small worn-down rock. The Asian small-clawed otter named Rocket who had deposited it there watched me, waiting, as I held out the rock to look at it. In a flash, the aptly named Rocket swam up and snatched it from my hand. This time he neatly deposited the rock down the front of my bathing suit. Almost immediately he decided he wanted it back, so he went after it, right down the front of my bathing suit, sparking a wave of giggles from me and the other swimmers.
The staff at Nurtured by Nature in Valley Center, California, told me it's a sign of friendliness when the otters shove rocks into your swimsuit. They've developed a game based on the habit: When you get out of the pool, whoever has the most rocks hiding in their suit wins. My total in and out of water was about six. By this metric, I think I made a new otter best friend that day. Thanks, Rocket.
Nurtured by Nature
While swimming in a pool of otters is almost certainly the main attraction for many people visiting Nurtured by Nature, it's far from the only exotic animal experience you can have there. A $300 excursion takes about three hours and gives you access to a wide range of animals to feed, pet, and play with, including kangaroos, sloths, armadillos, porcupines, lemurs, owls, serval cats, and more. The otter swim caps the event, when you stand in a pool with up to seven other people while several Asian small-clawed otters dive in and swim up to you. When they're not shoving rocks in your bathing suit, they're sharing their water toys with you.
Nurtured by Nature
It may seem like a steep price tag, but it's all for a good cause: Nurtured by Nature's main goal is to offer animal programs for kids through the Make A Wish Foundation. The proceeds from the public excursions go toward ensuring those visits remain free. Wendy and Kevin Yates, the owners, host about two Make A Wish families each month, customizing the program completely to the child's desires, within safety limits. According to Wendy Yates, Nurtured by Nature has helped grant about 45 wishes since 2013, fueled by the funds from about 1700 public visits a year.
Eleven-year-old Reagan McBride from Alabama was one of those 45. Reagan has osteogenesis imperfecta, or brittle bone disease, and is paralyzed from the neck down as a result, with limited mobility in her arms.
"She's had fractures since before she was born," Jeri Ann McBride, Reagan's mother, tells mental_floss. "But she can still elbow punch her brother."
When Reagan and her family came to Nurtured by Nature in 2015, it was because of a wish to spend time with animals at the San Diego Zoo, where Kevin Yates was a zookeeper for more than two decades before starting Nurtured by Nature with Wendy. Reagan got to do a behind-the-scenes tour at the zoo, thanks to Make A Wish, which also arranged for her otter swim at Nurtured by Nature. It was her favorite part of the animal tour because "the otters were funny," she says.
Jeri Ann McBride
"They were up close and personal, something she would never get to experience otherwise," Jeri Ann says. "It's important for us to see her smiling and having a good time. Knowing that she's had such a challenging life, to see her happy and enjoying life is just a huge blessing."
Wendy agrees. "There's nothing more rewarding than seeing a smile on the faces of the little kids, and then hearing from their caretaker that they haven't seen their child smile or giggle in the last six months to a year because of the treatments they've been going through."
Those smiling faces appear in handmade collages decorating the locker area at the facility that showcase the happiness and fun experienced by children who need it most. Make A Wish programs here are limited to one family per visit, so the children can get the most one-on-one interaction time with the animals possible.
"Every day we hear from people how it was the best day of their lives and it gave them so much joy," she said. "What more can anybody ask for than to be able to give back to the world that way?"
The McBrides shared that sentiment. "It was the best trip ever," Jeri Ann recalls. "We ran out of storage because we took so many pictures."
Jeri Ann McBride
For the Yates family, Nurtured by Nature is truly a mission of giving back. Their house was destroyed in the southern California wildfires in 2003. So many people—friends, family, and strangers—helped the couple get back on their feet. There was no way they could ever repay those who helped them, so Wendy says they decided to pay it forward instead, by opening Nurtured by Nature in 2008 and launching a partnership with Make A Wish.
Every animal on the property is considered a pet, complete with family bickering over what to name each of them, and the animals' physical and emotional well-being is top priority. Some of the animals are born there (the otters were born and raised on-site from captive-born parents that came from two different zoos) as part of a conservation breeding program; others are surplus animals from other zoos; and many of them are rescues from breeders and research facilities, or animals confiscated by the State Department.
Nurtured by Nature is a California Fish and Wildlife- and USDA-permitted and inspected facility. The team works in concert with two veterinarians and ensures that everyone working with the animals has ample experience in the field. Kevin Yates has more than 30 years of professional exotic animal experience, and all 25 volunteers have a veterinary or zoological background.
My otter swim was the standard excursion, but that day it was a bit extended—not because we got special treatment, but because Rocket didn't want to get out of the pool. Basically, you aren't done until the otters are done. I stood by in the pool and watched as Rocket sat down under the railing on the pool steps just out of reach of Sarah, one of the animal keepers. He reached out his paw, grabbed one of Sarah's hands, mischievously stared into her eyes for a minute, and then took off swimming again, inviting all of us to join the fun.