7 Memorable Corgis From Pop Culture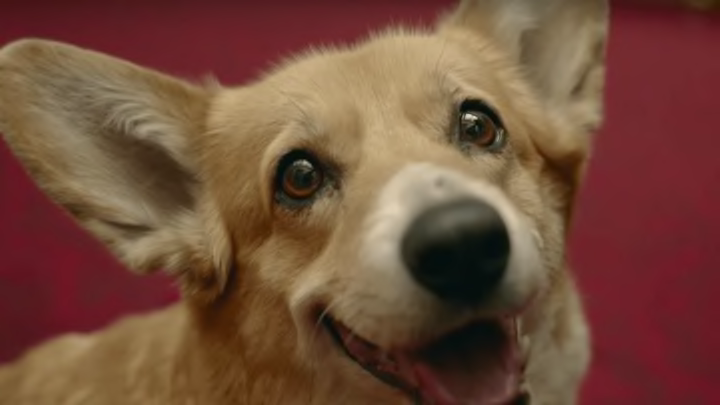 Holly, the Queen's corgi // YouTube / Holly, the Queen's corgi // YouTube
If you're somehow still unaware of the cuddly cuteness that is the corgi, that's about to change. The small herding dogs with the long bodies and adorably expressive faces have popped up everywhere, from TV shows to YouTube videos to Instagram. Take a look at some of pop culture's most memorable corgis.
1. HOLLY
Queen Elizabeth II, the current Queen of England, is a longtime lover of corgis. In 1933, her father, King George VI, brought his seven-year-old daughter Dookie, her first pup. Since then, the Queen has owned dozens of Pembroke Welsh Corgis and Dorgis (a mix between a Corgi and a Dachshund). She frequently walks them herself and has even overseen a corgi breeding program at Windsor Castle. Now 90 years old, the queen has loved and lost many of her corgis; sadly, Holly, who took starred in the 2012 London Olympics opening video, passed away in early October. Holly is buried at Balmoral Castle, the Royal Family's estate in Scotland.
2. RALPH

Born in the summer of 2013, Ralph lives in Northern California with his human family and George, their other corgi. With 238,000 Instagram followers, Ralph delights people around the world with his smiling face, joie de vivre, and overall cuteness. But Ralph's Instagram is more than cute dog photos. Fans get to watch the story of a growing human family, as seen through a corgi's eyes. Ralph goes through life with his mom and dad, their toddler son (a.k.a. Ralph's broham), and their newborn baby girl. If you can't get enough Ralph in your life, you can buy an annual wall calendar featuring him (and George) wearing bunny ears, colorful hats, and Santa caps.
More Articles About Corgis:
3. MOLLY, "THE THING OF EVIL"
Author Stephen King's corgi Molly—who he jokingly (we think) calls "The Thing of Evil"—has become a star in her own right, thanks to King's Twitter and Facebook posts about her proclivity for stealing snacks and tearing up soccer balls. "The Thing of Evil" isn't King's first foray into corgi ownership; the author had a corgi named Marlowe in the '90s. He's even written a couple of corgis into his books, including Under the Dome's Horace.
4. EIN
YouTube
Ein, the corgi on the beloved anime Cowboy Bebop, was a main character on the Adult Swim TV show in the early 2000s. According to Cowboy Bebop lore, the crazy smart corgi is a data dog, a lab animal that was genetically engineered to have intelligence superpowers. Ein travels on a spaceship in the year 2071 with his human bounty hunter owners. Although he generally acts like a normal dog, Ein occasionally surprises his owners by showing off his computer hacking skills.
5. LOKI
Born in Oklahoma, Loki moved to Vancouver as a puppy to live with his owners, Tim and Viv. Whether he was walking on the beach, eating, or playing with his pet hamster, Loki racked up more than 800,000 Facebook fans and 700,000 Instagram followers thanks to his antics. He was also fond of costumes—some of his more memorable looks include Harry Potter (Loki Potter from Gryffincorg), Pikachu, and Sherlock Holmes (Sherloki Holmes). Earlier this year, Loki's fans were shocked and heartbroken to learn Loki had fallen ill. They banded together to raise more than $34,000 for his vet bills. Sadly, Loki passed away in September from kidney disease.
6. RUFUS
Although plenty of startups have a company dog or mascot, Rufus might be the most memorable. Born in 1994 in California, Rufus was Amazon.com's original mascot. Owned by one of the e-commerce giant's first engineers, Rufus attended company meetings and chased tennis balls through the office. He died in 2009, but Rufus lives on in Amazon's canine-friendly company culture. Amazon employees are free to bring their dogs to work, and Amazon's Instagram is full of photos of its furry fans (including the Rufus lookalike above). One of the company's office buildings in Seattle is even named after the beloved pup.
7. SUTTER BROWN
Jerry Brown, the governor of California, lives and works alongside Sutter Brown, the first dog of California. Born in 2003, the Pembroke Welsh corgi lived with the governor's sister until Brown adopted him after the 2010 election. With more than 18,000 Facebook fans, Sutter has appeared on cards to promote Brown's tax proposals and even joins the governor in meetings at the state Capitol. Last year, Brown and his wife added to their corgi family when they adopted Colusa, a Pembroke Welsh corgi/border collie mix. In October, Sutter, 13, underwent emergency surgery to remove tumors in his intestines, lymph nodes, and liver. According to Sutter and Colusa's official Facebook page, Sutter is now convalescing at home—and feasting on his favorite foods, including cottage cheese and scrambled eggs.