12 Facts About Frank Lloyd Wright's Fallingwater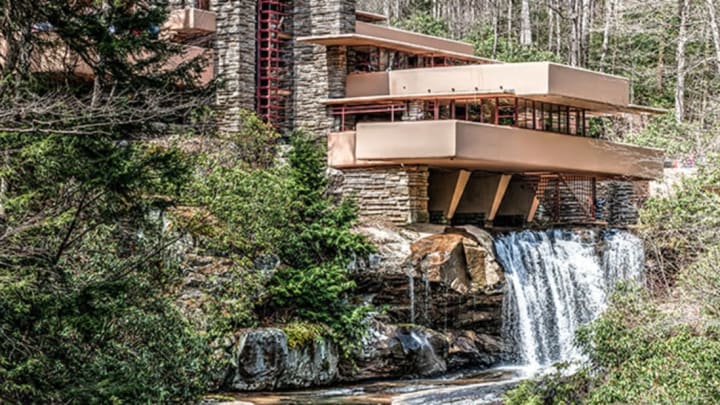 iStock / iStock
Tucked away in the sleepy forests of southwestern Pennsylvania sits one of the world's most famous buildings: Frank Lloyd Wright's Fallingwater. Commissioned by wealthy department store owner Edgar J. Kaufmann and completed in 1937, the home's cantilevered tiers hang suspended atop a 30-foot waterfall—Wright's ingenious way of melding the man-made structure with its natural surroundings [PDF]. Here are 12 facts about the work's history and legacy.
1. FALLINGWATER HELPED FRANK LLOYD WRIGHT MAKE A COMEBACK.
Today, Frank Lloyd Wright (1867-1959) is revered as one of history's greatest architects—but by the time he reached his late 60s, many critics considered him to be washed up. Wright had only built a few buildings in the previous decade, the Great Depression had diminished demand for new projects, and, adding insult to injury, his younger peers considered his style to be anachronistic. Kaufmann—whose department store, Kaufmann's, was later incorporated into Macy's—helped resuscitate Wright's career when he asked the architect to design a weekend home in the Laurel Highlands for his family.
Nobody quite knows how the Kaufmann family and Wright first became acquainted. However, we do know that Kaufmann's son, Edgar Kaufmann Jr., admired the architect's work, and studied under Wright as an apprentice at his Taliesin Studio in Wisconsin. In 1934, the young student's parents visited Taliesin and met Wright in person. Shortly after, the Kaufmanns asked Wright to build Fallingwater.
With Fallingwater, Wright proved to the world that he wasn't quite finished yet, ushering in a final, fruitful period of his career. Near the end of his life, Wright designed a handful of other renowned works, including the Monona Terrace Civic Center in Madison, Wisconsin and the Guggenheim Museum in New York City.
2. FALLINGWATER'S CONSTRUCTION SITE WAS ORIGINALLY A "SUMMER CAMP" FOR KAUFMANN'S EMPLOYEES.
The site Kaufmann chose for his home was a swath of wilderness near the villages of Mill Run and Ohiopyle, on a mountain stream called Bear Run. Once upon a time, the wooded area had been home to a small cabin where Kaufmann's employees sought refuge from Pittsburgh's pollution. But once the Great Depression struck, the employees could no longer afford to travel there, so Kaufmann decided to convert it into a country getaway.
3. WRIGHT IS RUMORED TO HAVE SKETCHED FALLINGWATER'S DESIGN IN ONLY TWO HOURS.
iStock
According to legend, Wright sketched Fallingwater in only two hours. In 1934, the architect visited the home's construction site and asked for an area survey. Then, he did absolutely nothing for nearly a year—until Kaufmann traveled to Milwaukee and called up Wright, announcing he'd be paying a surprise visit to his Wisconsin studio, Taliesin, to view the plans. Wright and his apprentices reportedly drew Fallingwater in the time it took his wealthy patron to drive to Taliesin.
Needless to say, Franklin Toker, author of Fallingwater Rising: Frank Lloyd Wright, E. J. Kaufmann, and America's Most Extraordinary House, is skeptical of this claim. "We want to believe drawing up Fallingwater needed only two hours, just as we want to believe—despite massive contrary evidence—that Lincoln scribbled the Gettysburg Address on the back of an envelope," he writes. "We don't want to hear that Lincoln struggled through five drafts on his historic oration because that makes the speech less of a work of genius." And in this case, one of Wright's associates remembered Wright and Kaufmann discussing that the house would be built on the falls months before the supposed rush of inspiration.
4. THE KAUFMANNS DIDN'T KNOW THAT THEIR HOME WOULD BE BUILT ATOP A WATERFALL.
According to another legend (many of Wright's apprentices disagree on key details of how Fallingwater was conceived, so learning the truth is difficult), Kaufmann thought that Wright would design the home on the banks of the river, facing the waterfall, so he was surprised when he looked at Wright's plans and saw that his country estate would sit on top of it. Wright explained that he wanted to integrate the house with the waterfall so it would be an essential part of the structure instead of simply serving as a pretty backdrop. (You can't actually see the waterfall from Fallingwater, but visitors can hear rushing water if they listen closely.)
5. FALLINGWATER'S INTERIOR IS DESIGNED TO RESEMBLE NATURE ...
Wright wanted Fallingwater's interior to feel like the surrounding forest. The 5300-square foot home's walls and floors are constructed of local sandstone; a rock outcropping is incorporated into the living room's hearth; each bedroom has its own terrace; and its cornerless windows open outward so windowpanes won't interrupt visitors' view. There's even a glass hatchway in the main level's floor that opens to reveal a staircase leading down to the stream below.
6. ... BUT ITS OUTSIDE WAS ORIGINALLY SUPPOSED TO BE COVERED IN GOLD LEAF.
Wright opted for a rustic, natural look when he designed Fallingwater. Only two colors of paint were applied to the concrete, sandstone, glass, and steel structure—light ochre for the concrete, and Cherokee red for the steel. However, Wright originally envisioned a more flamboyant aesthetic: He proposed that the home's concrete exterior be coated in gold leaf.
The Kaufmanns thought that gold leaf would be too over-the-top for a country house, and after rejecting Wright's secondary proposal (a white mica finish), they settled on the ochre, which, according to Wright, was inspired by "the sere leaves of the rhododendron."
7. FALLINGWATER STILL HAS ALL ITS ORIGINAL FURNISHINGS AND ARTWORK.
Wright didn't just design Fallingwater—he also custom-designed its furniture. Around half of the furnishings were built into the house, which Wright said made them "client-proof" (i.e., unable to be removed and replaced with tackier/incongruous purchases). Today, Fallingwater is the only remaining home designed by Wright that still has its original furnishings and artwork.
8. FALLINGWATER HAS STRUCTURAL PROBLEMS.
Fallingwater is an architectural marvel, but it still has a few major flaws. Its skylights leak, the waterfall promotes mold growth (Kaufmann nicknamed Fallingwater "Rising Mildew"), and—even worse—the builders didn't use enough reinforcing steel to support the first floor's concrete skeleton.
Kaufmann had initial doubts about the technical feasibility of Wright's concept, and he hired consulting engineers to examine Wright's plans. They discovered that the main floor's girders needed additional reinforcement, but Wright dismissed this claim and forged ahead with construction.
Over time, gravity caused the home's first floor cantilever to sag, and in 2002, the structure's foundation was reinforced to prevent a future collapse. In the process, the first level's stone floor and furniture had to be ripped out.
9. FALLINGWATER WOULD BE WORTH MILLIONS OF DOLLARS TODAY.
Kaufmann's original budget for Fallingwater was somewhere between $20,000 and $30,000, but in the end, it and a guesthouse ended up costing the family $155,000. (This sum included $8000 worth of architect fees and $4500 for installed walnut furnishings.) That amount now translates to over $2.5 million after calculating for inflation.
10. FALLINGWATER RECEIVES THOUSANDS OF VISITORS PER YEAR.
Fallingwater remained in the Kaufmann family's possession from 1937 to 1963. Edgar Kaufmann Jr. inherited the home after his father's death in 1955, and he later donated the home and its surrounding 1750 acres of land to a nonprofit trust called the Western Pennsylvania Conservancy. Nearly 5 million people have visited Fallingwater since 1964, and the home received more than 167,000 visitors in 2015 alone.
11. AYN RAND'S THE FOUNTAINHEAD WAS PARTLY INSPIRED BY WRIGHT AND FALLINGWATER.
Both Frank Lloyd Wright and Fallingwater are believed to have inspired writer Ayn Rand's seminal 1943 novel The Fountainhead. Its protagonist, the iconoclastic architect Howard Roark, bears a striking resemblance to Wright, and several of the homes Roark designs for clients resemble Fallingwater. Toker even goes so far as to guess that the book's title—which Rand changed from Second-Hand Lives to The Fountainhead—pays homage to Fallingwater, as both monikers are 12 letters long, begin with the letter "F," and conjure the image of cascading water.
12. FALLINGWATER HASN'T MADE THE CUT FOR THE UNESCO WORLD HERITAGE LIST QUITE YET.
Fallingwater has received plenty of accolades and honors over the years. It was named a National Historic Landmark in 1966, and in 1991, an American Institute of Architects poll voted it as the "best all-time work of American architecture." However, the home has yet to be added to the United Nations's World Heritage List of significant cultural landmarks.
The U.S. Department of the Interior nominated 10 of Wright's buildings (including Fallingwater, the Guggenheim Museum in New York City, and more) for inclusion in 2015. But last summer, a UNESCO committee decided they needed to review additional information before making a final decision. Their requests included a revised argument for why Wright sites should be considered to be of "outstanding universal value," along with clarified specifics of how the individual properties would be managed.
Additional Source: Fallingwater Rising: Frank Lloyd Wright, E. J. Kaufmann, and America's Most Extraordinary House