20 Powerful Quotes From Frederick Douglass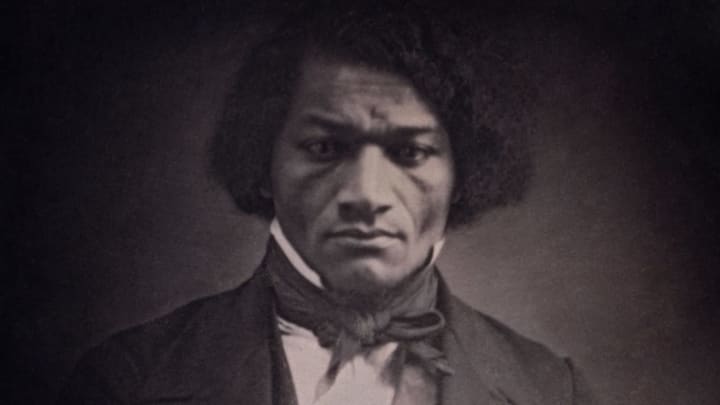 In his 1845 memoir, A Narrative of the Life of Frederick Douglass, an American Slave, the famed abolitionist wrote that, "I have no accurate knowledge of my age, never having seen any authentic record containing it." Later in life, Douglass—who was born into slavery in Maryland—chose February 14 as his official birthdate, with some historians speculating that he was born in 1818.
Douglass would, of course, go on to become one of the most powerful leaders of the anti-slavery movement, working as an advisor to Abraham Lincoln during the Civil War and later becoming the first African American citizen to hold a government position. In 1872, he was Victoria Woodhull's running mate in her bid for the presidency (even though he never officially accepted or acknowledged the nomination). He was also a dazzling orator, as these 20 quotes prove.
1. ON THE RELATIONSHIP BETWEEN PROGRESS AND STRUGGLE
"If there is no struggle, there is no progress. Those who profess to favor freedom, and yet depreciate agitation, are men who want crops without plowing up the ground. They want rain without thunder and lightning. They want the ocean without the awful roar of its many waters. This struggle may be a moral one; or it may be a physical one; or it may be both moral and physical; but it must be a struggle. Power concedes nothing without a demand. It never did and it never will."
2. ON THE UNIVERSALITY OF SORROW
"A smile or a tear has not nationality; joy and sorrow speak alike to all nations, and they, above all the confusion of tongues, proclaim the brotherhood of man."
3. ON THE VALUE OF EDUCATION
"Some know the value of education by having it. I know its value by not having it."
4. ON THE DENIAL OF JUSTICE
"The American people have this to learn: that where justice is denied, where poverty is enforced, where ignorance prevails, and where any one class is made to feel that society is an organized conspiracy to oppress, rob, and degrade them, neither person nor property is safe."
5. ON MEASURING INJUSTICE
"Find out just what any people will quietly submit to and you have the exact measure of the injustice and wrong which will be imposed on them."
6. ON EMPOWERING YOUTH
"It is easier to build strong children than to repair broken men."
7. ON MORAL GROWTH
"A battle lost or won is easily described, understood, and appreciated, but the moral growth of a great nation requires reflection, as well as observation, to appreciate it."
8. ON THE SECURITY OF A NATION
"The life of a nation is secure only while the nation is honest, truthful, and virtuous."
9. ON THE NEED FOR POWER
"It is not light that we need, but fire; it is not the gentle shower, but thunder. We need the storm, the whirlwind, and the earthquake."
10. ON FREE SPEECH
"To suppress free speech is a double wrong. It violates the rights of the hearer as well as those of the speaker."
11. ON REBELLION
"The thing worse than rebellion is the thing that causes rebellion."
12. ON THE CONSEQUENCE OF SLAVERY
"No man can put a chain about the ankle of his fellow man without at last finding the other end fastened about his own neck."
13. ON RIGHT VERSUS WRONG
"I would unite with anybody to do right and with nobody to do wrong."
14. ON WORKING FOR WHAT YOU GET
"People might not get all they work for in this world, but they must certainly work for all they get."
15. ON THE POWER OF KNOWLEDGE
"Knowledge makes a man unfit to be a slave."
16. ON THE NECESSITY OF IRONY
"At a time like this, scorching irony, not convincing argument, is needed."
17. ON REMAINING TRUE TO ONESELF
"I prefer to be true to myself, even at the hazard of incurring the ridicule of others, rather than to be false, and to incur my own abhorrence."
18. ON THE IMPENETRABILITY OF ONE'S SOUL
"The soul that is within me no man can degrade."
19. ON THE COLOR OF ONE'S CHARACTER
"A man's character always takes its hue, more or less, from the form and color of things about him."
20. ON USING THE PAST TO MAKE A BETTER FUTURE
"We have to do with the past only as we can make it useful to the present and the future."