6 Times the Wrong Winner Was Announced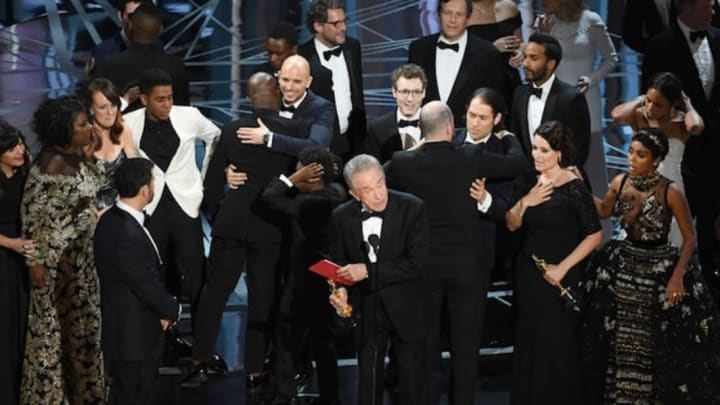 Kevin Winter // Getty Images / Kevin Winter // Getty Images
Call it #Oscargate2017. After a nearly four-hour Academy Awards ceremony that produced a few fun surprises—including a bus full of starstruck tourists and candy and doughnuts falling from the sky—the auditorium at Hollywood's Dolby Theatre erupted into total confusion when the night's biggest award was mistakenly given to Damien Chazelle's La La Land ... only to discover that it was, in fact, Barry Jenkins's Moonlight that had been named Best Picture.
Though PricewaterhouseCoopers, the accounting firm that tallies the night's big winners, has officially taken blame for the gaffe, it's a moment that will be remembered for years to come. But it's not the first time the wrong winner has been announced in a very public way.
1. MISS UNIVERSE // 2015
In the wake of last night's Best Picture mix-up, Oscar host Jimmy Kimmel joked, "This is very unfortunate what happened. Personally, I blame Steve Harvey for this." In December 2015, Steve Harvey became the internet's favorite meme after he mistakenly named Miss Colombia, Ariadna Gutiérrez, as Miss Universe, when it was Miss Philippines, Pia Wurtzbach, who had actually won. Though both women took the error in stride, Harvey told Jimmy Fallon that "It was four minutes of pure hell."
2. BET AWARDS // 2011
An awkward moment occurred at the 2011 BET Awards when contest winner Tiffany Green was given the opportunity to announce the year's Viewer's Choice Award. She announced Chris Brown as the year's recipient—then had to quickly correct herself and announce that it was actually Brown's ex, Rihanna, who had won. (Drake graciously accepted the award on RiRi's behalf.) It wouldn't be the last time Rihanna was involved in this sort of mix-up (more on that below).
3. AUSTRALIA'S NEXT TOP MODEL // 2010
In 2010, with a live crowd watching, Australia's Next Top Model host Sarah Murdoch announced that contestant Kelsey Martinovich had won the reality show title. Tears of joy were shed and thanks were given, until a pale-faced Murdoch interrupted the happy moment to apologize and say that it was actually Amanda Ware who had been the intended winner.
"I don't know what to say right now," Murdoch told the finalists—and the confused crowd of 2000. "I'm feeling a bit sick about this. I'm so sorry about this, oh my God. I don't know what to say. This is a complete accident, I'm so sorry. It's Amanda ... it was read to me wrong."
4. NRJ MUSIC AWARDS // 2009
Call it a case of things getting lost in translation. In 2009, Katy Perry happily accepted the award for Best International Song for "I Kissed a Girl" at the NRJ Awards in Cannes, France. Except the award wasn't Perry's to accept—it was meant for Rihanna and "Disturbia." Fortunately, Perry didn't go home empty-handed: she did (legitimately) win Best International Album for One of the Boys at the same event.
5. MTV VIDEO MUSIC AWARDS // 2002
Michael Jackson's win for "Artist of the Millennium" at the 2002 VMAs wasn't so much an error as it was a misunderstanding. Because the event happened to fall on the King of Pop's birthday, Britney Spears was tasked with presenting him with an elaborate cake to mark the occasion. In her lead-up to the baked goods, she referred to MJ as the "artist of the millennium" (no caps) which he understood as "Artist of the Millennium"—an award that, unfortunately, did not exist. (Though if it had, we're sure he would have been a top contender.)
6. "DEWEY DEFEATS TRUMAN" // 1948
The Harry S. Truman Museum // Public Domain, Wikimedia Commons
If ever there was a time to yell "Stop the presses!," it would have been in the moments following the 1948 presidential election, when the Chicago Daily Tribune ran a headline that boldly—albeit incorrectly—stated that "Dewey Defeats Truman." In truth, it was the other way around. Fortunately, President Truman found the whole thing pretty funny and happily posed for pictures while holding up the paper.