12 Unusual Drive-Through Services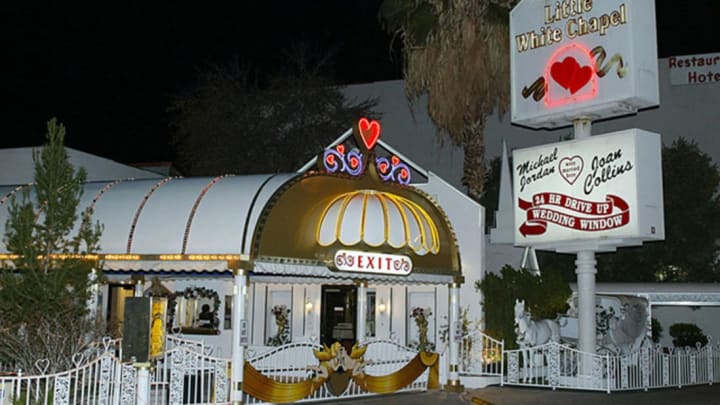 Getty Images / Getty Images
While drive-through windows are often found attached to fast food restaurants and banks, sometimes unlikely businesses also tempt customers with the convenience of staying in your car. Here are 12 of them.
1. A LITTLE WHITE WEDDING CHAPEL // LAS VEGAS
With wedding packages starting at $75 (plus the cost of a marriage license), A Little White Wedding Chapel is mostly known for its "Tunnel of Love Drive-Thru." Since 1951, the Las Vegas chapel has been the prime site for "quickie" weddings, including the ones of notable celebrities such as Paul Newman and Joanne Woodward, Frank Sinatra and Mia Farrow, and Britney Spears and Jason Allen Alexander. They even have an on-site Elvis Presley impersonator, just in case you need "a hunk, a hunk of burnin' love!"
2. ROBERT L. ADAMS MORTUARY DRIVE-THRU // COMPTON, CALIFORNIA
Established in 1974, the Robert L. Adams Mortuary Drive-Thru in Compton, California aims to "bring the business of death and a convenience of the living" together. The funeral home offers drive-through viewings of the recently deceased behind bullet-proof glass.
"You can come by after work, you don't need to deal with parking, you can sign the book outside and the family knows that you paid your respects," owner Peggy Scott Adams told The Los Angeles Times. "It's a convenience thing."
3. SMARTMART // MEMPHIS, TENNESSEE
Smartmart is a gas station and automated drive-through convenience store in Memphis, Tennessee. Customers drive up to one of the store's four ATM-like touchscreen display kiosks to select the items they'd like to buy. Once purchased, a series of conveyor belts and computer-operated dispensers go to work to search and assemble your order, as it spits out your items underneath the kiosk itself.
4. DAIQUIRI BAY CAFE // METAIRIE, LOUISIANA
Believe it or not, there's a bar in New Orleans that serves alcoholic beverages from a drive-through window. The Daiquiri Bay Cafe (DBC Bar & Grill) is a unique drinking experience in Louisiana. Due to the very loose open container laws in New Orleans, you can drive up to a service window and buy a strawberry daiquiri as long as it's served in a closed container without a straw inside.
5. CHRISTIAN LIFE CENTER // FORT LAUDERDALE, FLORIDA
If you're driving down West Commercial Boulevard in Fort Lauderdale and have a sudden need to find solace and meaning in life, then pull into the Christian Life Center's "Divine Drive-Thru." Every Friday, the church's prayer team joins motorists behind the wheel in a prayer to God.
"We want to be able to minister to our community here in Broward County," Pastor Sol Levy told 7 News Miami. "And what better way would there be than to catch people driving home from work?"
6. CHANDELIER DRIVE-THRU TREE // LEGGETT, CALIFORNIA
Ramakrishna Gundra via Wikimedia Commons // CC BY-SA 4.0
It's more of an attraction than a service, but in 1937, the Underwood Family added the Chandelier Drive-Thru Tree to attract more people to their grove in Leggett, California (about 180 miles north of the San Francisco Bay area). Over the decades, the site has become a popular tourist site, as most cars and motorcycles can fit through the nearly 7-foot high drive-through inside of the 276-foot coast redwood tree.
7. KOCIAN LAW FIRM // MANCHESTER, CONNECTICUT
The offices of the Kocian Law Firm's Manchester, Connecticut branch used to be the location of a Kenny Rogers Roasters fast food chicken restaurant. Instead of remodeling the building, the firm's lawyers decided to keep the drive-through window and use it to offer their clients convenient law services.
"We represent a lot of injured people," said attorney Nick Kocian to NBC Connecticut. "If you have somebody who's in a wheelchair or somebody who's hurt, it's convenient."
8. SIMCOE DRIVE THRU ART GALLERY // SIMCOE, ONTARIO
The Downtown Simcoe Drive Thru Art Gallery is an annual community art show in the heart of the small town of Simcoe, Ontario. People can simply drive down Peel Street to view murals, banners, and paintings created by fellow townspeople. Each piece is placed along town streets and free to view.
9. FARM STORES // VARIOUS LOCATIONS IN FLORIDA
Since 1957, Farm Stores has been an all-in-one grocery store, bakery, and restaurant serving fresh fruits, vegetables, and milk to their customers. With dozens of locations throughout the state of Florida, Farm Stores is an easy way to go shopping. Just pull into one of two drive-through lanes and tell the attendant what you want and they'll fulfill your order. All without leaving your car.
10. DRIVE-THRU VOTING BOOTHS // MARTINEZ, CALIFORNIA
In Martinez, California, the Contra Costa County Clerk of Elections Department set up a drive-thru voting booth so citizens could simply drop off their ballots instead of finding a parking space, walking into the building, and waiting in line to vote.
"We have a lot of foot traffic that traditionally comes into the office, clogs the parking lot, clogs other business going on in the office," Assistant Registrar of Voters Scott Konopasek told ABC 7 News in the Bay Area.
11. WESTERVILLE PUBLIC LIBRARY // WESTERVILLE, OHIO
 
The Westerville Public Library has been an institution in Westerville, Ohio since it first opened in 1930. And to make things easier for their patrons, the Westerville Public Library opened a drive-thru window in 1999. Now the people of Westerville can reserve items online and pick them up without leaving their cars.
12. SAYRE WOODS BIBLE CHURCH // OLD BRIDGE, NEW JERSEY
Every Christmas, members of Sayre Woods Bible Church in Old Bridge, New Jersey put on "A Drive Through the Christmas Story," a live-action re-creation of the birth of Jesus Christ told through 10 vignettes. Drivers are given a CD that includes holiday music and narration, which they can play as they drive through the elaborate Nativity scene. It's free, open to the public, and runs through the majority of the holiday season.
"A Drive Through the Christmas Story is an outdoor display of 10 life-size Bible scenes depicting the events concerning the birth of the Savior," RoxAnne Tauriello, the creator of the drive-thru, told USA Today. "What you'll see are live characters in New Testament wardrobe, live animals, special backdrops in open buildings that will house the characters with special props and lighting, and you will hear holiday music and the related scripture verses to the Christmas story as you go on a guided tour all within the convenience of your own car."