7 of the Most Beautiful Libraries in the World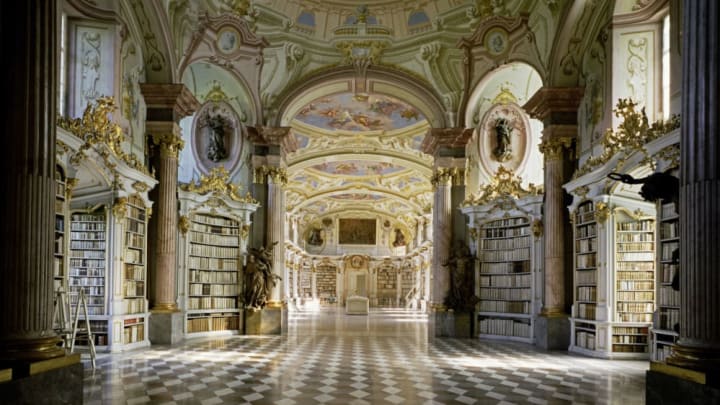 MASSIMO LISTRI / TASCHEN
Massimo Listri'sThe World's Most Beautiful Librariesis a visual tour of the world's most spectacular temples devoted to the written word.
Many modern public libraries are far from beautiful. The books within them contain expansive, intriguing worlds, but those volumes are often stored on utilitarian metal shelves that don't lend much aesthetic value. But historically, libraries have been built as grand, palatial temples of books. "Libraries were and remain statements of prestige as well as aesthetic and architectural sophistication," librarian and scholar Georg Ruppelt writes in an essay for The World's Most Beautiful Libraries, a new book of images by Italian photograph Massimo Listri. "These houses of knowledge have inspired secular and spiritual authorities since the Early Modern Era to devote particular attention to their design and décor." Below are seven of the most eye-catching libraries from the book.
1. BIBLIOTECA CLASSENSE // RAVENNA, ITALY
MASSIMO LISTRI / TASCHEN
The Biblioteca Classense's roots can be traced back to an abbey established near Ravenna, Italy, in the 11th century. The main hall was built in the early 1700s, and while it's now a public library, its 800,000-work collection still includes 350 medieval codices and 800 incunabula from its early history.
2. RIJKSMUSEUM RESEARCH LIBRARY // AMSTERDAM, THE NETHERLANDS
MASSIMO LISTRI / TASCHEN
Amsterdam's Rijksmuseum was founded as a national art museum in the early 19th century. The research library, housed in a building erected in 1885 by Dutch architect Pierre Cuypers, holds around 450,000 books.
3. BIBLIOTECA DO CONVENTO DE MAFRA // MAFRA, PORTUGAL
MASSIMO LISTRI / TASCHEN
The Biblioteca do Convento de Mafra is located in Portugal's national palace in Lisbon. Now a museum, the royal library was founded in 1717 and now holds 36,000 volumes.
4. REAL GABINETE PORTUGUÊS DE LEITURA // RIO DE JANEIRO, BRAZIL
MASSIMO LISTRI / TASCHEN
Built in the 1880s, the Real Gabinete Português de Leitura (Royal Portuguese Cabinet of Reading) holds more than 350,000 volumes dating back to the 16th century—the largest collection of Portuguese works outside of Portugal.
---
---
5. STRAHOVSKÁ KNIHOVNA; PRAGUE, CZECH REPUBLIC
MASSIMO LISTRI / TASCHEN
The Strahovská Knihovna (Strahov Library) is a monastic library in Prague founded in 1143. Parts of the current building date back to the 1600s.
6. BIBLIOTHÈQUE SAINTE-GENEVIÈVE // PARIS
MASSIMO LISTRI / TASCHEN
The Bibliothèque Sainte-Geneviève is now a university library containing 2 million holdings, but it got its start as a monastic library dating back to the Middle Ages. The building was erected in the mid-19th century, but some of the collection can be traced back to the 1100s.
7. STIFTSBIBLIOTHEK SANKT GALLEN // ST. GALLEN, SWITZERLAND
MASSIMO LISTRI / TASCHEN
The Stiftsbibliothek Sankt Gallen was founded in 612 as a monastic library. The collection survived a 10th century fire that destroyed the rest of the Abbey of St. Gall, and is now one of the oldest libraries in the world. The 170,000 volumes that currently make up the collection are housed in an 18th century building designed by Austrian architect Peter Thumb. It became a World Heritage Site in 1983 and now serves as a public reference library.
MASSIMO LISTRI / TASCHEN
The book will be available in the U.S. from TASCHEN for $200 starting in August. You can also order it on Amazon.