9 Breathtaking Images of the Botanical World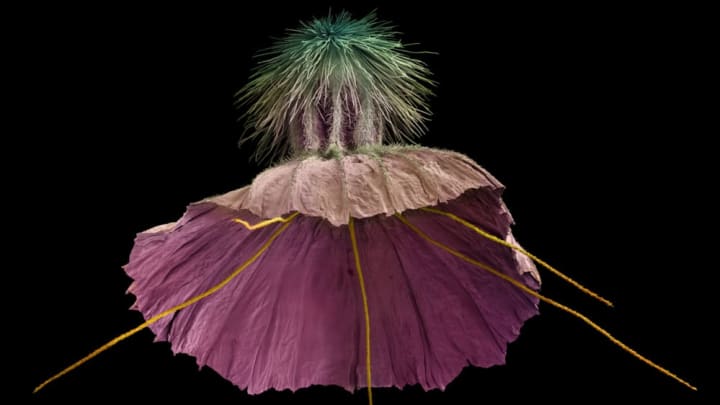 COURTESY PHAIDON
A new book traces how people have depicted flora from ancient times through the modern era.
In a world before photography, many botanists were also artists, recreating their research subjects in painstaking detail through sketches and engravings. These historical works of botanical art are highlighted, with more modern pieces of flora-inspired visuals as well, in Phaidon's new book, . The hefty coffee table book features 300 remarkable pieces of plant-related art.
It includes everything from ancient stone carvings—the first recognizable images of plants can be traced to the Fertile Crescent 5000 years ago—to medieval manuscripts to modern art photographs and microscope images, with work by familiar names like Charles Darwin, Leonardo da Vinci, and Frida Kahlo. All the images in the book were selected by an international panel of art and botany experts, and are arranged throughout the book in such a way to juxtapose and compare works from across time and geography.
It's $45 on Amazon, but you can get a sneak peek at some of the eye-catching art below.
1. SCABIOSA CRENATA
COURTESY PHAIDON
The British artist Rob Kessler coats specimens in platinum and then scans them with an electron microscope, coloring them in later, not necessarily with the plant's natural tint. This is a magnified image of a seed from a pincushion flower.
2. ASPLENIUM TRICHOMANES
COURTESY PHAIDON
This image appeared in National Geographic in 1925. It shows the maidenhair spleenwort, which the caption described as "the daintiest of North American ferns."
3. BUSH BANANAS
COURTESY PHAIDON
Aboriginal Australian artist Marie Ryder used traditional dot painting techniques to create this piece depicting the bush banana. The colors are supposed to represent the soil and the sun, and the footprints evoke the Aboriginal rite-of-passage known as the walkabout.
4. BANKSIA LEMANNIANA
COURTESY PHAIDON
Australian artist Celia Rosser has spent most of her life illustrating members of the Banksia genus. Her three books on the subject feature every species in watercolor.
---
---
5. ORNITHOGALUM UMBELLATUM
COURTESY PHAIDON
These drawings by Leonardo da Vinci may have been part of his preparation for creating the foreground of the painting Leda and the Swan.
6. LEPIDOZIA REPTANS
COURTESY PHAIDON
A fluorescence microscope makes the moss-like creeping fingerwort look luminescent, thanks to ultraviolet light.
7. FLOWERING PLANTS
COURTESY PHAIDON
This illustration of 10 plants is actually a 1792 letter sent by Vienna University botany professor Nikolaus Joseph von Jacquin to Swiss botanist Jonas Dryander.
8. ARISTOLOCHIA MACROPHYLLA
COURTESY PHAIDON
U.S.-based photographer Honour Hiers Stewart, who only uses large-format film, aims to document a wide swath of native American plant species to spur residents' passion for conservation.
---
---
9. BARRINGTONIA ASIATICA
COURTESY PHAIDON
The Beach Barringtonia fruit seen here is native to swamps in the Indian and western Pacific Oceans. It's so buoyant that it can float for up to two years, with a hard center layer that protects the seed inside. The poisonous seeds are pounded and thrown into rivers to stun fish, a technique that doesn't affect the quality of the meat.
COURTESY PHAIDON