Richard Nixon and 12 Other Celebrity Quakers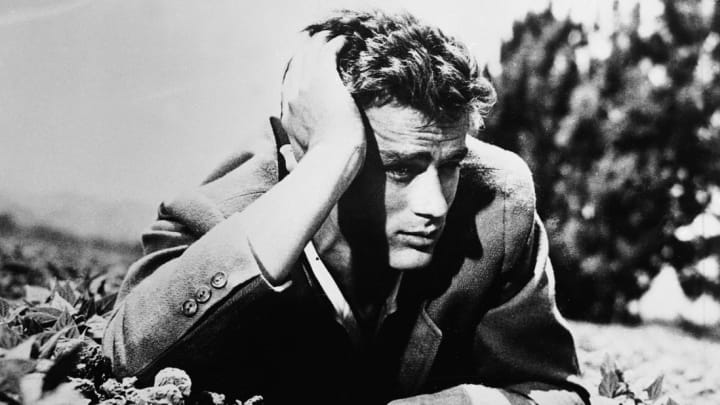 Hulton Archive/Getty Images / Hulton Archive/Getty Images
Though you probably remember learning all about Quakers and their doctrine of the "Inner Light" in middle school, your teacher probably didn't tell you that James Dean was one. Or that both a former U.S. president and a celebrated English actress were also a part of the Quaker ranks. Check out the list below for more famous Quakers.
1. JAMES DEAN
Sent off to be raised by his father's sister in Fairmont, Indiana, James Dean was raised Quaker. And though the faith may not have played the biggest role in his life or career (there are tales that it was through befriending a Methodist reverend that he was encouraged to pursue his loves of bullfighting, car racing, and theater), today he's buried in a Quaker cemetery.
2. RICHARD NIXON
AFP/Getty Images
While the nation made a big deal about John F. Kennedy being Catholic, it's interesting to note that old Richard Milhous Nixon was born and raised Quaker. He was raised with strict conservative Quaker values, which included no swearing, no drinking, and no dancing. When he couldn't afford to go to Harvard, despite earning a scholarship, he attended California's Whittier College, a local Quaker college, where he became class president, started a fraternity, practiced with the football team, and even spent his Sundays teaching Sunday school to kids.
According to one Richard Nixon biography, the Quaker part of the family was on his mother's side. The family arrived in Pennsylvania from Europe in 1729, and by 1854, his great-grandparents would travel west, eventually ending up in California, where Richard Nixon would make a name for himself in the 20th century.
3. ANNIE OAKLEY
Annie Oakley—the sharp-shooting female who was rumored to split playing cards edge-wise, then shoot through them a few times before they hit the ground—grew up a dirt-poor Quaker. In fact, her early skill with the gun came from having to hunt food for her impoverished family.
4. DANIEL BOONE
American settler, hunter, and folk hero Daniel Boone was born and raised Quaker. In fact, his family emigrated to the U.S. from England partially for that reason. What's more interesting, however, is why the Boone family didn't stay within the fold. Daniel's sister Sarah made waves in the community when she married a non-Quaker. What's more: she was visibly pregnant at the time she did, which led to her being disowned by the Society. The family publicly apologized for their daughter's behavior, but after their son Israel also married a non-Quaker, the Boones became a famiglia non grata and up and moved to Carolina.
5. EDWARD R. MURROW
Famed news anchor Edward R. Murrow was born on April 25, 1908 in Polecat Creek, North Carolina to Quaker abolitionist parents. For the first six years of his life, he grew up in a log cabin with no plumbing or electricity. His parents, who farmed for a living, made only a few hundred dollars a year—at least until they picked up and moved to Washington state.
6. JOAN BAEZ
Rowland Scherman, National Archive/Newsmakers/Getty Images
If you're wondering how folk singer Joan Baez's religion might have played into her development as a political activist, you might want to take a look at her father's life choices. Albert Baez converted to Quakerism when Joan was just a kid, and despite being a co-inventor of the X-ray microscope and a well-known physicist, he refused to work on the atomic bomb project in Los Alamos. He also turned down lucrative job offers from defense contractors during the Cold War.
7. JOHN CADBURY
If you love Cadbury chocolate, you definitely owe a note of thanks to the Society of Friends. As a young man, John Cadbury hoped to pursue a career in medicine or law. But because Quakers were discriminated against by all of the major universities at the time, Cadbury decided to focus on business. Believing that alcohol only exacerbated society's ills, he decided to focus on a happy alternative: chocolate and drinking cocoas. In addition to his views on temperance, Cadbury was also a bit of an activist: He led a campaign to stop the use of boys as chimney sweeps, and he founded an organization to prevent animal cruelty.
8. DAVID BYRNE
Ian Gavan, Getty Images
According to a 1992 issue of Goldmine, music and "the tolerant philosophies of Emma Byrne's Quaker faith" were among the most frequently heard sounds Talking Heads frontman David Byrne heard growing up. "David's parents encouraged his own interest in painting and music (which intensified after the Byrnes visited a cultural exposition in Montreal during his fifteenth year), and he took up the guitar, violin, and the accordion."
9. JUDI DENCH
Though her parents were Methodists, Oscar-winning actress Dame Judi Dench converted to Quakerism after attending The Mount, a Quaker school in York, England. What initially attracted her to the faith? "I liked the uniform," she admitted. "I used to see these girls with their white white collars and blue uniforms, and I thought, 'That's where I want to go.' Luckily, I got in." In 2013, she told YorkMix that while "I haven't been to a Meeting, shamefully, for such a long time ... I think it informs everything I do. I couldn't be without it."
10. BONNIE RAITT
As musician Bonnie Raitt told Oprah: "I think people must wonder how a white girl like me became a blues guitarist. The truth is, I never intended to do this for a living. I grew up in Los Angeles in a Quaker family, and for me being Quaker was a political calling rather than a religious one."
11. JOSEPH LISTER
Hulton Archive/Getty Images
The British surgeon who promoted cleanliness and sterility (and the man for whom Listerine mouthwash is named) grew up in a wealthy Quaker family. Of course, this didn't stop him from being discriminated against. In fact, Lister studied medicine at the University of London precisely because it was one of the only institutions at the time that accepted Quakers.
12. PIERS ANTHONY
While agnostic today, best-selling science fiction author Piers Anthony grew up in a fairly devout Quaker family. During the Spanish Civil War, Anthony's parents left young Piers and his sister to their grandparents' care, and then went to "fight" in Spain. In his own words, "my parents were helping to keep those devastated children alive, by importing food and milk and feeding them on a regular basis. It was worthy work, and I don't fault it, but there was a personal cost."
13. CASSIUS COOLIDGE
Cassius Coolidge—the painter behind Dogs Playing Poker—was born to abolitionist Quakers in upstate New York. Side note: He's often credited with creating Comic Foregrounds, those novelty photo scenes you pay $2 to stick your head into, to make your body look muscle-bound at the beach.