10 People Who Have Misplaced Their Oscars
Jason Merritt/Getty Images
Winning an Oscar is, for most, a once-in-a-lifetime achievement. Unless you're Walt Disney, who won 22. Nevertheless, owning a little gold guy is such a rarity that you'd think their owners would be a little more careful with them. Now, not all of these losses are the winners' fault—but some of them certainly are, Colin Firth.
1. ANGELINA JOLIE
After Angelina Jolie planted a kiss on her brother and made the world wrinkle their noses, she went onstage and collected a Best Supporting Actress Oscar for her role as Lisa in Girl, Interrupted. She later presented the trophy to her mother, Marcheline Bertrand. The statuette may have been boxed up and put into storage with the rest of Marcheline's belongings when she died in 2007, but it hasn't yet surfaced. "I didn't actually lose it," Jolie said, "but nobody knows where it is at the moment."
2. WHOOPI GOLDBERG
In 2002, Whoopi Goldberg sent her Ghost Best Supporting Actress Oscar back to the Academy to have it cleaned and detailed, because apparently you can do that. The Academy then sent the Oscar on to R.S. Owens Co. of Chicago, the company that manufactures the trophies. When it arrived in the Windy City, however, the package was empty. It appeared that someone had opened the UPS package, removed the Oscar, then neatly sealed it all back up and sent it on its way. It was later found in a trash can at an airport in Ontario, California. The Oscar was returned to the Academy, who returned it to Whoopi without cleaning it. "Oscar will never leave my house again," Goldberg said.
3. OLYMPIA DUKAKIS
When Olympia Dukakis's Moonstruck Oscar was stolen from her home in 1989, she called the Academy to see if it could be replaced. "For $78," they said, and she agreed that it seemed like a fair price. It was the only thing taken from the house.
4. MARLON BRANDO
"I don't know what happened to the Oscar they gave me for On the Waterfront," Marlon Brando wrote in his autobiography. "Somewhere in the passage of time it disappeared." He also didn't know what happened to the Oscar that he had Sacheen Littlefeather accept for him in 1973. "The Motion Picture Academy may have sent it to me, but if it did, I don't know where it is now."
5. JEFF BRIDGES
Jeff Bridges had just won his Oscar in 2010 for his portrayal of alcoholic country singer Bad Blake in Crazy Heart, but it was already missing by the next year's ceremony, where he was up for another one (which he lost to Colin Firth for The King's Speech). "It's been in a few places since last year but I haven't seen it for a while now," the actor admitted. "I'm hoping it will turn up, especially now that I haven't won a spare! But Colin deserves it. I just hope he looks after it better." Which brings us to …
6. COLIN FIRTH
Perhaps Jeff Bridges secretly cursed the British actor as he said those words, because Firth nearly left his new trophy on a toilet tank the very night he received it. After a night of cocktails at the Oscar after-parties in 2011, Firth allegedly had to be chased down by a bathroom attendant, who had found the eight-pound statuette in the bathroom stall. Notice we said allegedly: Shortly after those reports surfaced, Firth's rep issued a statement saying the "story is completely untrue. Though it did give us a good laugh."
7. MATT DAMON
When newbie writers Matt Damon and Ben Affleck took home Oscars for writing Good Will Hunting in 1998, it was one of those amazing Academy Award moments. Now, though, Damon isn't sure where his award went. "I know it ended up at my apartment in New York, but unfortunately, we had a flood when one of the sprinklers went off when my wife and I were out of town and that was the last I saw of it," Damon said in 2007.
8. MARGARET O'BRIEN
In 1945, 7-year-old Margaret O'Brien was presented with a Juvenile Academy Award for being the outstanding child actress of the year. About 10 years later, the O'Briens' maid took the award home to polish, as she had done before, but never came back to work. The missing Oscar was forgotten about when O'Brien's mother died shortly thereafter, and when Margaret finally remembered to call the maid, the number had been disconnected. She ended up receiving a replacement from the Academy.
There's a happy ending to this story, though. In 1995, a couple of guys were picking their way through a flea market when they happened upon the Oscar. They put it up for auction, which is when word got back to the Academy that the missing trophy had resurfaced. The guys who found the Oscar pulled it from auction and presented it, in person, to Margaret O'Brien. "I'll never give it to anyone to polish again," she said.
9. BING CROSBY
For years, Bing Crosby's Oscar for 1944's Going My Way had been on display at his alma mater, Gonzaga University. In 1972, students walked into the school's library to find that the 13-inch statuette had been replaced with a 3-inch Mickey Mouse figurine instead. A week later, the award was found, unharmed, in the university chapel. "I wanted to make people laugh," the anonymous thief later told the school newspaper.
10. HATTIE MCDANIEL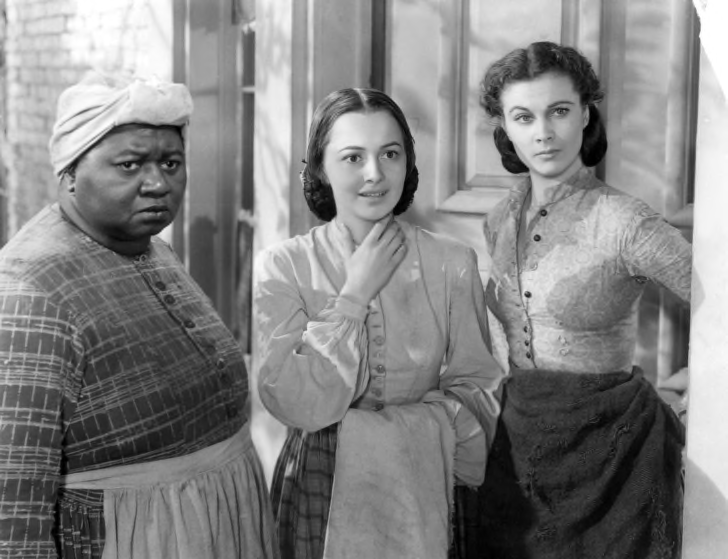 Hattie McDaniel, famous for her Supporting Actress win as Mammy in Gone with the Wind, donated her Best Actress Oscar to Howard University. It was displayed in the fine arts complex for a time, but went missing sometime in the 1960s. No one seems to know exactly when or how, but there are rumors that the Oscar was unceremoniously dumped into the Potomac by students angered by racial stereotypes such as the one she portrayed in the film.
An earlier version of this story ran in 2013.