Scientists Think They Know How Whales Got So Big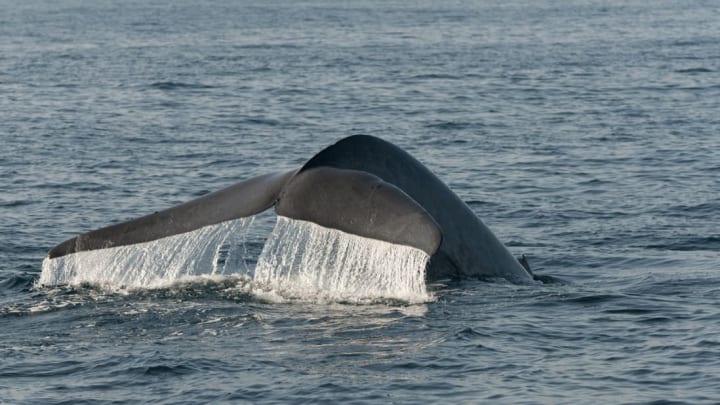 iStock / iStock
It can be difficult to understand how enormous the blue whale—the largest animal to ever exist—really is. The mammal can measure up to 105 feet long, have a tongue that can weigh as much as an elephant, and have a massive, golf cart–sized heart powering a 200-ton frame. But while the blue whale might currently be the Andre the Giant of the sea, it wasn't always so imposing.
For the majority of the 30 million years that baleen whales (the blue whale is one) have occupied the Earth, the mammals usually topped off at roughly 30 feet in length. It wasn't until about 3 million years ago that the clade of whales experienced an evolutionary growth spurt, tripling in size. And scientists haven't had any concrete idea why, Wired reports.
A study published in the journal Proceedings of the Royal Society B might help change that. Researchers examined fossil records and studied phylogenetic models (evolutionary relationships) among baleen whales, and found some evidence that climate change may have been the catalyst for turning the large animals into behemoths.
As the ice ages wore on and oceans were receiving nutrient-rich runoff, the whales encountered an increasing number of krill—the small, shrimp-like creatures that provided a food source—resulting from upwelling waters. The more they ate, the more they grew, and their bodies adapted over time. Their mouths grew larger and their fat stores increased, helping them to fuel longer migrations to additional food-enriched areas. Today blue whales eat up to four tons of krill every day.
If climate change set the ancestors of the blue whale on the path to its enormous size today, the study invites the question of what it might do to them in the future. Changes in ocean currents or temperature could alter the amount of available nutrients to whales, cutting off their food supply. With demand for whale oil in the 1900s having already dented their numbers, scientists are hoping that further shifts in their oceanic ecosystem won't relegate them to history.
[h/t Wired]