An Albert Einstein-Themed Restaurant Just Opened in Chicago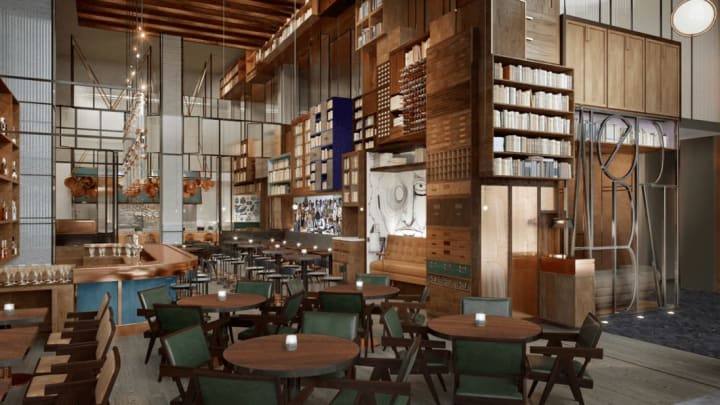 Courtesy Rockwell Group / Courtesy Rockwell Group
Chicago has a new restaurant dedicated to an unlikely culinary hero: Albert Einstein. The restaurant—simply called the Albert—is located inside Hotel EMC2 in downtown Chicago, and it honors everyone's favorite theoretical physicist by "[celebrating] the intersection of art and science at every turn," according to a press release. It opened on March 24.
Designed by the Rockwell Group (which has previously worked on several Nobu restaurants, the Dolby Theater in Los Angeles, and the redesign of FAO Schwarz in New York), the Albert's walls are lined with 12,000 science-related books, including stimulating and uplifting tomes like the Encyclopedia of the Diseases of Children, Advanced Mechanics of Materials, and books on figures like Leonardo da Vinci. A full 19 feet above the restaurant floor, a chandelier filled with glass cylinders suspends infused liquor, bitters, and spirits from the ceiling as a kind of hanging science lab for alcohol.
Sadly, that's about where the science-related turns end. We also wouldn't have minded a few more oversized portraits of good old Albert.
"The framework of our program at the Albert is inspired by the principles of art and science, and its influence is represented throughout," says Rebecca Royster, the restaurant's food and drink director, "from the beautifully plated dishes, to our experiential cocktail program, to the awe-inspiring design element. We believe that genuine hospitality is an art, and there is a science to its execution—both are essential to creating distinct and memorable experiences."
Perhaps the menu will include some of Einstein's favorite vegetarian dishes?