Beyond the Cone: 10 Fun Ways to Eat Ice Cream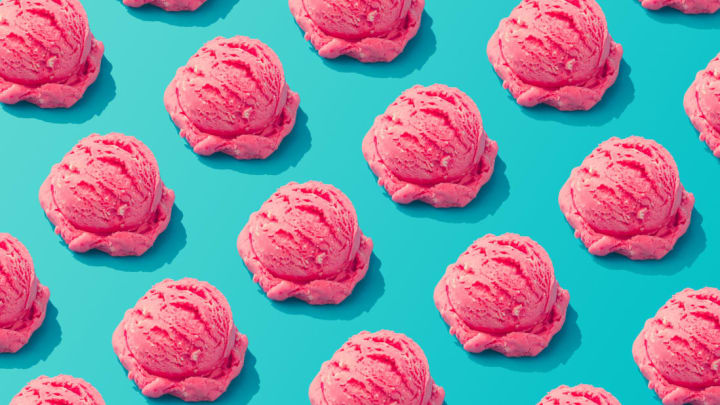 Think beyond the boring cone this summer. / ivan101/iStock via Getty Images Plus
On average, Americans consume more than 23 pounds of ice cream every year. And who says you have to eat it in a cone, or even in a bowl? Here are a few unconventional ways to hit your ice cream quota.
1. Ice Cream Tacos
These dessert tacos are as tasty as they are easy to make. First, sauté tortillas in butter; next, dredge them in a cinnamon-sugar mixture. Fold the tortillas in half and dip the top edges in melted chocolate; allow the chocolate to harden, then pack the taco with your favorite ice cream flavor, top with caramel, and pop in the freezer for 30 minutes. Finally, eat them!
2. Ice Cream Pie
This pie has a graham cracker crust and combines vanilla ice cream with peanut butter cups, pecans, Butterfingers, and homemade caramel sauce for a truly delicious dessert. If you just can't wait for three hours, or want a quick ice cream pie you can make with kids, click here for a simpler, 10-minute recipe.
3. Ice Cream Bomb
There are a lot of steps in this take on Baked Alaska—which, as legend has it, was invented at Delmonico's in New York City in 1867 in celebration of the U.S.'s purchase of Alaska—but it's still relatively easy to make. First, prepare a cocoa-coconut base; then, smoosh a bunch of ice cream into a bowl, evening out the top (which will become the bottom of your dessert) by placing cling wrap over the ice cream and smoothing it with your hand; then it goes into the freezer for a bit. Once it's frozen hard enough, take it out of the freezer, dunk the bowl into another bowl of warm water, and gently pry the ice cream loose. Place the flat bottom on the coconut base, cover the whole thing in plastic wrap, and freeze again. Next, make a cocoa meringue and smooth it over the ice cream with a spatula. Bake at 356°F for four to five minutes and serve immediately.
4. Ice Cream Cupcakes
Creating these tasty treats is simple. The first step: The day before you're planning to serve, bake some cupcakes—whichever flavor you prefer. Next, scoop out the center; cut off the top of what you've scooped and set it aside. (Feel free to eat what's left over!) Then, fill the hole in with ice cream and pop that piece of cupcake on top. Stick the cupcakes in the freezer overnight. When you're just about ready to serve, pull them and out and top them with frosting or a dollop of whipped cream.
5. Fried Ice Cream
Fried ice cream: It's not just for county fairs anymore. Start by placing nine scoops of ice cream on a baking sheet and popping them in the freezer for an hour. Next, roll them in a mixture of cornflake crumbs and cinnamon, then put them in a plastic bag and freeze overnight. When you're ready to fry, heat the oil to 375°F; fry the balls one at a time for eight to 10 seconds. Serve in chilled bowls immediately.
6. Ice Cream "Hot Dog"
If you have leftover hot dog buns, don't toss 'em—drench them in butter, cinnamon, and sugar, throw them on the grill, and then fill them with ice cream! This recipe from Food & Wine will show you how.
7. Cookie Dough Ice Cream Sandwiches
Everyone's had a chipwich. This recipe flips the script on the chipwich by sandwiching cookie dough ice cream between uncooked cookie dough. You can either make the ice cream yourself or go pre-made; either way, the results will be delicious.
8. Ice Cream Truffles
To create these delicious treats, you'll first need to line a baking sheet with wax paper and scoop out eight round balls of ice cream in three flavors (this recipe recommends vanilla, chocolate, and coffee, but you can choose whatever your palette wants). Freeze the ice cream overnight. The next day, put your desired toppings—chopped almonds and coconut, for example—in separate bowls and line plates with wax paper. Next, melt some bittersweet or semi-sweet chocolate in vegetable oil, stirring constantly. Once it's totally melted, remove it from heat and let cool until it's lukewarm. Quickly dip the ice cream balls in the chocolate and then into the bowls with toppings. Once all of the ice cream balls are fully coated, freeze them again until they're firm, which should take a few hours (you can also freeze them for up to three days). Enjoy!
9. Ice Cream Pops
Fun for kids and adults alike, this recipe calls for combining crushed cookies, peanut butter cups, and candy-coated chocolates in a bowl, then popping a spoonful into 5-ounce paper cups. Next, put vanilla ice cream and the remaining cookie/PB cup/candy mixture in a mixer bowl and combine with a paddle attachment. Spoon the mixture into the cups and insert a popsicle stick. Freeze until the pops are firm, then rip the cups off and serve!
10. Strawberry Shortcake Ice Cream Sandwiches
These sweet treats at Pint-Sized Baker look just like actual sandwiches, and they're simple to make: You just need vanilla ice cream, fresh strawberries, and frozen pound cake. Transfer the ice cream into a bowl to soften. Wash, hull, and cut the strawberries into cubes, then toss them in sugar and let them sit for 15 minutes. Next, mix the strawberries into the ice cream and put the bowl in the freezer for at least an hour. Then, slice your pound cake and put the slices in the freezer until you're ready to serve. Finally, assemble and enjoy!