11 Facts About the Thumb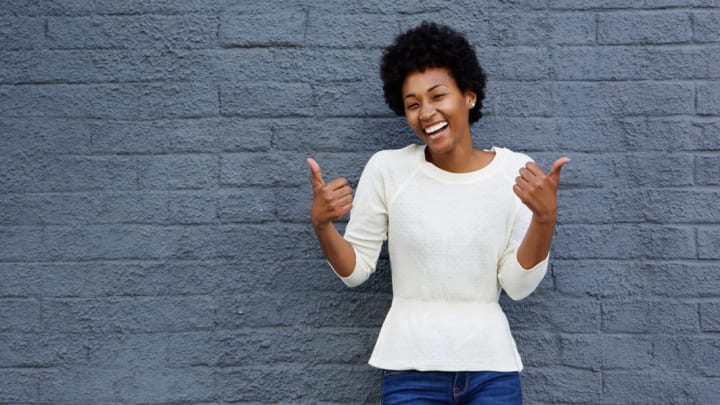 iStock / iStock
The human body is an amazing thing. For each one of us, it's the most intimate object we know. And yet most of us don't know enough about it: its features, functions, quirks, and mysteries. Our series The Body explores human anatomy, part by part. Think of it as a mini digital encyclopedia with a dose of wow.
When it comes to the fingers on your hand, the thumb definitely does its own thing. Thumbs only have two bones, so they're obviously shorter, and they play a very important role that no other finger can claim; thanks to their unique saddle-like joint shape, and a little muscle known as the abductor pollicis brevis, you can bend and stretch your thumbs opposite your fingers to grip things. This is why they're known as "opposable thumbs." To bring you these 11 facts about the thumb, Mental Floss spoke with three experts on this unique digit: Barbara Bergin, an orthopedic surgeon in Houston; Loren Fishman, medical director of Manhattan Physical Medicine and Rehabilitation, in NYC; and Ryan Katz, attending hand surgeon at the Curtis Hand Center, located at the Medstar Union Memorial Hospital in Baltimore.
1. OPPOSABLE THUMBS MAY HAVE FREED UP OUR ANCESTORS' MOUTHS FOR LANGUAGE.
The evolution of a thumb helped our ancestors evolve to be better at defense, allowing for throwing and clubbing activities. Moreover, Fishman says, it may have even contributed to our cognitive function. "Some say this is why we have language," he says, "because we can hold things in our hands and [therefore] use our mouths for something else—such as discussing the functions of the thumb."
2. THUMBS HAVE THEIR OWN PULSE.
You might have noticed that medical professionals take a pulse with the middle and index finger. The reason is because there's a big artery in the thumb, the princeps pollicis artery, and arteries pulse, making it difficult to feel a pulse in a neck if you're using your thumb.
3. THE THUMB SEPARATES US FROM OTHER ANIMALS. MOSTLY.
"The thumb is wonderful. It evolved in such a way that we can use it to do so many amazing things, and it's one of the things that separates us from other animals," Bergin says. A handful of other animals, mostly primates, have opposable thumbs, or toes, as the case may be. These include orangutans, chimpanzees, a phylum of frogs known as phyllomedusa, some lemurs, and giant pandas—although their thumb-like apparatus is really just an extra sesamoid bone that acts like a thumb.
4. TOES CAN BECOME THUMBS.
If you should lose a thumb, fear not, says Katz. "It can be rebuilt by surgeons using your big toe." This specialized surgery uses microvascular surgery techniques to transfer your big toe to your hand, where it will function almost exactly as your thumb did. "The toe is then brought to life by sewing together small arteries and veins under a microscope," Katz says, a complicated surgery that has become vastly more sophisticated over the years. The second toe can be used too, as you can see in this medical journal, but we warn you: It's not for the faint of heart.
5. … BUT IS A THUMB WORTH LOSING A TOE OVER?
It may not seem like a big deal to lose one thumb—after all, you've got another one. But Katz cites the American Medical Association's "Guides to the Evaluation of Permanent Impairment" [PDF], which states your thumb is so important that a complete amputation "will result in a 40 percent impairment to the whole hand." In fact, they claim that it would take "a complete amputation of the middle, ring, and small fingers to equal the impairment of an amputated thumb."
6. IT'S BETTER THAN HAVING YOUR HAND SEWN TO YOUR FOOT.
Katz also points out that "there used to be a common surgical procedure for thumb reconstruction, where the patient's hand was sewn to their foot for a period of time." This procedure was called the Nicoladani procedure, after the German surgical innovator Carol Nicoladoni. "It was a precursor to transplant surgery and plastic or reconstructive surgery as we know it today," he says.
7. YOUR THUMB MAKES AN ASTONISHINGLY WIDE VARIETY OF MOTIONS.
Other than pinching and grasping, Katz points out that the thumb "translates, rotates, and flexes all at once." This coordinated set of motions provides strength and dexterity. "Thus it's the thumb that allows us to easily pen an essay, turn a nut, pick up a coin, or button a shirt."
8. THAT DEXTERITY ALSO MAKES IT FRAGILE.
The thumb may appear to only have two knuckles, but it actually has a third, right above the wrist. This is called the first carpometacarpal joint. If that starts to hurt, or gets big enough to look like a bump or a mass, you may have carpometacarpal joint disorder (CMC), a common condition that is partly genetic and partly from repetitive use, according to Bergin. "You can get arthritis in the other joints, too, but this one is the most debilitating," she says. "First it becomes painful, and then you lose the ability to use it." Surgery can help with the pain, but it won't restore full mobility.
9. PAIN IN YOUR THUMB MAY REQUIRE LIFESTYLE CHANGES.
Bergin suggests small lifestyle changes so you don't need to grip anything too hard can make a huge difference, such as buying milk jugs with handles or using an electric toothbrush. "There are a lot of things we can do [to help] on a daily basis that shouldn't affect our quality of life," she suggests.
10. SWIPING RIGHT MIGHT BE DANGEROUS.
While we generally associate thumb arthritis with older people, Bergin says she now sees it in people in their forties and even thirties. Other studies have suggested that frequent phone use can be damaging. "There must be a genetic component to premature wearing of the thumb," she says. If it runs in your family, it's a good idea to be proactive and try to avoid repetitive gripping activities.
11. WHAT IT MEANS IF YOUR THUMB IS NUMB.
If instead of pain you're experiencing numbness of the thumb that extends to your index and middle fingers, you may be showing early symptoms of carpal tunnel syndrome. Fortunately, this isn't an emergency. "The condition takes a long time to become a big problem" Bergin says. People can sometimes help the condition by wearing wrist braces and getting physical therapy. If you just can't take it, "you can get surgery at any point if you failed to improve with bracing," she says. The surgery can reduce mobility, but it should take away the numbness and pain.